An ottoman with storage can provide a convenient place to tuck away remote controls and papers while providing a comfy footrest or seat. They are great double-duty furniture. And if you prefer a square storage ottoman to fit the style of your home, then you'll love this article. Because…
We'll look at a variety of square storage ottomans and hopefully one of them will help you.
(Make sure to scroll through them all to see which one catches your eye.)
This article contains affiliate links. If you click a link and buy something I may receive a small commission at no extra cost to you. As an Amazon Associate I earn from qualifying purchases. For more information please see the Disclosure page.
11 stylish Square Storage Ottoman ideas
Why do people get storage ottomans?
An ottoman with storage can help you quickly tidy up your living room. Lots of people get rid of their coffee table and replace it with a storage ottoman.
And parents with children just learning to walk may want living room furniture with softer edges than most coffee tables. So a lot of these ottomans are great for that too.
But before you buy one, ask yourself:
What will I be storing inside the ottoman?
This is important because the internal storage compartments of these ottomans definitely vary in size. Make sure you're buying a ottoman that has adequate internal space to fit your needs.


Let's begin the list of square storage ottoman ideas!
1) Leather Square Storage Ottoman with Tufted Top (Christopher Knight on Amazon)
This is a sturdy ottoman with a lift top to access the internal storage compartment. If you use it as a seat, it can hold up to 250 pounds.
It has a wood frame and leather covering with elegant tufted pattern on top. The outer dimensions are 31-inches long and wide, and about 18-inches high.
Below is a picture of this storage ottoman with its top lifted. (Note that it has gas shocks to help with lifting the lid.)
Some other storage ottomans have a tiny storage space, but as you see in the picture above this one has a spacious interior that should allow you to store some throw blankets, thin pillows, books, etc… It'll help keep your living room tidy.
If you want an elegant, rich-looking square storage ottoman, check this one out.
2) Square Storage Ottoman –one side lifts up the other side flips up [by SIMPLIHOME]
Here is a picture of this storage ottoman with the top down. It is a 36-inches wide and 36-inches long (since its a square 🙂 . It stands about 16.5-inches off the ground so it'll make a good footrest in front of your couch.
But in addition to being a good footrest, one side lifts up you can use it has a laptop shelf or eating platform. And the other side flips up to access more storage space. You can see it opened in the photo below.
This is a very versatile ottoman that will look good in a living room especially if you have a brown couch or grey couch.
It is really highly-rated, and there are lots of customer photos on Amazon too. (So check those out.)
Tired of losing your remote controls? Check out these 15 helpful Remote Control Holders
3) White Storage Ottoman (fabric covering)
Do you have a more traditional style in your home? Will this ottoman with the exposed nailhead design, wooden legs and tufted top work in your living room? It has a 29-inch square frame (length and width).
There are wheels on two of the legs to help you move it around if required. And the top lifts up to expose the internal storage compartment.
The storage inside though is only about 5-inches deep. It will work well to hold books, remotes and thin blankets, but it may be tricky to store larger blankets in there.
Ottomans at Walmart [several options listed below]
Amazon isn't the only place you can find ottomans online. There are a lot of well-rated ottomans at Walmart too.
I'll highlight some popular ottomans with storage that you can find at Walmart.com
4) Square Storage Ottoman with Tray (fabric covering)
This is a Better Homes & Gardens ottoman that is a 16-inch cube shape. It's cool because the top has two sides: one is a soft side so you can sit on it or use it as a footrest, and other side is a flat tray so it doubles as a mini coffee table.
It is covered in a polyester fabric that you can wipe clean with a damp cloth. And the frame is made of medium density fiberboard (MDF). If you use it as a seat it can hold up to 200 pounds. This is NOT a folding ottoman. (I show one of those below.)
I like the look of this one, and it won't break the bank.

5) Foldable Storage Cube Ottoman (by Nathan James brand)
This is a folding cube storage ottoman that has a tray top. So you can use use the top as a seat or footrest (they claim it'll hold up to 300 pounds), or you can flip the top over and use the other side as a flat tray.
This is the beige color, but it is also available in an attractive gray color.
6) White Faux Fur Storage Ottoman (collapsible)
This would be great for a teen girl's bedroom, or if you have a funkier vibe in your home. It is collapsible, so if you aren't using it you can fold it up and tuck it away until you need it again.
The top is removable and there is an internal storage area inside this ottoman that you can see in the picture below. The cube is 15-inches wide, long and high, so that gives you an idea about the size of the internal compartment. It isn't very big but it should still fit a blanket, some books and more.

7) Better Homes & Gardens flip-top Storage Ottoman
This is an attractive flip-top storage ottoman that is 27.5-inches square. It features a linen upholstery covering, nailhead design, and nice internal storage compartment.
But note this has a weight limit of only 100 pounds on top, so it isn't meant for sitting on: it'll work well as a footrest though.
8) Plush cushioned Storage Ottoman (Amazon)
Look how plush and comfortable this ottoman looks. It has an upholstered finish. This is the beige color, but it is also available in dark grey and grey.
As you can see in the picture above, the top lifts up to reveal the storage area. Just note, the storage area is not even 6-inches deep. So it isn't a deep storage area, but you should still be able to store some folded blankets or sheets in there.
Do you think this will look good in your home?
9) Gray Faux Leather Square Storage Ottoman (by HomePop)
This is a 28-inch square storage ottoman with a faux leather finish made by HomePop and available on Amazon.
It sits on 4 wood legs, and has a flip-up top to access the internal storage area. (As shown below.)
If this color won't work there are other color options that may work better for you!

10) Storage Ottoman with Geometric pattern
Not everyone wants a plain patterned ottoman. This ottoman is for those people.
It is a 35-inch square ottoman that is 18.5-inches off the ground so it should work well as a footrest in front of your sofa.
The lid flips up so you can get at the storage area.
A downside to this ottoman is that people complain about the material pilling. (So this may not be the best if you have kids or pets that want to play on this.)
Do you want to read more opinions on this ottoman?
11) Storage Ottoman with Bottom Shelf (Christopher Knight brand)
This is a unique design. The tufted leather top lifts up to reveal a shallow, covered storage area, and there is also the bottom shelf for additional storage.
This should help you get your living room tidied up.
I think this thing looks really cool. And judging by its good rating, I'd say other people agree with me too.
Will this work in your house?
I hope you've enjoyed this concise list of square storage ottomans.
Will one these awesome double-duty pieces of furniture work for you?
Which one was your favorite?
Up Next:
9 well-rated bedroom storage chest options (may work in your living room too!)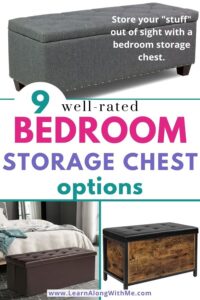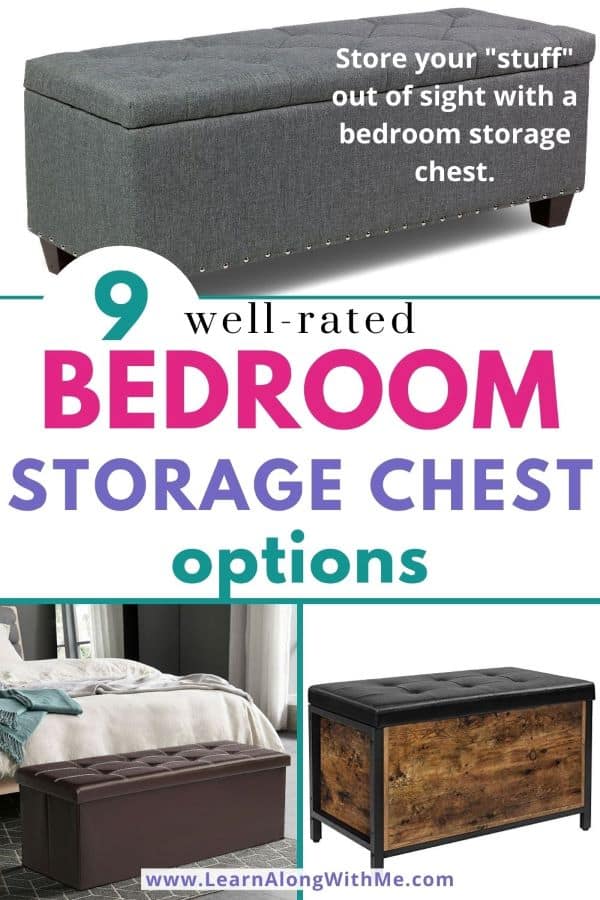 How to organize your entertainment center
15 helpful Remote Control Holders [help get your living room organized]
13 lovely Queen Daybed Options [yes they actually make a queen size daybed !]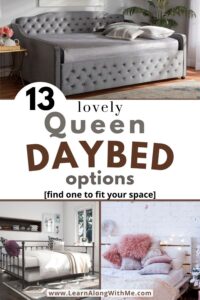 Etsy Storage Baskets – 11 stylish option to help organize your living room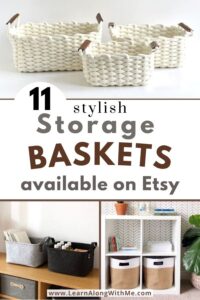 Living Room Blanket Storage Ideas