Are stuffed animals taking over your child's bedroom and turning it into a mini zoo? In this article we'll look at 19 of the best stuffed animal storage ideas to get those cute beasts tidy and organized.
My youngest daughter loves her stuffed animals! We have tried several of these options and it evolves over time as she collects more stuffies. (I often call stuffed animals "stuffies" so if you see that word you'll know what I'm talking about. They're also called plush toys or, of course, teddy bears.)
This article contains affiliate links. If you click a link and buy something I may receive a small commission at no extra cost to you. As an Amazon Associate I earn from qualifying purchases. For more information please see the Disclosure page.

How to store stuffed animals? – 19 clever Stuffed Animal Storage Ideas
If stuffed animals are scattered over your entire house and you need a creative way to get them organized, you'll appreciate these stuffed animal storage ideas.
But note: Not all of these ideas will work for your child's room.
For instance, some of these storage solutions are better for small collections of stuffed animals, while other options excel at storing a BIG collection.
But I bet there is one of this list that'll help you out. Scroll through them all to check them out.
1) Wooden Stuffed Animal Zoo Cage (Etsy)
Doesn't this look cool!
The wooden crate has bungee cords strung vertically to contain all the beasts within their cage.
This is made by the Etsy seller GraceAnnehandmade and they offer LOTS of customization.
For instance, you can get it in heights ranging from 24-inches all the way up to 72-inches tall! Imagine that – 6 feet of stuffed animal storage.
Plus, you can get it in 25 different colors. So you're sure to find a color that'll match the décor of your child's room.
And do your want your child's name on the top proclaiming it's their zoo…well they'll do that for you too using vinyl letters. Very cool.
2) Use a Hanging Shoe Organizer to corral the stuffed animals
Hanging multi-pocket organizers – commonly called shoe organizers – can be a great way to store small stuffed animals.
Bigger beasties may not fit in the small pockets, but little ones should fit well.
What's great about this option is that it takes advantage of "wasted space" such as behind the bedroom door or closet door.
The downside to this option is that smaller children won't be able to reach the teddy bears that are in the higher pockets.
3) Put them in a Stuffed Animal Storage Hammock (3-sided hammock for a corner)
Three-sided stuffed animal hammocks are hung in a corner of the room and provide a clever spot to store soft toys.
(And it provides a nice area for the animals to sleep and nap!)
This bohemian-styled macrame hammock is three sided, so you'll need to hang it from 3 hooks on your wall. (The hooks are included.)
Hammocks like this have become an extremely popular way to hold soft toys like stuffies.
This stuffed toy hammock is shown in "Cream" color but it is available in lots of other colors including green, pink and royal blue.
4) Place them in a Stuffed Animal Hammock for a flat wall (aka 2-sided hammock)
These are commonly called stuffed animal hammocks too, but these only hang from 2 hooks therefore they can be hung against a flat wall. This opens up a lot of storage opportunities when you're not relegated to just corners of the room.
This can double as an "animal swing" for your child's favorite toys. So not only does it store the toys, but it becomes part of the creative play.
This type of stuffie storage is a great idea if you can't access a corner in your child's room, but you do have room on a wall to hang it.
Will this cute macrame hanger work for you?
Related Article you may like:
19+ Barbie Storage Ideas to organize Barbie dolls and accessories
5) Rustic Macramé Stuffed Animal Hanging Basket (Etsy)
I came across this rustic-looking stuffed animal hammock on Etsy and I had to include it. Doesn't it look awesome.
It is made by the Etsy seller MacramebyDebbie. It kind of looks like something you'd hang old planters from to get a cool Boho style.
It could be hung from the ceiling or from hooks mounted high up on the walls.
It would make a decorative addition to any kids' room…especially if they have woodland room décor.
6) Dedicate a Laundry Hamper to the Stuffies
If you have the floor space or room on a shelf, a laundry hamper can make a convenient stuffed animal storage solution.
Heck, you may even have an extra laundry basket you're not using. It's a simple idea to help get your children's room organized.
And cleaning up the stuffed animals off the floor or bed is a breeze when you're using a laundry basket.
Just toss the plush animals into the basket and you're done.
7) Under Bed Storage Drawer
If your child's bed is slightly elevated then you should be able to get a sliding drawer or storage tote to fit under their bed.
We use drawers from an old wardrobe under our daughter's bed. I put felt pads on each corner of the drawer so it easily slides on the laminate flooring.
You can also buy a lot of different plastic totes designed to fit under beds.
If you're got room under your child's bed, you should check out our article on clever Under Bed Storage Ideas.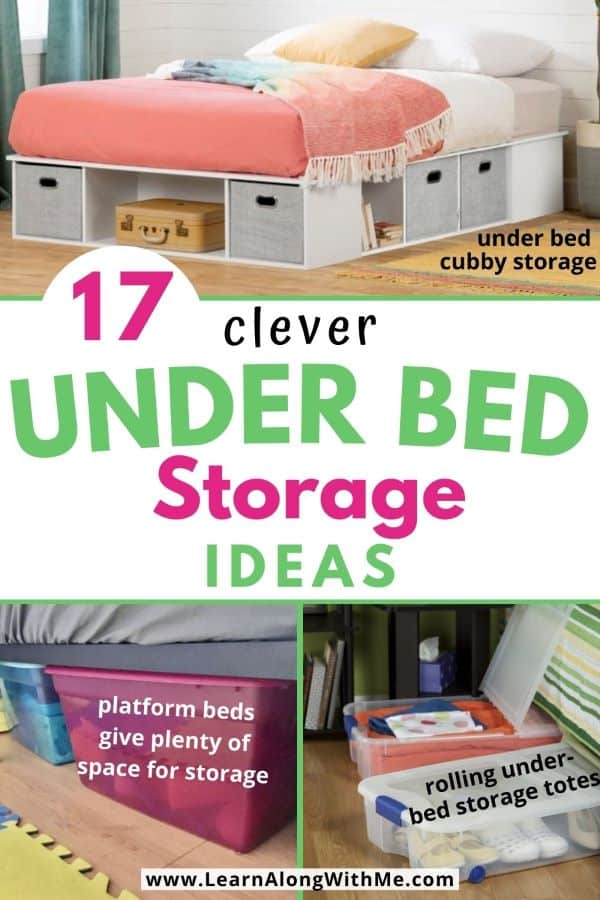 8)Hanging Closet Organizer for Stuffed Animals
These tiered organizers are another popular way to store stuffed animals.
You can hang it from a closet rod or hang it from a hook in the ceiling.
Sometimes these can sag and tear if you put too much weight in them, so be a little careful of that.
You may be able to find a similar product at your local dollar store, or click here to see this particular product on Amazon.
Below is a picture of the hanging closet organizer we previously used to store our daughter's stuffed animals when she was younger.
It worked for small and medium stuffed animals, but the pockets were not very big. (And unfortunately I can't remember what store we got it from.)
9) Large Zippered Stuffed Animal Chair (bean bag style storage)
This thing is super cute…and functional.
It looks like a bean bag chair, but instead it is actually filled with stuffed animals. It's where we store the majority of our daughter's stuffed animals now.
Below is a picture of it flipped over. I've unzipped and folded back the bottom section to show you what's inside it.
Pros:
The nice thing is that it contains your child's stuffed animal collection inside it and helps make your kid's bedroom look tidy.
Plus, it doubles as a chair for your child to lounge on
Cons:
But the downside is that since all the stuffed toys are inside the bag and out of sight, they don't get played with as much. (So I guess being out of sight has its own pros and cons.)
And when it gets opened to get at one stuffed animal they all end on the floor
Will this work for you?


And Note:
If your child doesn't like unicorns, don't worry, they make a lot of different styles of these animal chairs. Below is a product photo of their dog style holder.
10) Back of the Door Hanging Organizer for Stuffed Animals
This idea is similar to the hanging shoe organizer in the sense that it takes advantage of vertical space.
But with these larger pockets, you will be able to store larger stuffed animals than you can in a shoe organizer.
The photo looks Photoshopped to me, but this product is currently well-rated on Amazon.
Do you have room behind the door for this stuffed animal organizer?
Click here to see current price.
11) Soft-sided Toy Box
A soft-sided, collapsible toy box like this one from Woffit is a perfect option for storing stuffed animals… if you have the floor space for it.
It is 30-inches wide, 15-inches deep and 16-inches tall.
We used to use a foldable fabric toy chest from 3 Sprouts to store our daughter's stuffed animals.
It worked pretty well and it's nice that it has soft sides because our daughter would often flop onto it and squish all her cuddly toys.
But her stuffed animal zoo started to outgrow it. Below is a picture of the 3 Sprouts toy box we used to use.
Do you like the look of this whale toy box?
You can find it at the Container Store…it's called the 3 Sprouts Whale Toy Chest Natural
12) Wall-mounted Wire Baskets
Once your children get a little older – and more sturdy on their feet – a wire basket like this mounted to the walls can be a good way to get stuffies off the floor.
If you screw these baskets to the wall within your child's reach, they'll have easy access to get at their toys, and more importantly they'll be able to help put them away too!
But, because you're dealing with metal, and a spot to stick little fingers…you'll want to reserve this for older kids.
13) Plastic Bin Organizer – a piece of furniture for your kid's bedroom
This stuffed animal storage idea takes up a lot of space compared to some of the other ideas listed here, but it is a good way to help organize your child's room.
The bins can be used to stored soft toys, but also building blocks, cars, dolls, books, etc… it is a versatile toy organizer.
It is best reserved for smaller stuffed animals though because larger ones may hang over the edge or topple out.
You may also like our article on Toddler Bedroom Organization Ideas
14) Rope Storage Baskets
Isn't this a cute elephant rope basket!
Regardless of what it is made of, a basket is a good way to store stuffed animals.
If you have room on a shelf in your child's closet, you could tuck it in there, or even place it on top of their dresser.
But due to their limited size, baskets are a good, practical solution for storing either a small number of medium stuffed animals or a larger number of small stuffies…they aren't great for big stuffed animals.
Click here to see more details on this elephant basket.
15) Store stuffed animals in fabric cubes inside a cube organizer
A fabric basket or storage cube can work well to store stuffed animals…especially if you already have a cube organizer.
We have an old Ikea Bonde model of book shelf that was designed to stand vertically, but it underwent an "Ikea Hack" so that it now lays sideways. (We bought the shelf like this, and it looks like it had a lot of glued applied during the hacking.)
Any cube organizer – whether it is an Ikea Kallax unit or one you get at Walmart – will make a handy place to store stuffies.
Your child could pretend each cube in the organizer is like its own little apartment for stuffed animals.
16) Stuffed Animal Hanging Storage Chain
Here is another way to take advantage of vertical space. You hang one end from the ceiling (or wall-mounted hook) and then hang the stuffed animals from the clips.
This particular one is made of a cotton rope. It could work well as long as your child has the strength and dexterity to use the clips.
17) Make your own Stuffed Animal Holder
Do you like DIY projects?
If you're handy with a hacksaw (or reciprocating saw) and a drill, you can make your own stuffed animal holder out of PVC pipes and bungee cords or rope.
What's cool about making your own stuffie organizer is that you can make it in various sizes…just custom build it to fit in your kid's room, and sized to fit your kid's stuffie collection. If they have a small number of stuffed animals, just make this smaller.
It's a perfect way to get a toy holder that suits your needs.
18) Giraffe Wicker Basket Storage for Kids (Pottery Barn Kids)
This cute giraffe-shaped wicker basket is available at Pottery Barn Kids.
The interior basket part of this is about 11.5-inches by 11.5-inches so it isn't a great way to storage large stuffed animals or a big collection, but it's a cute way to store a small number of teddy bears.
It would go well in a clean, modern-looking kid's room.
19) Store a Special Stuffed Animal in a Display Case (Container Store)
Does your child have a very special stuffed animal? Perhaps their most beloved plush toy from when they were young? Or a gift from a family member that has passed?
If so you can buy this clear, styrene case from the Container Store. It isn't very big. It'll hold a stuffed animal that is about 5-inches wide, 5-inches deep by 7-inches tal.
But it is a great way to honor that special teddy bear and the memories it holds.
Click here to see more details at The Container Store.
I hope you've enjoyed this list of stuffed animal storage ideas.
Will one of the ideas work at your home?
You May Also Like:
Do you have Hot Wheels all over your house? Check out these different ways to store Hot Wheels cars.
13 space saving Twin Bed with Storage options (great options for a child's bedroom)