Need a place to store your shades? Tired of being unable to find them when you need them? In this article we'll look at 21 cool Sunglasses storage ideas so you can store your collection of sunglasses, or just your favorite pair.
Scroll through all the ideas to find the perfect solution for you.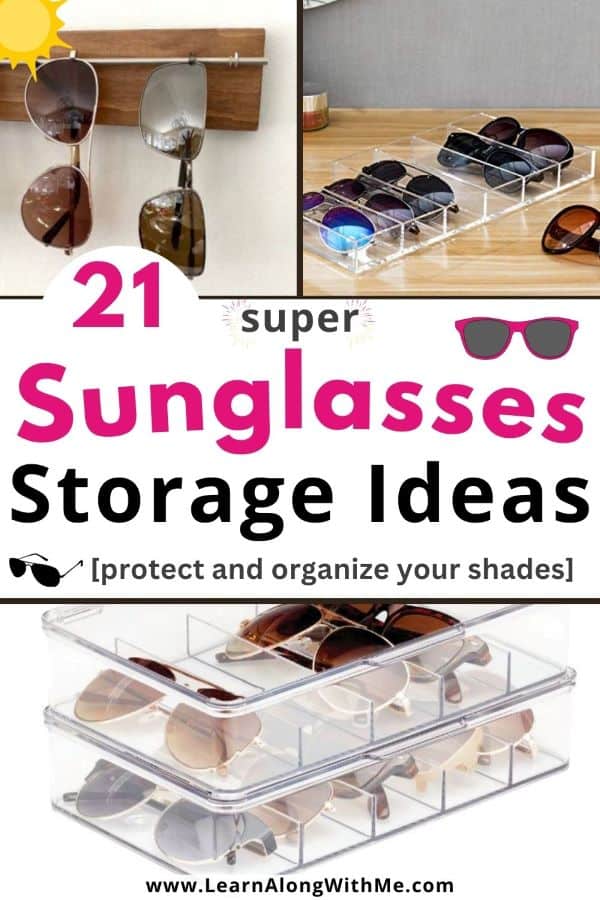 This article contains affiliate links. If you click a link and buy something I may receive a small commission at no extra cost to you. As an Amazon Associate I earn from qualifying purchases. For more information please see the Disclosure page.

How to store sunglasses – List of Sunglasses Storage Ideas
These sunglasses storage ideas are will help you organize your sunglasses – so you can find them on sunny days. (Your eyes will thank you.)
The best way for you to store your sunglasses will depend on several factors such as the size of your sunglasses collection and the storage space you have available.
If you only have one or two pairs of sunglasses, obviously your storage needs are much different from someone with 20+ pairs.
And these storage ideas will cover a variety of different storage spots from countertop storage, closet storage, drawer storage to hanging options.
Not all of these ideas will work for you, but hopefully at least one of them will be right for you.
1) Sunglasses Organizer Box with Lockable Glass Lid
The company AUTOARK makes this highly-rated sunglasses organizer in either 12, 16, 18 or 24 compartment versions.
This is the 12 compartment version. It features room for 6 sunglasses on the top shelf, and you can fit 6 different pairs of glasses in the sliding drawer.
You can put your favorite pairs up top and have them visible under the glass top – like they're on display. And you can lock the lid too.
It is faux leather – not genuine leather – so it has a good price point, yet still looks really good and it'll add to your room decor.
Check Current Price by Clicking Here.
2) Wall-mounted Sunglasses Holder (Etsy)
Here is a wooden sunglasses holder that you mount to your wall, and you hang your glasses from the horizontal metal rod.
It is made by the Etsy seller PrettyandPine. You can get it in lengths ranging from 10 to 24-inches wide. And, you can get it in a few different colors and finishes.
This is a great way to use vertical wall space while providing a place to hang up your family's sunglasses.
3) Hanging Felt Pocket Sunglasses Holder with Plastic Sleeves (dust-proof)
A hanging organizer like this is a great way to utilize vertical space.
It has a felt backing, and 16 plastic horizontal sleeves that you slide your sunglasses inside sideways.
The picture above shows that you can either hang it over the door using the metal hooks, or hang it from a nail or hook using the included rope. (Note, it is single-sided, they just show two of them in the picture above to show the two ways you can hang it.)
People like how it can store lots of glasses, keep dust off their glasses, and that it uses "wasted space".
But some people don't like how you need to slide the sunglasses inside the plastic pouches. They find it a bit finicky getting the glasses inside. (But the company makes another option that I'll show below.)
So it's a good option for someone with multiple pairs of sunglasses and who have the patience to insert and remove their shades from the plastic enclosures.
Click here to see other colors of this sunglasses hanger.
4) Hanging Sunglasses Holder with Felt Pockets
This is made by the same company as above (AROUY), but you'll notice there are no plastic pockets in this version. It is just felt pockets.
You can slide your sunglasses inside the felt pockets, or hang your glasses from the earpieces like shown in the picture above. It is a well-rated vertical sunglasses holder.
Plus, this version holds more sunglasses than the plastic-pocketed version (25 versus 16), but this version only hangs from the rope. It isn't an over the door hanger.
Will this style work for you?
5) Sunglasses Rack
This sunglasses rack provides an attractive way to store and organize your sunglasses while still being able to show them off.
If you're proud of your sunglasses collection this rack allows you to display them. It features a wooden base and metal rods to hold your glasses. You will have to dust them off though since they aren't in an enclosed case.
Will this look good on top of your dresser or in your closet?
6) Double-sided Hanging Sunglasses Holder for your closet or wall hook
This hanging organizer from ANZORG is not the most elegant looking holder…it won't wow you with its looks. But it is functional.
You can hang it from your closet rod, or if you've got metal coat hooks near the front door, you could hang it from that.
It has 20 plastic pockets on each side so you can store up to 40 pairs of glasses with this organizer!
If you don't have 40 pairs, you can use the slots to store smaller items like watches, bow ties, hair accessories, etc…
If you want to make the most out of the vertical space in your closet or against a wall, check this out.
7) Wooden Wall Rack for Sunglasses and Keys (Etsy)
I like the rustic look of this sunglasses rack. It is made by the Etsy Seller BeaverLakeWoodCo, and you can get it in a 3-shelf, 5-shelf or 8-shelf version.
What's also good about this organizer is that it has key hooks so it would work well in an entryway or mudroom.
Click here to see the different colors available and the current price.
8) Put your sunglasses in hanging shoe organizers
If you like the idea of storing your sunglasses in a hanging organizer, but you don't want to buy one strictly for glasses, you could just tuck them inside a hanging shoe organizer.
With all those pockets there is plenty of room to store your sunglasses and other accessories too.
They are super versatile organizers. And if you get one that hangs from a door, you can make the most of the wasted space behind your bedroom door or closet door.
9) Clear, Stackable Sunglasses Organizer
The company mDesign makes a lot of different high-quality plastic organizers.
This is their stackable, clear plastic sunglass organizer case. It features two trays with hinged lids that can be stacked on top of each other. Each tray holds 5 pairs of glasses.
It is a nice way to organize and store your glasses on top of your dresser or closet shelf. And the lid will help keep dust off your shades.
10) Bamboo Sunglasses Storage Box
Doesn't this look cool.
What's nice about this storage box is you could set it on top of your dresser or table by your front entrance.
Or you could tuck it inside a dresser drawer and use it as a drawer organizer. So your shades are nicely tucked away out of sight, but within easy reach.
This is a great idea if you have an entryway table with drawers so everyone in the family can access their pair of glasses. (Unfortunately this won't work inside an IKEA Panget table because this is 15-inches long and the Panget drawers are only 13.75-inches long.)
And if you don't have 6 pairs of glasses to use up all the slots, you could place your watch, coins or other small items in here.
RELATED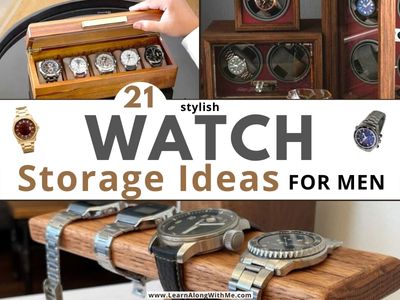 11) Place your Favorite pair of sunglasses inside an Acrylic Tray
If you have the countertop or tabletop space here is an attractive and easy way to store up to 6 pairs of glasses. The company MyGift makes this divided, acrylic tray.
It's the same concept as the bamboo tray above but some people just prefer clear acrylic.
And this would also go well inside a drawer to provide some nice "out of sight" storage for shades.
Click here to see current price of this organizer.
12) DIY Sunglasses Holder Using an old Photo frame
Don't toss out an old picture frame…instead convert it into a DIY sunglass holder!
You can screw small hooks into the wooden frame and then hang your pairs of glasses from these hooks.
And put a sunny beach photo into the picture frame to give it a nice tropical vibe.
This is a cute DIY idea to hold your glasses.
13) Sunglasses Organizer Box (great for travel)
If you travel with several pairs of glasses – such as prescription eyeglasses, readers and sunglasses – you should check this out.
You roll it up to create a pentagon-shaped carrying case, and bring it with you to your destination.
And once you've arrived, you unroll it to access your glasses. You can even hang it on a wall hook using the attached loop.
This is a pretty cool sunglass case. It is highly-rated on Amazon and made by the company Longjet.
14) Showroom-style Acrylic Sunglass Holder
This 4-tier acrylic stand will allow you to proudly show off up to 4 of your favorite pairs of glasses. It's like they'll be on display at a showroom (but you won't have to pay showroom prices for this stand).
It isn't great if you have a lot of sunglasses -because it only holds 4 – but if you're proud of them you should look into a holder like this one from Mooca.
15) Hang your Sunglasses from Command Hooks
Sunglass storage doesn't have to be fancy.
This is a super simple way to store a couple pairs of sunglasses. Just stick some Command hooks on the wall and then place your sunglasses over the hook.
And putting these by the front door or another convenient location is an easy way to ensure your favorite pair is always within reach.
16) Wall-Mounted Sunglasses Clips (Etsy)
If you like the idea of hanging your sunglasses on the wall, but you don't want to use a Command Hook, the Etsy seller ZandelayIndustries makes this unique alternative.
They sell a 5-pack of these plastic clips that mount to the wall using double-sided tape…so no need to screw into the wall.
It's a bit tricky to see what you're getting by just looking at the picture above, so the pic below shows one of the plastic clips.
Click here to see the current price of this 5-pack of sunglass hangers.
17) Hang your Sunglasses from a Jewelry Tree
You could dedicate a jewelry tree like this from AmazonBasics to store only your glasses, or you could store your jewelry, watches and keys on here too.
The "catch-all" base provides a good spot to toss your coins at the end of the day. So even though most people use this in their bedroom, it would work well near the front door too.
18) Semi-hard Sunglasses Travel Case
If you travel for work or play you probably bring your sunglasses with you. Stepping out of the airport into a sunny tropical location can feel amazing, but the glare can sting your eyes.
Pack your favorite pair of sunglasses with you in a nice, portable glasses case like this one from MoKo. You can put it into your carry-on bag or purse, or clip it to your bags with the hook. Having a clip means it won't take up room inside your purse, you can just hang it from the outside.
But keep in mind this case is semi-hard…so your glasses will get crushed if you put weight onto this case. You don't want to open it to find your designer sunglasses smashed.
If you want to primarily protect your glasses from getting scratched then this is a good option. (If you need a more solid option for travel see below.)
19) Hard Clamshell Case for Large Sunglasses
The company Vemiss makes this hard-shelled clam style glasses case designed to fit large sunglasses.
What people like about this is case, is that they can put it into their luggage without worrying about impact or shock during baggage handling. It's a safe place to store your expensive sunglasses during travel. (At least it'll protect against physical impact, but not thievery.)
And it doesn't have a zipper. You'll notice that many cases with zippers have negative reviews about the quality of the zippers. You won't run into that issue with this case.
The potential downside is that since it doesn't have a hook, you'll have to put it inside your purse if you're carrying it with you, so it'll take up room in your handbag.
It has a linen covering on it, and it is available in lots of different colors.
If you don't have particularly large sunglasses, and you're worried about this taking up too much space in your purse or bag, Vemiss does make a smaller hard-shelled case.
20) Sunglasses Visor Clip – a sunglasses storage idea for your car
Do you need a special place to store your sunglasses in your car? Perhaps you're tired of putting them inside the cup holder.
Well a good alternative is to get a clip like this from CHUMS that goes over your vehicle's sun visor.
It'll hold your sunglasses and they'll be within easy reach for when the clouds part and the sun shines down.
21) Leather Valet Tray
A valet tray is used as a catch-all for your everyday carry items like keys, coins, watches, etc… And they're a great place to set your sunglasses too!
It's only for temporary storage and doesn't do anything to protect your glasses, but at least you'll know where you left them.
And though a valet tray takes up countertop space, it helps to reduce surface clutter on entryway tables or shelves by holding lots of small items that would otherwise to strewn about.
This particular valet tray is segmented so you can put your sunglasses in one slot, and other small items in the other section.
I hope you've enjoyed this list of sunglasses storage ideas.
As you can see there are lots of options out there. People have come up with some innovative ways to store their glasses.
Will one of these options work for you?
Up Next: (I think you may like these…)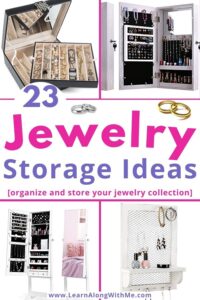 Jewelry Storage Ideas (organize and store your jewelry in style)
Watch Storage Ideas – have you seen these clever ways to store you watches?
53 Closet Storage Ideas – get your closet organized today!