Are tea bags falling out of your cabinet when you open it? Tea lovers often have this problem: they find lots of great tea, but they don't have a good spot to store it. In this article we'll look at 17 tea bag storage ideas to help you get organized.
This article contains affiliate links. If you click a link and buy something I may receive a small commission at no extra cost to you. As an Amazon Associate I earn from qualifying purchases. For more information please see the Disclosure page.
Tea Bag Storage Ideas to Organize your Tea Collection
Storing and organizing tea bags is one of the most common home organization challenges for tea lovers. It's easy to get tea bags all over the place, whether they're scattered throughout a cabinet, on your countertop or stuffed in a drawer.
But these tea bag storage ideas can give your kitchen a stylish and functional boost. These ideas will help you keep your tea bags organized and accessible.
And when you have a well-organized tea bag storage system, you'll spend more time sipping your favorite tea instead of searching for it.
Tea Organizer with Drawers
This tea organizer with 3 pull-out drawers by mDesign is a really popular way to store tea bags.
There are 9 compartments per drawer – 27 total – so you have a great opportunity to store a lot of dfferent types of tea with this unit.
You could dedicate a drawer to black teas, one to herbal teas and one to green teas if you wanted.
The downside to this option is you may not have the countertop space nor cabinet space to accommodate it.
But will this work for you?
Create a Tea Drawer using a Plastic Tea Organizer
Do you have room in your kitchen drawers to create a tea drawer? Drop in one of these plastic, compartmentalized organizers, stick your tea bags in and you'll immediately improve your tea organization.
This will basically act as a drawer divider to help you contain your tea bags.
Do want an easily accessible tea drawer?
Click here for more information on this popular and highly-rated tea organizer.
Airtight Metal Tea Bag Storage Containers
This stainless steel tea container has an airtight clamp-down lid which has a see-through top. So you'll be able to see how many bags are still in here.
It will hold about 100 tea bags that are not individually wrapped. It wouldn't be great for storing more than one type of loose tea since the flavors could potentially be affected.
But hey, if you have a couple different favorite types of teas, buy a couple of these containers.
It's good that it is airtight. Because if the container isn't airtight, the tea can absorb other aromas.
(You should separate your teas from other foods or spices with strong odors. Unless you want your nice cup of tea to taste like garlic or other pungent food.)
Airtight Clay Tea storage Containers
If you don't like the cool, shiny look of the metal container, perhaps you'll prefer this clay tea container with beech-wood lid.
This airtight container is made by the Henry Watson Pottery company from England. (They say they're a 7th generation family business!)
Use a Spice rack to hold your tea
Narrow shelves like these are often marketed as spice racks, but they can make useful tea bag organizers too.
These shelves are just under 3-inches deep and about 15.5-inches wide.
So by stacking your tea bags on here like books on a shelf, you'll be able to put lots bags on here.
Do you have room on a wall or inside a cabinet for this option?
Display your tea bags in Mason Jars or other Glass Jars
Many tea lovers are proud of their tea selection. Putting the tea bags into mason jars or other attractive glass jars is a way to display your teas.
You can place the jars onto your kitchen counter or place them on a shelf.
Just remember that if your tea bags are loose (i.e. not in an individually wrapped paper bag), then they should be protected from the light.
You could still use Mason jars, but put the jars inside a kitchen cabinet to keep them out of the light.
Put up a Tea Shelf
Wall-mounted shelves like this allow you to free up countertop and cabinet space by storing your teas on the wall.
And because these shelves are over 6 inches deep, you'll be able to store most tea boxes that the bags were sold in. You shouldn't have to fuss with taking all the bags out of the boxes and organizing them. Just put the whole box on here.
You can stack the three baskets on top of each other or you can hang each basket on the wall individually in different places.
You May Also Like our Article on:
11 simple Snack Storage Ideas (get your snacks organized today)
Stackable Tea Organizer with Little Drawers (by mDesign)
The company mDesign makes a lot of great organizers including this stackable tea bag container with 3 little drawers.
You can sit the organizer vertically (as shown in the picture), or you can lay it on its side. Whatever works for you. It's a good option for a small kitchen.
If you don't have too much tea, then this is a great way to store a limited number of tea bags in each compact drawer.
Unique Tea Bag Dispenser
I came across this tea bag dispenser while researching this article and I thought it looked rustic and unique.
It wouldn't be good for organizing different types of tea because you take the tea bag that's at the bottom – you don't select the kind you want. But it would be great for storing your favorite type of tea bags. Load them in here and pull one on of the bottom of the "house" when you're ready.
Wooden Tea Bag Storage Box
Doesn't this tea box look great. Such a good-looking way to store and organize tea.
Get a couple of these wooden boxes and you'll be on your way to organizing a small tea collection. You could place this inside a kitchen cabinet, on the counter, or even inside a drawer.
It is a simple-looking box, but it's an effective way to store your tea bags that are individually wrapped in paper or plastic bags.
Bamboo Tea Box with Storage Compartments
Doesn't this look cool.
RoyalHouse makes this stylish bamboo tea box with a clear plastic lid.
You can get it with 8 compartments (as shown), or a larger 12 compartment version.
Slide-out Metal Tea Organizer
The company Lynk Professional makes a lot of high quality sliding organizers.
And this is their foray into tea organization!
You mount this inside a kitchen cabinet to allow easy slide-out access to your favorite teas.
They estimate you can hold about 70 tea bags with is organizer.
And if you want more than that you can get this as a double-decker to hold even more bags.
Spinning Carousel Tea Bag Holder
This unique tea bag holder is likely best suited for an office lunchroom or a similar place where you'd need your teas on display. (Like at a self-service breakfast bar or waiting area of a car dealership.)
With a cool organizer like this, someone wouldn't have to go searching your cabinets or drawers trying to find your tea.
Simple Plastic Containers for Tea Bags
Storing your tea bags doesn't have to complicated or expensive. You can get a basic plastic container like this to hold your tea.
Just put these inside a drawer, inside a kitchen cabinet, or even right on your counter and you've got an easy way to store your tea.
You can probably find plastic storage bins like this at your local dollar store…
…or you can click here to check out this well-rated product by Youngever.
Tea Storage Box with Lid (The Container Store)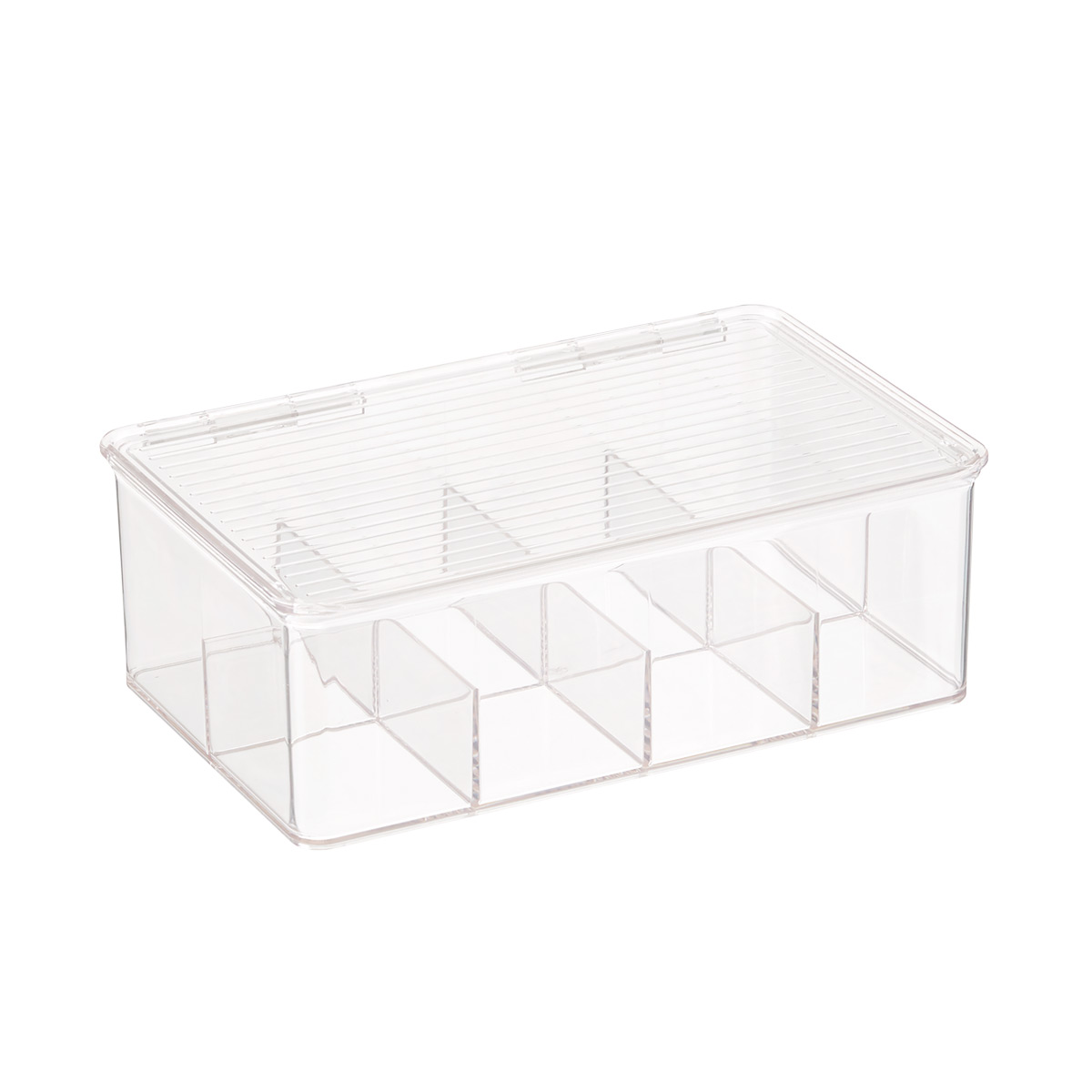 Do you love the Container Store? They sell these awesome stackable tea storage boxes made by iDesign.
And because it has little compartments inside it, it doubles as a plastic tea bag organizer too. You'll be able to separate your teas. For instance, keep your herbal separate from your caffeinated black tea and green tea.
Wall Mounted Tea Rack
Is your countertop already cluttered and your cabinets stuffed?
Then maybe you should have a look at your walls. Do you have room to mount this cool tea rack on your wall?
You can actually set this on your counter if you have room, or put it up on the wal.
It is pretty highly-rated too.
Will this work for your kitchen?
Click here for more information.
Seagrass Wicker Tea Bag Storage Tray
This 4 compartment tea organizing tray is a unique way to stroe your tea bags.
And it's versatile too. You could keep it on your counter, slide it into a drawer or put it into a cabinet.
Click here for more information on this tea organization tray.
How should I store my tea?
Ideally you should store loose tea bags (ones not individually wrapped) in an airtight container away from direct sunlight.
It's a good idea to periodically go through your tea bags. Are there some you've never drank and you probably never will? Or are some beyond their expiry date? If you haven't drank them by now, it's time to move on and get rid of them.
You May Also Like:
K Cup Holder Ideas – ways to store coffee pods
29 great Coffee Bar Accessories (lots of accessories for tea lovers too)