Is your teen girl's bedroom super tidy and organized? (I'll wait for you to finish laughing.) The teen girl bedroom organization ideas and tips in this article may help get their room "put together."
Buying organization items is a start…but you actually need to use them on an ongoing basis for them to help. So choose organizers that she'll actually use consistently.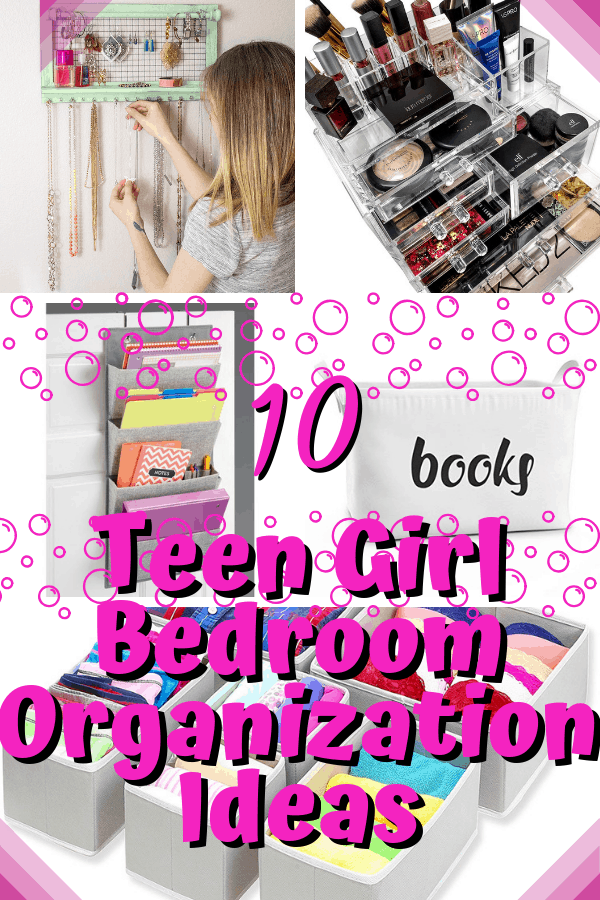 This article contains affiliate links. If you click a link and buy something I may receive a small commission at no extra cost to you. As an Amazon Associate I earn from qualifying purchases. For more information please see the Disclosure page.
List of

Teen Girls Bedroom Organization Ideas
1) Over the Door Hanging Organizer
I love organizers that make use of "dead space."
And an over-the-door organizer like this would work well as a personal command center for teens: slots for binders, homework, magazines, etc… It is a good start toward
It is available on Amazon if you want to have a closer look.
2) Shabby Chic Jewelry Organizer
Having jewelry is great…if you can find it!
There are many jewelry organization ideas and the one shown below is quite popular.
Will this work for your teen? (Click here to see more details on Amazon.)



Check out these 17 unique jewelry organizers so you can find what you need.






3) Makeup Train Case – Organizing Cosmetic Case
This makeup organizing case is portable and has metal edges so it should hold up to traveling to and from sleepovers. It also has a flip-up mirror so you could get ready anywhere. It will help your teen with organizing her makeup which is a good step toward girls bedroom organization, but it should also streamline her morning routine if she knows where everything is.
Click here to see this makeup case on Amazon.







4) Acryclic Makeup Display Case
If you prefer makeup to be out & visible then an acrylic display case like this can help. It has slide out drawers to improve organization.
This one is also quite popular on Amazon.
5) Portable Make up Train Case
If you prefer a make up case that is portable you should check this one out.
It isn't as big as the case featured in #3 above, but if this matters would depend on how much makeup you have??
Click for more details on this popular, portable makeup case.
6) Book Storage Basket
This is a cute option to store books and magazines when you don't have shelf space to display them.
It would look great on a cube storage shelf like the ones Ikea sells, or tucked up on a closet shelf.
7) Cute closet hanging organizer
The closet is a dedicated storage space so it makes sense to get this space organized. A hanging organizer like the one shown below is a great "no tools required" organizer. And for many people, in order for them to solve the mystery of "how to organize a teenage girl's bedroom" the solution will come down to organizing her clothes and closet.
Plus, this closet organizer has a drawer for discrete items if her dresser is full.
Will this help organize your teen's closet?
If you want other ideas on how to organize your closet, check out our other posts.
8) Bedroom vanity set
A vanity set like this one will help keep the bathroom clean too because you don't need to keep your hair and makeup in the bathroom anymore.
9) Hair Care Organizing Shelf with Drawer
A hair care organizer like this has specially lined compartments to store hair dryers, curling irons, straighteners, etc… Plus, it has a small pull-out drawer for accessories.
It'll go well on a bedroom vanity set or even dresser.
10) Clothes Divider Baskets
These dividing baskets are super handy. You can use them on closet shelves or in dresser drawers. And organizing clothes can be big part of organizing a teen girl's bedroom.
These are really popular on Amazon, click for more details.





Frequently Asked Questions
Where do you even start with organizing a teen girl's bedroom?
A) There is a difference between dirty and messy, so deal with the dirty stuff first like any garbage, dirty dishes and dirty clothes.
B) Then take some time to look around the room and see what is causing the majority of the mess.
It is often one or two things causing the majority of the problem.
For instance, for some teen girls most of the mess may be due to:
unorganized clothes and/or too many clothes (probably all over the floor)
books, journals, notebooks or other media
craft and art supplies
unorganized jewelry and accessories
makeup scattered all other
or knick-knacks

C) Then make a plan to declutter and get rid of unwanted or unneeded items.
D) Once you've whittled it down to just the things she wants to keep, plan on how you're going to organize the remaining "good" stuff.
For instance, if most of the mess was clothes then she needs to go through the clothes and donate what she doesn't want or what doesn't fit her. Then put the remaining clothes away into her dresser or closet.
E) Analyze the situation and determine if there is a bedroom organizer that will help with this…such as the fabric divider bins or hanging closet organizing shelves.
Then help her establish a daily habit and routine of putting away her clothes where they below and putting dirty clothes into the laundry hamper – not just on the floor.
What to do with a teen girl's old toys or girly items?
Transitioning from a child to a teen is an interesting time. A teen may be excited to start doing new grown-up things and having more responsibility, but they may be reluctant to let go of their childhood toys and keepsakes.
You can try getting a tote dedicated to storing their old toys and trinkets and set this aside for them in an attic or storage space. When they're older and further separated from their youth they can then decide what is truly worth keeping.
I hope this list of teen girl bedroom organization ideas has helped you.
It will always be a work in progress, and getting organized is one thing, and then it's important to stay organized.
Up Next:
19 space-saving Small Bedroom Organization ideas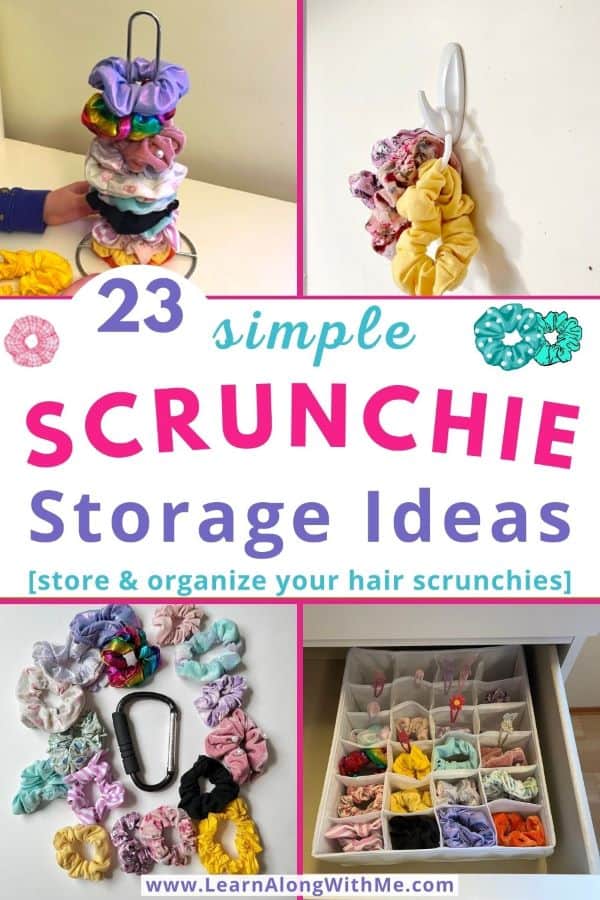 Check out these Scrunchie Storage Ideas to see what'll work for your teen girl.
13 space-saving Twin Bed with Storage Ideas [great storage idea for small rooms]
19 stylish Boho Bedding Ideas [instantly change the look of your teen's room]
17 proven Craft room Storage Ideas
15 Winter Birthday Ideas for kids and teens