Tension Rod Organization Ideas
Tension rods are very versatile organization tools.
Below are several ideas on using tension rods to help organize your home. Some of the ideas I use myself, and others I have found online.
(This post contains some affiliate links to help support the site. Please read my Disclosure page for more information.)
Over the Christmas break I went to Walmart and bought a few different sizes of tension rods. I found them in their curtains and blinds section. The quality of the small tension rods I bought aren't great, but they do the trick. Amazon may have better ones, but I haven't compared yet. But I did find some rods on Amazon that had good ratings.
Clicking the picture above will take you to Amazon to view some tension rod cupboard bars on there.
Tension Rod Blanket Wrangler
I hate when I put blankets and comforters up on a shelf then they roll down onto my head. It annoys me.
Recently, I discovered that I can use a vertically positioned tension rod to act as a containment device for blankets. I converted an old bookcase to be my towel and blanket holder. It basically acts as an open faced linen closet. (It isn't pretty but it works.)
I positioned the tension rod between the top shelf and the ceiling, and it has worked awesome so far.
Tension Rods in the Shower
Tension rods positioned inside the shower act as a hanging rack to dry off wet bathing suits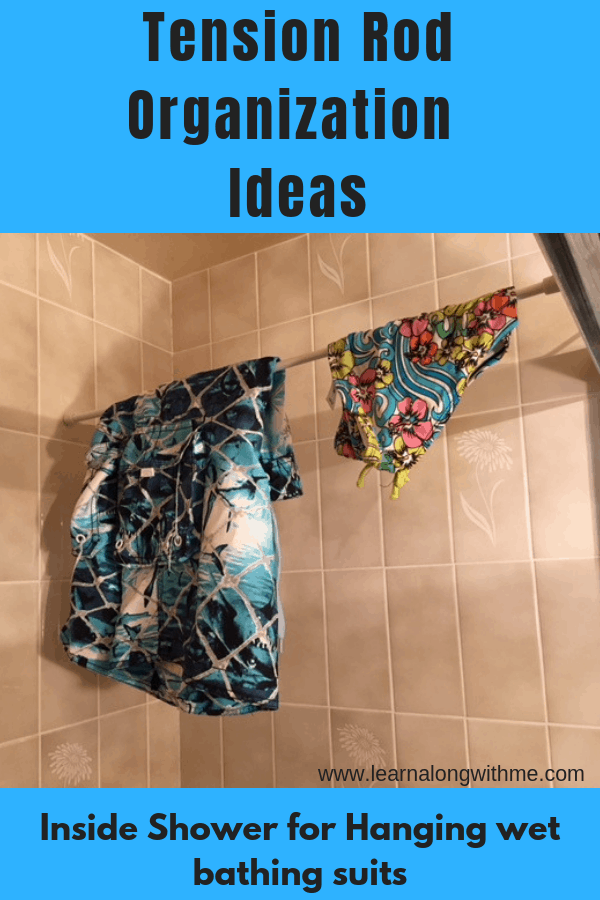 I have a glass shower door so I am able to position the tension rod between the hard frame of the shower door and the wall.
Now after we go to the pool I can place our suits on here and have them drip dry into the tub.
Under Sink Cabinet Shelves
I haven't personally done this myself, but I've seen tension rods make a good base for under-counter storage baskets. Or you can hang spray bottles (like cleaning supplies) from the rod so you still have shelf space on the bottom of the cabinet.
Drawer Dividers
Lids for food storage containers can be a real pain the butt to keep organized.  Tension rods can help separate lids, and anyone can easily customize the length of a tension rod to fit their drawer.
I would love to use something like this, but I don't have a drawer right now that will work.
These Tension rods in the Amazon picture below are rated 4.4 out of 5 stars right now with over 150 reviews.  And they claim they can hold up to 20 pounds.
Room Dividers
I've seen folks use two tension rods to create a doggy "gate." String some fabric over the tension rods, place them in a doorway, and it creates a lightweight barrier to keep dogs out of certain rooms.
Tension Rods to Hang Herbs
Cleverly placed inside a window frame a tension rod acts as a great support for sun-loving herbs. You can have several rows to create your own vertical garden.
Hide Clutter with Tension Rod Curtains under a Desk or Table
A well placed curtain can hide the mess lurking underneath your desk or table (like power cables or printer shelves). And if you have a litter box under a table or shelf you can put up some little curtains to keep your cat's "business" out of sight from your guests.
Wrapping Paper Organizer
There are certain things in a house that are just plain annoying. They are annoying because it doesn't matter how carefully you place them, they always topple over!  Yes, I'm talking about you Christmas wrap.
A tension rod placed horizontally, tucked inside a closet or other area with walls on both sides, can keep Christmas wrap upright, and undamaged.
(To have a "greener" Christmas I used colorful newspaper and reused gift bags to wrap gifts this year. But we still have wrapping paper around the house.)
Arts and Craft organizers
A tension bar provides a great way to store your decorative tape or ribbons. And because they are so easy to remove and put back it makes organizing your crafting supplies a breeze.
We used a tension rod to keep scissors and other sharp objects up and away from my toddler but still easily accessible to my older daughters.
I placed the tension rod against the supports of wall-mounted shelf. You can just get a glimpse of the shelf in the picture.  (And you get a glimpse of a painting my daughter showed my how to paint 🙂
Tension Rods in the Closet
You can loop your accessories and jewelry around small tension rods so they are easily accessible. There is no use in having amazing jewelry or belts if you can't find them.
Tension rods to hold up high heels. This doesn't pertain to me, but the ladies reading this might find this helpful. . You can drape the heels over the rods to help keep your shoes organized, visible and easy to find.
Tension Rods in the bathroom
They provide great "no installation required" towel rods.
And we have a shower curtain tension rod in our main bathroom.  We took down the old glass shower door and are using a tension rod instead. I like it because even if/when I buy the wrong size of shower curtain, you can easily adjust the height or the curtain rod.
Tension Rods in the Kitchen
Tension rods to help organize the lids of pots and pans.
You can also use a tension rod as a paper towel rod holder.  I have been trying to cut down on the amount of paper towel I use in the kitchen to minimize waste, but many people still have some in case of emergency spills.
A Coffee Center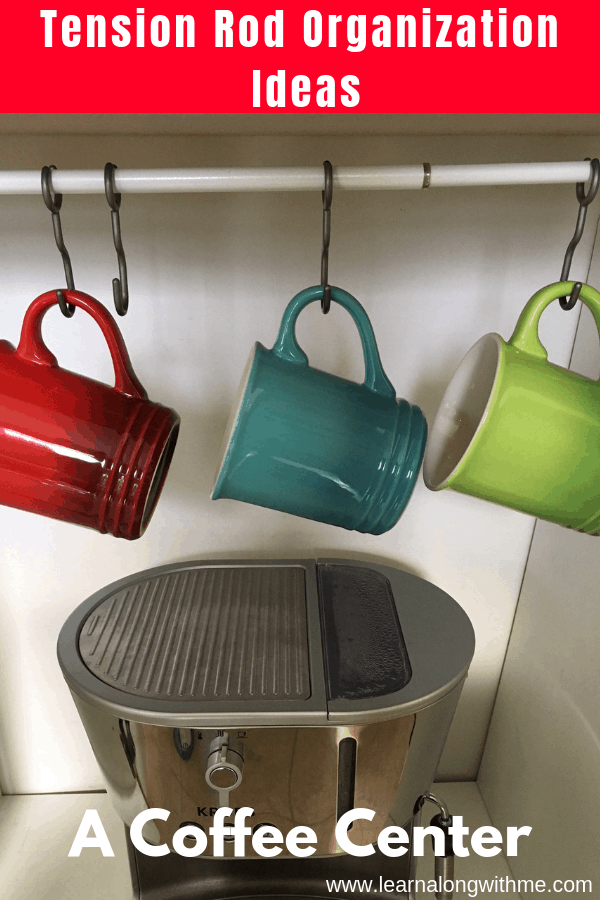 I love having a cappuccino now and then, but I don't make one each and every day (I currently make drip coffee every morning.) And because I don't use it every day, I have created a little storage area for our espresso machine inside our pantry. I don't need another kitchen device cluttering up our kitchen counter.  And you can use a tension rod to store extra coffee mugs.  (I don't have any cool espresso glasses so I took a photo of my colorful coffee mugs 🙂
Baby-proofing Bookshelves
If your baby loves to grab all the books off your bookshelf and scatter them everywhere, then you should check out this idea. I've seen it done a couple ways (including wrapping a pool noodle around the tension rod), but the basic idea is you put the tension rod near the front of the shelf so that your baby can't just tug all the books down.
(I'd make sure to screw the book case to the wall though just in case the baby uses the rod to yank the whole book shelf down!)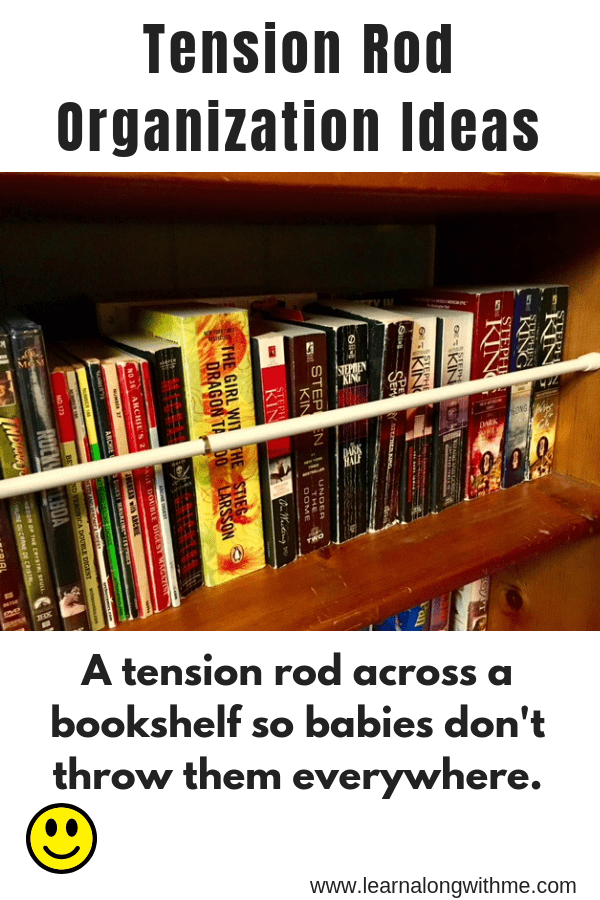 This type of thing works great for RV's, and travel trailers.  For more information on RV storage ideas, click here to check out my post on that topic.
Tension Rod For Laundry
A tension rod is easy to put up, and makes a great, portable drying rack. I have been hang drying my clothes for the past ten years, and a tension rod is great way to hang my shirts to dry.
I hope you've found some tension rod ideas to inspire you to tackle your organization challenges.
If you know any great ways to organize using tension rods, or especially if you have pictures where I don't, please comment below.
Thank you.