Need some inspiration on enjoyable and fun things to do while camping? That's good because in this particle we'll highlight 35 fun camping activities. But to be honest, these won't suit everybody…so scroll down to see which ones entice you.
This article contains affiliate links. If you click a link and buy something I may receive a small commission at no extra cost to you. As an Amazon Associate I earn from qualifying purchases. For more information please see the Disclosure page.
35 Things to do while Camping
Alright, let's launch into the list of things to do while camping.
Knitting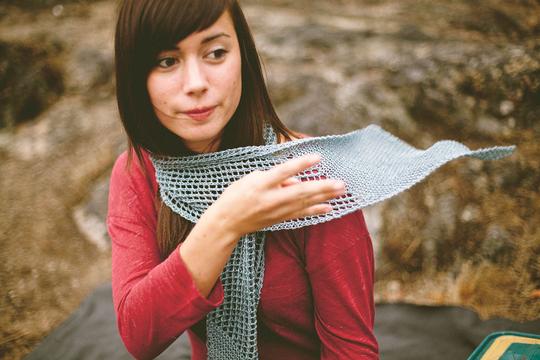 Knitting is a great portable hobby that's perfect for camping. Not only is it enjoyable, but it is useful too. You could knit some socks, scarves, or mittens for your next camping trip.
If you want to knit this great-looking scarf in the photo above, it is called the Strathcona Scarf and is available on Jane Richmond.com
Needlework Crafts
Needlework crafts like embroidery, needlepoint and cross-stitch are crafts that can be worked on while camping (if the lighting is adequate to see and follow your pattern).
[I am not an expert in these crafts so please don't quiz me on the difference between them. 🙂 ]
Macramé
Macramé is a popular cord craft that can be brought camping. A very popular macrame project is the dream catcher. (Sorry I don't have a good picture at this time, but there are tons of tutorials on Pinterest.)
Whittling
Whittling is an ancient hobby that is both artistic and useful. And you don't have to whittle intricate jewelry boxes…you could simply whittle some beautiful handmade walking sticks!
You could use a pocket knife, or if you want to get a little more specialized, you could check out the beginner's wood carving set like the one shown above.
Play Cards
Playing cards are so small and compact they are perfect for camping.
And this set of waterproof playing cards by Hoyle will stand up to spilled drinks or surprise rain storms.
They are popular on Amazon. Check it out if you need a new deck of cards.

Play board games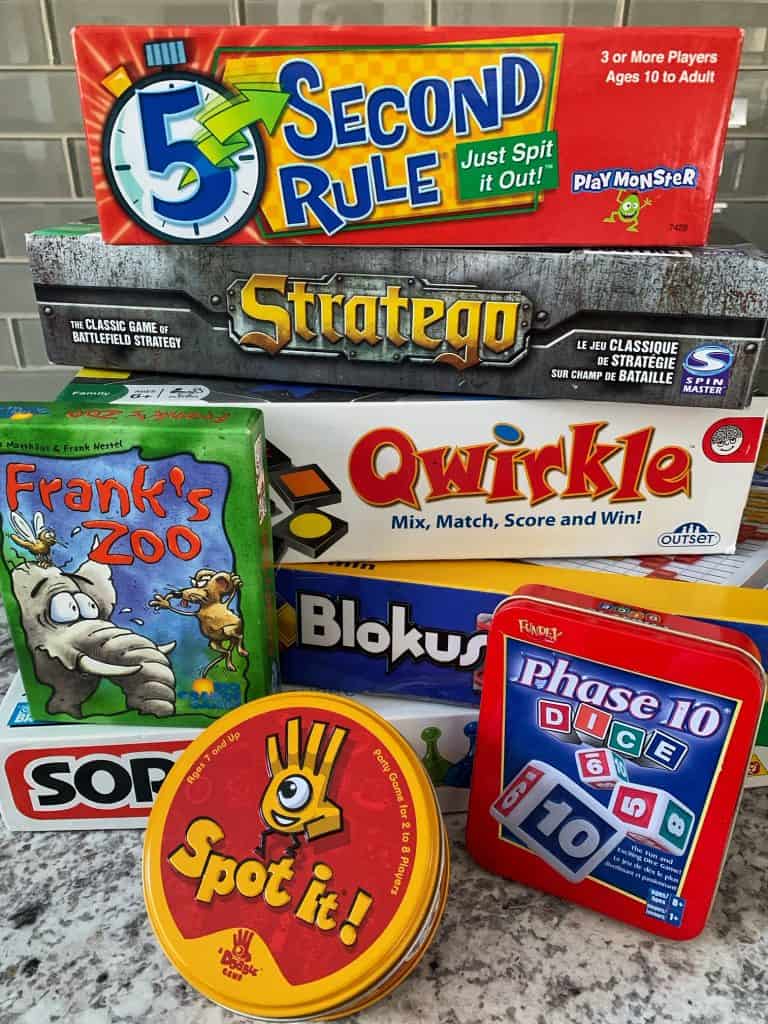 Board games are fun things to do while camping at night, or on rainy days.
For some board game ideas check out 17+ Fun Family Board Games
Play outdoor games
Fun outdoor games to play while camping include:
horseshoes
bocce
cornhole
ladder golf
Frisbee
toss around a mini football
play catch with baseball
For more fun outdoor camping games for families click here.
Badminton
Badminton could have been grouped in with the other activities above, but it is so fun I put it by itself. It is a game that can be made very simple (by just playing "keep up"), or it can be competitive.
And it is enjoyed by people of all ages.
Outdoor Scavenger Hunt
You can write down your own list of natural items to find or see – like "yellow bird", "orange rock", "a beaver", etc… – or you could check out this nature scavenger hunt card game for your family called "go find it."
It is available on Amazon if you want to have a look.
Geocaching (modern day treasure hunting)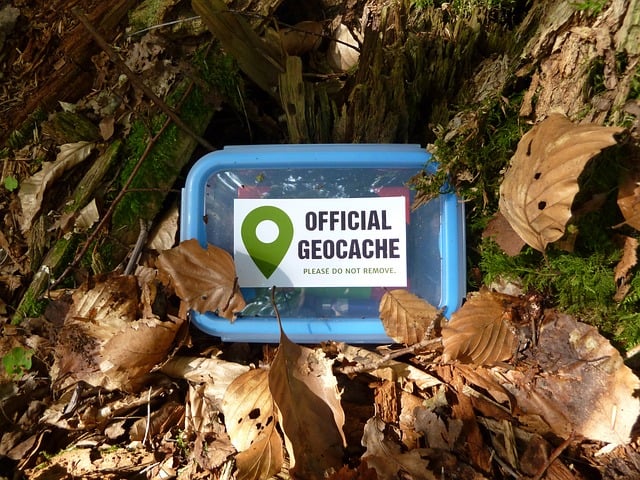 You can download the Geocaching app on your phone and then it'll tell you if there are any Geocaches in your area. They are like little treasure boxes hidden and filled with knick-knacks.
The real fun is the pursuit of the treasure more than the treasure itself; finding the treasure box is the reward.
Geocaching can be a fun way to get out and explore around your campground, and people of all ages love treasure hunting.
For more information check out the Geocaching website.
Stargazing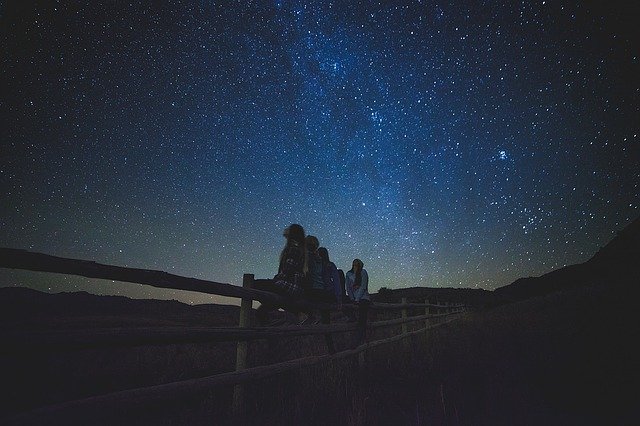 If you are camping outside a city's light pollution, the clouds may part revealing the expansive night sky and the universe's breath-taking sights.
If you want perspective in your life, go stargazing.
For information on what to see when you look up, check out this 2021 calendar of sky events.
Axe Throwing
This isn't suitable for all camping situations, but if you are backcountry camping away from other campers, and it is safe and legal to do so, then axe throwing can be a lot of fun. (I love throwing hatchets and axes.)
(Don't throw it into living trees though.)
Throwing axes and hatchets are small and compact so they're easy to pack camping. And you don't have to buy a dedicated throwing axe.
I use my same hatchet that I use for firewood kindling. (I just have to change my pacing from the target to adjust for the hatchet's rotation.)
Archery
Archery is a lot of fun. There is a reason it has been a staple of summer camps for years. But same common sense rules apply as with throwing axes, you need to make sure you only do this in a place where it is safe and legal to shoot arrows.
You can get beginner 'bow and arrow sets' at most outdoor stores including a lot of Walmarts.
Photography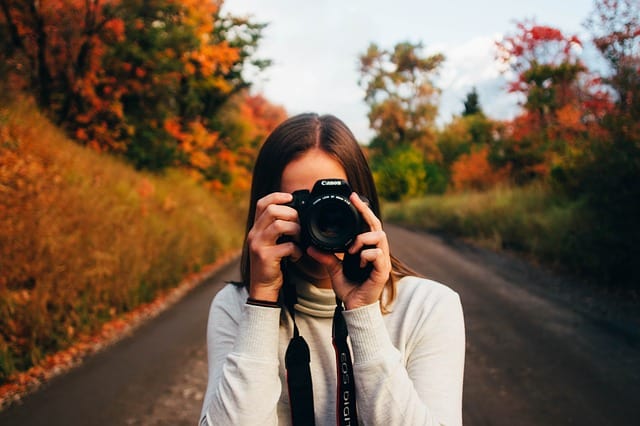 If you want to shoot something different than arrow, try photography. Photography is a fun thing to do while camping and it helps visually document your trip.
Most smart phones have really great cameras now-a-days, but if you want to step it up a bit, look into getting a dedicated camera.
I have an older Canon Rebel EOS T2i DSLR camera – and it takes pretty good pictures – but I do wish it had WiFi like these newer Canon's have. It would make it easier to share it to my camera or post online (if I wanted to).
Birdwatching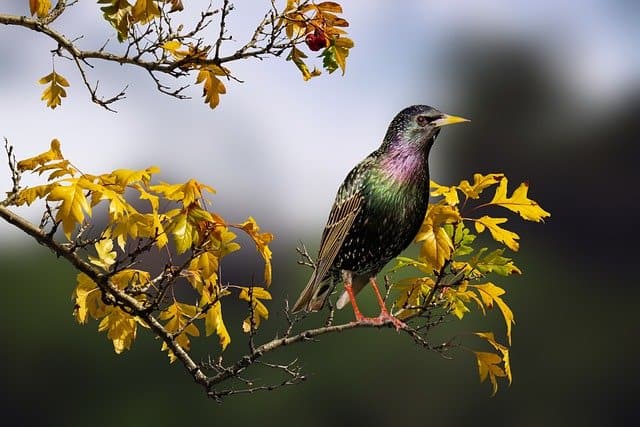 Birdwatching or "birding" has some serious, dedicated enthusiasts, but it is also fun for "regular" campers to do while in the great outdoors.
Remember to bring a good set of binoculars with you camping so you can better see the feathery marvels, a bird identification book, and a notebook to jot down what you've seen.
Journaling in your RV Journal and Camping Logbook
Journaling and documenting your camping trip can be a great, personal way to preserve memories of your adventures. You can use plain paper, or a dedicated camping journal like the one shown above.
Writing
Writing can be an enjoyable thing to do while camping, and for many people the quiet of nature can inspire and stimulate their creativity.
The thought of being able to go camping, relax and do some writing is like a dream for me.
Reading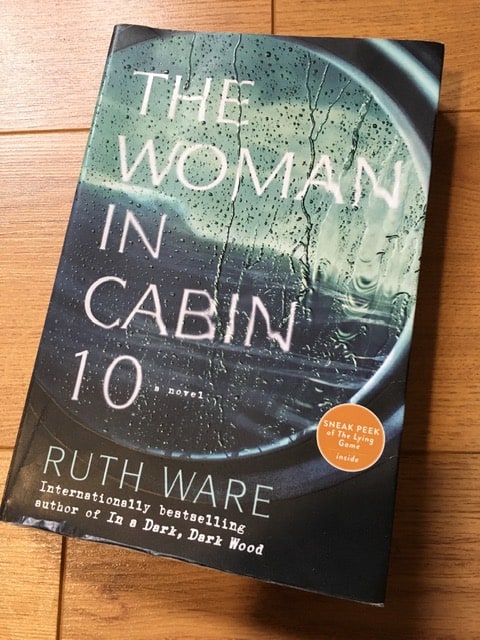 Reading is one of the country's most popular hobbies, and it makes an enjoyable and relaxing thing to do while camping.
So pack your favorite paperbacks and bring it with you camping.
Or if you're an avid reader and want to bring some variety with you, check out Amazon's Kindle Paperwhite e-reader which is now waterproof. So if you leave it out and some surprise rain swoops in you won't have to worry. And it is glare-free so you'll be able to read it outside.
Prefer to listen to audio books?
Do word search puzzles
Doing word searches is a fun, leisurely thing to do while camping. Grab a word search book and a pencil – then you're set.
Do your kids like word scrambles?
If you've got kids, check out these camping word scrambles.
Crosswords
You can get crosswords in a variety of difficulty levels so you'll find something to match your crossword skills. Exercise your brain while you're relaxing at your campsite.
Sudoku puzzles
Sudoku puzzles are great way to challenge your brain, and like crosswords you can get sudoku puzzles in a variety of difficulty levels (like this book here).
Jigsaw Puzzles
Yes, the picture above is a jigsaw puzzle.
If you're camping in an RV and have a camper table, then you could try a jigsaw puzzle. You could also do it outside if you have a flat board to transport your puzzle back inside if it rains or gets windy.
Doing a jigsaw puzzle with a family member is a good way to spend time together (unless the puzzle is ridiculously difficult).
Want something to listen to while doing your puzzles?
Painting Rocks
Rock painting is a fun creative outlet that doesn't require you to be da Vinci in order to enjoy it. It requires minimal supplies (paint brush and paints) and you can search for smooth rocks right at your campsite.
It is like treasure hunting and painting in one fun hobby.
Paint by Numbers
A 'Paint by Numbers' kit allows us to feel creative while being guided by a clear and easy plan. It doesn't require many supplies so it makes a convenient, creative pursuit while camping with easy clean-up.
If you like this beach scene paint by numbers kit shown above, click here to check it out on Amazon.
Tell Campfire stories
If you're camping with friends of family this is a great time to sit around the campfire and swap stories. They could be true stories of long-ago adventures or they could be scary ghost stories.
If you're camping with kids and want a campfire story collection, check out this book by Drake Quinn available on Amazon.
Play Guitar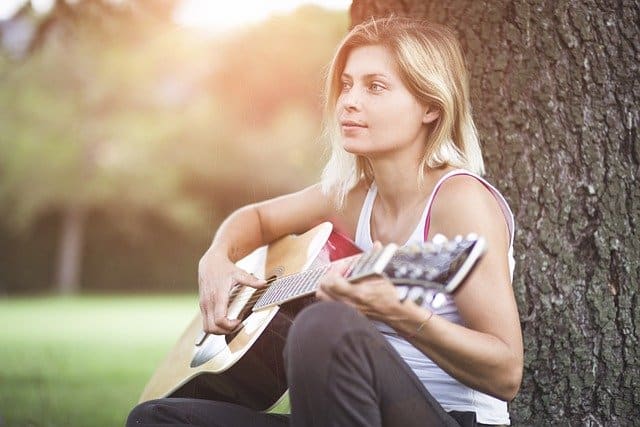 Playing guitar can be a fun thing to do while camping, and it makes a good bonding experience with friends and family playing songs around the campfire. (Just be respectful of other campers.)
You can get "travel sized guitars" that are smaller and more convenient to pack for camping trips. Check out this popular travel guitar by Tanglewood available on Amazon.
Play Harmonica
The small, pocket-sized harmonica is perfect for camping. With this little musical instrument you can play tunes ranging from Neil Young to Stevie Wonder, Big Mama Thornton to Aerosmith and tons in between.







People Watch
Don't be weird about it, but people watching while camping can teach you cool camping hacks that you never would have learned anywhere else.
And it ties in very closely to the next thing to do while camping…
Meet new friends
Many people have formed life-long friendships while camping. If you see someone doing something really neat while camping (like a cool camping hack), maybe they wouldn't mind sharing some advice with you.
But be cognizant of the receptivity of the new person you're approaching. (Some people want to go camping to get away from people.)
Try new Camping Cuisine
You probably have your "go to" camping recipes, but why don't you try something new? This can be a fun – and useful – thing to do when you're camping.
You could try some new Dutch oven recipes, or foil packet recipes or cast iron pan recipes. Explore some new camping recipes.
Collect Firewood
This may not be a "fun" activity, but collecting firewood during the daytime for that night's campfire is a worthy and rewarding thing to do. Collect firewood responsibly and follow the regulations of your campground and region.
And bring a friend with you…then it becomes fun.
Hiking
Hiking is a popular way to explore and exercise. Plus, hiking often leads you to other camping activities like stargazing (hiking to a peak), birdwatching (hiking to a watering hole), and photography (get that shot off the beaten path).
Check out this article on basic hiking gear.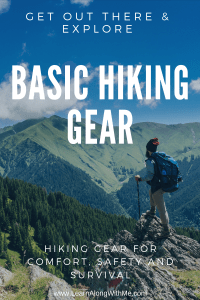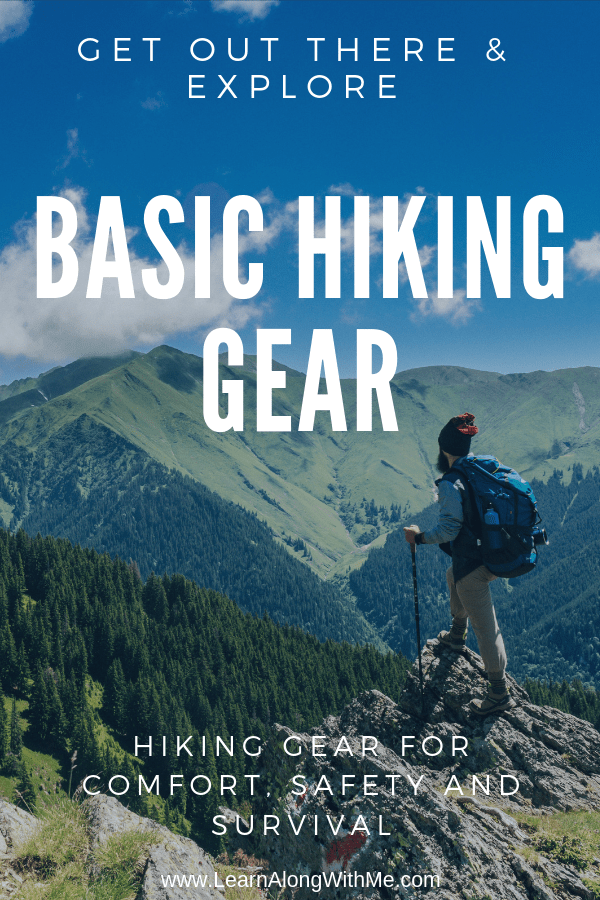 Fishing
Fishing is a very popular activity and it's an enjoyable thing to do while camping. Some people catch and release, and others keep their catch and cook it up for dinner.
You may like 11 RV Fishing Rod Storage Ideas
Fly Tying
If you like fly fishing, the next step is to try tying your own flies.
This can be a fun camping activity, and you can make flies to match what the local fish are biting.
Outdoor Activities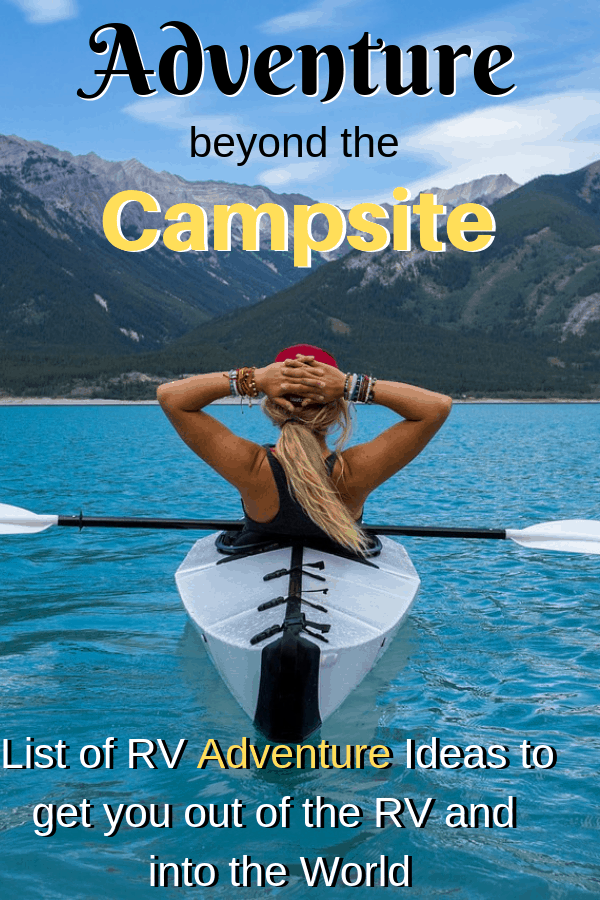 There are a lot more outdoor activities and adventures that I highlight in this article.
In that article I mention outdoor activities like:
biking
kayaking
other watersports
I hope you've found some inspiring ideas on fun things to do while camping.
Each of these 35 camping activities may not intrigue you, but which one will you try on your next camping trip?
Up Next:
9 Fun Outdoor Camping Games for Families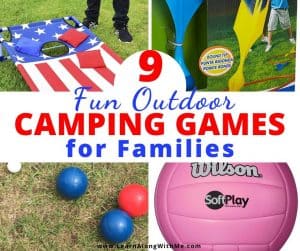 10 Helpful Tips on How to stay clean while camping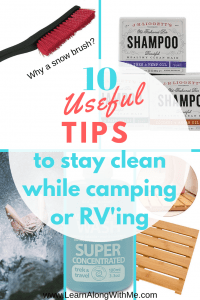 Plus, check out:
RV Journal and Camping Logbook (available in PDF or paperback)
Fun, Adventurous Outdoor Activities to do while Camping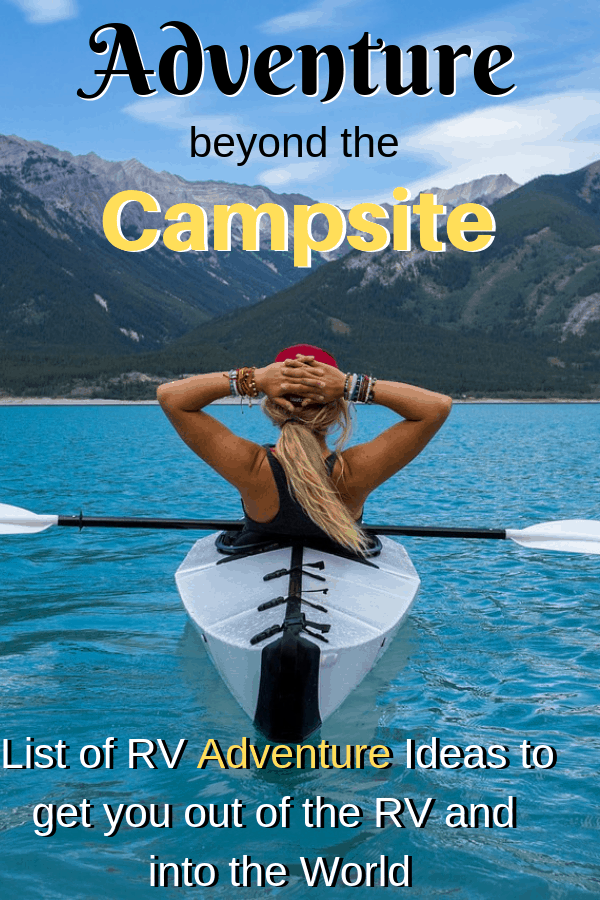 Thank you,
Tim from LearnAlongWithMe.com