Do you have some great ties, but you're unsure how to store your collection? In this article we'll look at 25 tie storage ideas to get your ties neatly organized.
These ideas will work for neckties, bow ties and some of them will even work for bolo ties.
This article contains affiliate links. If you click a link and buy something I may receive a small commission at no extra cost to you. As an Amazon Associate I earn from qualifying purchases. For more information please see the Disclosure page.

List of 25 Tie Storage Ideas
In order to keep the crisp and professional look of your ties it is important to store them properly.
Your two main options include:
loosely rolling your tie and putting it into tie drawer or box,
and the other main way to store your tie is hanging it.
Rolling your ties takes slightly longer than just hanging it, and it'll take up drawer space or counter space if you have a dedicated tie storage box.
But it can be aesthetically pleasing seeing all your ties nicely stored in a drawer or box. And it allows you to see your tie collection all at once. So you can pick the perfect tie to match your suit, your mood and the day's activities.
Hanging a tie is the option most of us are familiar with. And you can hang a tie over a regular clothes hanger, or you can check out the other great options in this list.
Below you'll find several ways to store ties. Not all of these will work for you.
It will depend on the size of your tie collection, the storage space you have available and your preference.
The best way for you to to store and organize your ties is the one that you'll actually use regularly. You can have the best organizer in the world, but if you don't use it then it's worthless.
1. Store your ties in a Tie Display Rack
Doesn't this look great!
This tie display rack is made by the Esty seller HobbywoodCreations. The perimeter wood frame is made from poplar wood (painted either black or white) and the inside wood compartments are made of plywood.
In all there are 49 storage compartments for your ties.
If you have the wall space, and you want some handsome decor for your bedroom, you should check this out.
2. Tie Hanger
One of the easiest ways to store ties is to get a tie hanger for your closet.
This particular hanger made by TOPIA HANGER features red cedar wood, and 24 polished, stainless steel tie hooks.
Some of the other tie hangers I researched had problems with sharp edges snagging ties. But this is not a common complaint with this hanger.
The downside to a hanger like this – one that hangs from one single, center-point hook – is that it can tilt to one side. Therefore it is important to balance out the weight on the hanger.
In other words, don't put all your ties and belts on one side of the hanger or it'll hang lop-sided.
3. Marcus Mayfield Hanging Tie Rack
This hanging tie rack by Marcus Mayfield has 28 large hoops that you can hang your ties from.
It won't snag your ties because the hoops are covered in a woven material. And another benefit of the material is that your ties won't slip off as easy as they do from plastic hoops.
Another benefit of this type of tie hanger is that since it hangs on your closet rod perpendicular to the rod, it doesn't take up much room in your closet.
You can see all your ties at once, and remove just the one you want without knocking off the rest.
Do you have less than 28 ties in your collection? If so, check out this Marcus Mayfield tie hanger.
4. Wooden Tie-shaped Tie Hanger (can be personalized)
The website Etsy is a great place to shop for unique items that can be personalized.
This wooden tie hanger from PromiDesign is made of stained birch plywood. And you can personalize it to have someone's name on it.
It could be a great graduation gift or house-warming gift for a young man getting his first apartment or big job.
Click here to see more details on Etsy.
5. Hanging Tie Holder with clips to secure your ties
A frustration that some people have with tie hangers is that their ties slip off the hangers. A tie holder doesn't do much good if all your ties end up in a jumbled mess on the floor.
This tie hanger with clips made by Tenby Living seeks to fix this.
It comes as a 2-pack of hangers and each hanger can hold up to 20 ties (10 ties per side of the hanger).
It is a compact way to store your ties without taking up tons of space in your closet or on the closet rod.
Just because your ties are expensive it doesn't mean your tie holders have to be.
If you want an affordable, compact option to hold up to 40 ties, you'll want to check this out.
6. Rotating Tie Hanger
A rotating tie hanger allows you to spin it around to get a good look at all your ties.
You hang it from your closet rod, and then slip up to 20 ties over the hooks. (One tie per hook.)
It'll take up about 4.5-inches of your closet rod space, so it isn't as compact as some of the other options.
But many people love being able to spin it to see all the ties.
And these can be multi-use hangers: you can put some belts or scarves on here too. (But I wouldn't suggest heavy belts on here.)
Click here to see more details on this spinning tie hanger.
7. Motorized Tie Rack
If you don't want to go through all that hassle of manually rotating your tie holder, you can get a motorized one like this one from Primode. (Yes that was slightly sarcastic but people do seem to like this option.)
It can hold up to 50 ties, and with a push of a button, the electric motor (ran by 4 'C' batteries) rotates the ties so you can find the perfect tie for the occasion.
If you want a fancier option – one that you'd show your friends how cool it is – then you may want to check this out.
8. Wood and Metal Necktie Hanger (looks like a Hanging Tie Ladder)
This unique necktie hanger by Umo Lorenzo has 10 metal hooks on each side of the vertical wooden center. So it'll hold up to 20 neckties in total.
One of the nice things about this tie hanger is that you pull your ties sideways to remove just the tie you want, and your ties are all visible at once.
It hangs from a closet rod or hook, so it won't take up a lot of space in your closet.
It is a rather elegant looking hanger that would work well for a small to medium collection of neckties.
Click here for more information on this hanger.
You can also get this hanger in a darker wood. Click the picture below for more details.
9. Multi-functional Non-slip Tie Hanger
This is an interesting multi-functional clothes hanger that is covered with a non-slip rubberized coating. So if you hang up your ties, you won't be fishing them off the ground a minute later.
It has 11 spots to hang your tie on each hanger. Plus, in addition to the tie-hanging spots, there are also 11 hooks that are perfect to hang your belts from.
This isn't as fancy or elegant as some of the other ideas on this list…but it works. And if function matters to you, check this out.
Plus, check out these other Belt Storage Ideas
10. Slide-out Necktie Organizer (by Rev-A-Shelf)
The company Rev-A-Shelf makes a lot of different slide-out organizers for closets and home organization.
This is their sliding, 14-inch necktie hanger that you mount to your closet sidewall, or to the side of your closet system. It can mount on the left side or right side so it gives you some option.
Above is a picture showing it slid all the way in, and the picture below shows it extended.
This will hold up to 25 ties.
You can also get a shorter 12-inch version if you have a shallower closet, and you can get it in different finishes.
11. Rubbermaid Sliding Necktie Hanger
Do you have a wire rack closet shelf?
If so, this sliding necktie organizer by Rubbermaid may work for you. It attaches to the underside of a wire shelf and it has 30 hooks to store your ties, scarves or belts. (It works on a variety of wire shelving systems, but it doesn't fit all shelves.)
It's a bit tricky to tell by the picture above but it slides out for easy access to your ties, and then you slide it back in for storage.
It is currently rated 4.4 stars out of 5 on Walmart.com with 87% of people currently giving it either 4 or 5 stars out of 5.
Will this work for your closet?
12. Over the Door Tie Organizer
Do you have a small closet and not much room on your closet rod for another hanger?
Then perhaps an over the door tie organizer like this one from mDesign will work for you.
It has 10 of the double hooks, but so it could hold up to 20 ties plus there are belt hooks for your belts too.
This is a well-rated men's accessories organizer that uses "wasted space" behind a door.
It says it'll fit over doors that are up to 1.4-inches thick.
Will this work for you?
13. Over the Door – Longstem Mens Organizer (Model 9100)
This over the door men's organizer by the company Longstem looks so cool.
It has multiple hooks up for keys, rings or bracelets. It has storage compartments for other accessories or tools. A tray for glasses or sunglasses.
And 23 tie hooks with a non-slip grip.
Talk about a great way to make the most of the dead space behind a bedroom door.
If you want a men's organizer that does more than just store ties, check this out.
14. Use Drawer Dividers to Store your Ties
I know this doesn't show ties in the picture above, but it gives you the ideas on what you can accomplish with a honeycomb drawer divider like this.
If you have the drawer space in a dresser drawer or closet drawer, you can create a tie drawer.
But instead of having the ties just tossed in there, you can use a drawer divider to store your loosely rolled ties.
Place just one tie in each compartment so you can easily see all your ties in one glance.
You'll have easy access to your favorite ties.
You might be able to find something like this at your local dollar store, but if not, you can check out this one on Amazon.
Drawer organizers are very similar in function to drawer dividers, but usually a drawer organizer has a bottom too. So you could lift the organizer right out of your drawer if you needed to.
Using a drawer to store your ties is a great way to store ties especially if you don't have the closet space for tie hangers.
Plus, when you store your ties in a drawer – one tie per slot – you can easily see all your ties.
And there is no need to shuffle things around and knock down all your other ties (which can happen on some hanging tie holders).
The downside is it can take slightly longer to loosely roll up your tie than it does to just slip it over a hanger, but this time difference is negligible.
For most people, the real CON to using a drawer to store their ties is that it takes up drawer space – so they may have less room to store other items like socks and underwear.
Do you like the look of this bamboo drawer organizer?
16. Use Tie Spools to create a "tie-dy" Tie Drawer
Here is a great idea to help you organize a tie drawer.
You wrap your ties around these tie spools to create a nice tidy package. Then tuck them into a drawer to create an organized necktie drawer.
These particular tie spools are available from the Etsy seller RibbonStorage.
17. Slip Shower Curtain Rings over Clothes Hangers
I read about this storage idea online so I gave it a try. I slipped some plastic shower curtain rings over a clothes hanger.
As you can see from the picture below the downside to this option became apparent right away: the ties slid to one side of the hanger immediately. In this picture I'm holding the hanger to get a better picture, but the exact same thing happened when I put it on my closet rod.
I've read that you can remedy this by putting bread clips over the clothes hanger to stop the ties from sliding around (like in the picture below).
But with all the other storage options on this list… I personally don't think this one is any better than just putting your tie over the bottom of a clothes hanger.
18. Use a Wall-Mounted Tie Hanger (Closet Maid Tie & Belt Rack)
Do you have some wall space at the back of your closet or perhaps behind a door?
The company Closet Maid makes this well-rated tie rack that you screw into a wall.
I thought with the smooth, plastic-coated tie hooks that the ties would slide off, but several reviewers have said this doesn't happen.
And storing your ties sideways like this – one tie per hook – allows you to pull off the tie you want without causing all the others to tumble off.
(If you're a renter or just don't want to drill holes or screw into your walls, then some people have used strong Command Hooks to hold this up.)
This is a simple way to store your ties…just slip your ties over the hook. No tedious threading through hoops or rolling.
19. Get a Wall mounted Tie Rack
This space-saving tie rack – that you screw into a wall – is made by TieMaster.
It has 8 different angles to which it can stick out from the wall: including almost straight up and down!
It measures 13.5-inches wide so it can fit even in small spaces.
Depending on the width of your ties, it'll fit about 60 ties: approximately ten ties per plastic dowel rod.
And its design allows you to see your ties at a glance so you can pick a great tie for that day.
Will this work for you?
20. Store your ties in a unique Tie Case (Etsy)
Isn't this an awesome storage box!
This wooden case is made by the Etsy seller Indicraftsglobal and it is available with 4 compartments or 3 compartments.
You could tuck it in a drawer, but with something so unique, you'll probably want to display this.
21. Get an Elegant Wooden Tie Box
This elegant, cherry wood tie box is a decorative way to display up to 12 ties.
It features a glass top to keep the dust off your ties, and a soft liner to protect your ties.
This is a tasteful way to store your collection of ties…as long as you don't have a lot of ties.
Which brings us to the downsides: it only has 12 compartments, and you'll need space on a closet shelf, inside a drawer, or on a countertop to put it.




You May Also Like our article on stylish Watch Storage Ideas.
22. Single Wooden Tie Storage Box
Do you have a special tie in your collection that deserves individual attention?
If so, check out this wooden tie storage box with a velveteen lining by the Detroit company Cyberoptix. They sell it on Etsy.
Obviously being a wooden lid means you won't be able to see the tie inside it, but if it's for your special tie, you won't need to see inside it, you'll know what's in there.
Not only is it a great way to store a tie, but it makes a great way to present a tie as a gift.
23. Elegant Exotic Wood Tie Rack (Etsy)
If you have the wall-space for it, this tie rack is a great way to store your ties, and add to the decor of your room.
It is made by the Etsy seller 720woodcraft. You can get it in a variety of different exotic woods, plus you can get it with chrome or bronze tie hooks. It has 21 hooks in total to hang your ties.
Do you like the look of this one?
24. Simple DIY Tie Rack
Are you handy with tools and woodworking?
If so, you can make this DIY tie rack that is very similar to the one mentioned earlier.
You can click the YouTube video above to watch how they make this handsome tie holder.
25. DIY Spent Ammo Tie Rack
Do you have spent ammo around your home? Wondering what to do with it?
Well you can follow these instructions on Instructables.com to make a tie rack out of used ammo casings.
Click here to see a picture of this DIY tie rack.
I hope you've found this list of storage ideas and organizers to be helpful.
We looked at various ways to store ties in a closet (including various tie hangers), we saw some wall-mounted tie racks, some over-the-door tie racks, some ways to store ties in a drawer, and even some DIY tie racks for handy folks.
Is one of these ideas right for you?
Up Next – More Bedroom Storage Ideas
13 helpful Belt Storage Ideas
Sock Storage Ideas – get your socks organized today
21 stylish Watch Storage Ideas for Men's Watches [great ways to store and organize your watches]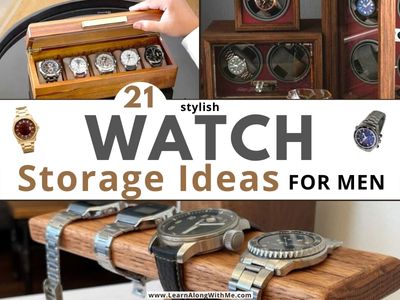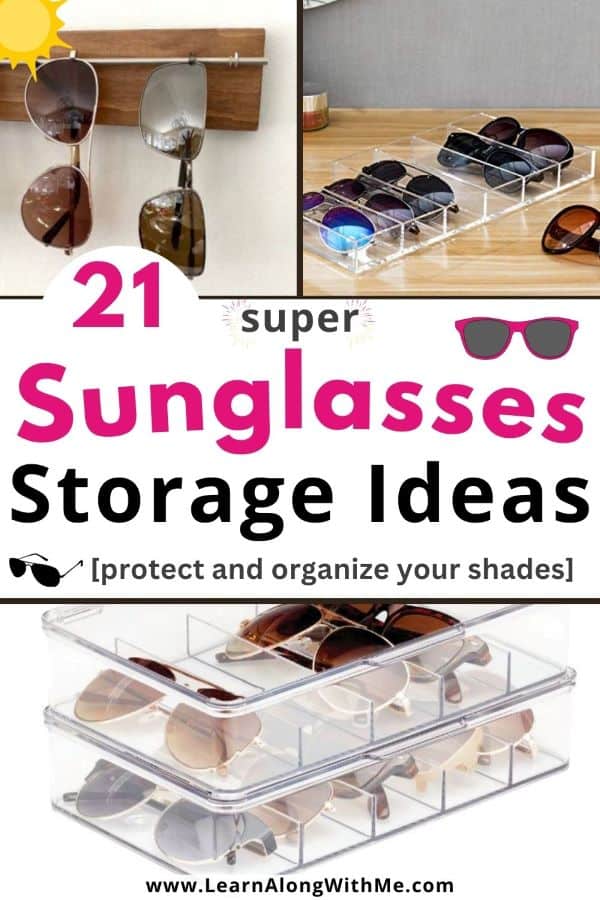 Check out these cool ways to store your sunglasses
Thank you for checking out this article. I hope you've found at least one idea that will help you store your ties.
Tim from LearnAlongWithMe.com
Tim worked in construction for a few years before going to university. Then he worked as a community pharmacist for 10 years and now works as a full-time writer and online publisher. He has experience in several different, far-reaching lines of work.
"I sincerely hope you find the articles helpful and informative."
Tim from LearnAlongWithMe.com