Is your pickup truck a cluttered mess? Can't find what you need? In this article we'll look at 21 truck cab storage ideas so you can find what you're looking for. Tons of other articles are dedicated to truck bed storage, but we'll concentrate on storage options for inside the truck cab.
This article contains affiliate links. If you click a link and buy something I may receive a small commission at no extra cost to you. As an Amazon Associate I earn from qualifying purchases. For more information please see the Disclosure page.
This article contains some Instagram photos shared by companies. If I've featured a photo from your company's Instagram account and you don't want the free publicity, let me know and I'll replace it. Thank you.
How can you store stuff in a truck cab?
It can be tough finding room in a truck cab…there isn't much space…so we need to make the most of the space we do have. That includes under seat storage options, back of the seat storage, console organizers, overhead storage, and more.
Other articles focus on cargo bars, tonneau covers, slide out storage boxes for the truck bed or other organizers for the back of their pickup truck.
But let's look at the interior space inside the cab and not the bed of the truck.
Let's get started.
1) Center Console Organizer
If you have the space for one in your truck, a center console organizer can help you organize smaller items and keep them within easy reach. They'll be right next to you while you're driving.
This particular organizer by Pilot Automotive is cool because it has adjustable cup holders, and the armrest flips up to create a writing surface (as shown in the picture above).
So if you need to jot down notes or billable hours after a job, just flip up the top of this to get a hard, flat writing surface.
2) Console Organizer Tray insert (for specific truck models)
Do you already have a center console, but it's a mess? Maybe an organizer tray like this would help.
The company JOJOMARK makes these console tray organizers that are designed to fit inside the existing console of your truck.
But since they are truck model specific it is important you buy the right one, and they are only for trucks with bucket seats (not for split bench seats).
For instance, the tray in the photo above is for the GMC Sierra and Chevy Silverado, but only for certain years. The company makes slightly different sized trays to fit different years.
This could be a great way to get your console organized. Better than having one big messy dump bin.
3) Truck Visor Storage
Look beyond the CD's to the potential…
Do you use your pickup truck for work? If so you probably have to keep receipts…and you can't afford to lose receipts!
So keeping your receipts organized and in one spot is a good idea.
A visor organizer is popular choice for storing receipts, business cards and sunglasses.
Repurposing old CD visor holders
Not many people have music CD's in their truck anymore, but you can repurpose old visor CD holders and use them as receipt or business card holders.
This particular visor organizer even has a zippered inside pocket and a pen holder.
4) Tidify Front Seat Organizer
The company Tidify makes these popular vehicle organizers that you drape over the front seat.
You can either have it facing forward, so it's basically sitting on the passenger seat, or you can have it facing backward into the rear seating area. (The pic above shows it sitting on the front seat.)
Below is a picture of the product itself.
It has a spot for your laptop, tablet, books, phone, water bottles and more.
Plus, it has a carrying strap if you don't want to leave your valuables in your truck (understandable).
This is a particularly good truck cab storage idea if you work alone or rarely have people in the passenger seat.
These are popular and very well-rated on Amazon.
5) Glove Box Organizer (truck specific models)
Glove boxes are dedicated storage areas in your truck. Yet this space if often cluttered and under-utilized.
A glove box organizer can help.
But since every truck model has a different shaped glove box, you have to find the particular organizer to fit your truck.
The glove box organizer in the photo above is for a 2021 Ford F150. (I've seen others made for other trucks too.)
6) Truck Headliner Storage (overhead storage option)
If you have a quad cab or other 4-door truck with 4 overhead grab handles, you can tie this headliner storage bag to them and gain some extra storage space.
It features a small zippered pocket for smaller items, and a large zippered pocket for bulkier items.
It's a great place to store paper towels, rain jackets, stuff for your kids, etc…
Click here to see more details on this headliner storage bag.
7) Truck Door Storage Pockets (truck specific models)
Convert your door handle into a little storage pocket with these drop-in trays.
You wouldn't want to stuff it too full though or you won't have anything to grab onto to slam your door shut.
But it's a clever idea to get just a bit more storage and have it within easy reach.
Once again, these truck door storage pockets are truck model and year specific.
But look around and you may be able to find one perfect for your truck.
8) Cup Holder Expander with Tray
This isn't your usual truck storage idea, but if you eat in your truck or have an under-sized cup holder in your truck, you'll want to check this out.
The tray is detachable, so it doesn't always have to be on there.
The larger cup holder can fit several different Yeti sizes, HydroFlask sizes and other larger bottles.
Interested?
You May Also Like our article highlighting more Eating in the Car Accessories.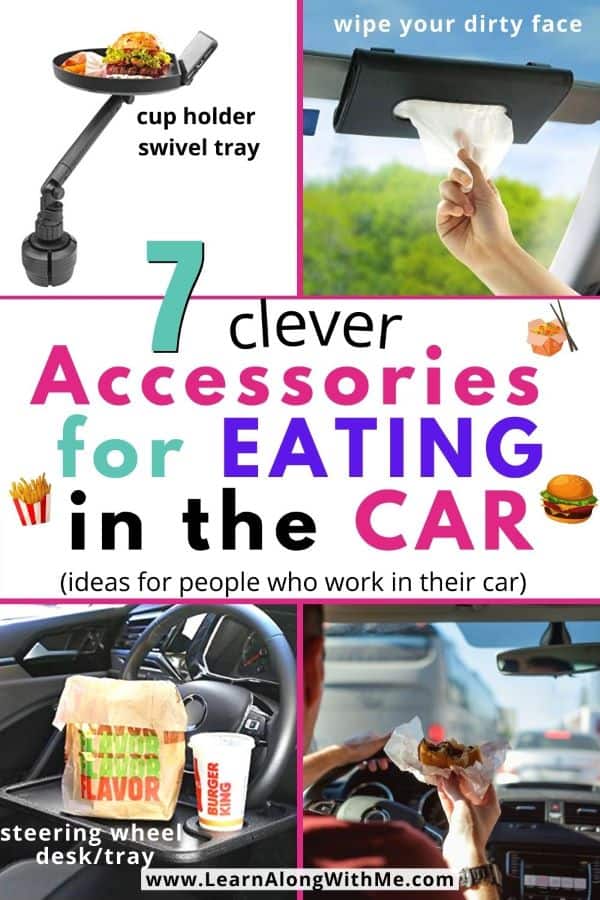 9) Ceiling Cargo Nets (Attic kits)
A Colorado company called Flatirons Overland makes these cool cargo nets for Toyota Tacomas and Nissan Frontiers.
Here is a pic of theirs I saw on Instagram.
These aren't for storing heavy items, but they'd work well for lightweight bulky items like jackets, coveralls or pillows.
10) Zippered Storage Cases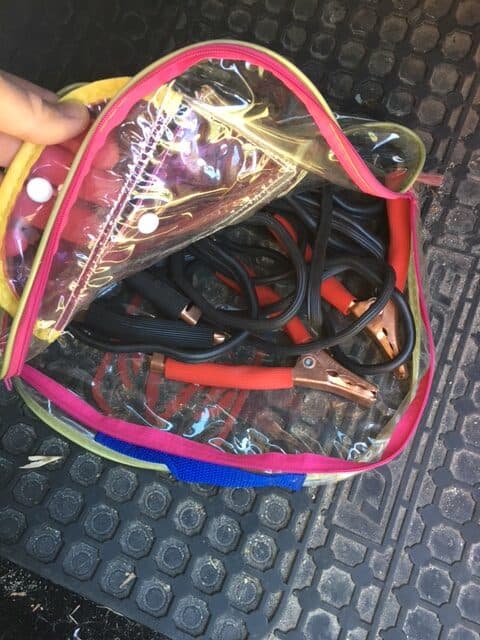 Zippered storage cases are a good option to store jumper cables. If you get a thin case you may be able to slide it underneath the seat.
I keep my jumper cables inside a zip-up plastic pouch under the passenger seat. (It used to hold my daughter's jump rope and outdoor toys.)
It isn't fancy but it works.
11) Under Seat Storage Bags
This underseat storage bag by SAMDEW is intended to fit under most SuperCrew or Crew cab trucks.
It provides lots of storage pockets and non-slip feet so it should stay put once you put the seat back down on top of it.
Of course different trucks have different space under the rear seat, so make sure to measure your truck before ordering.
12) Under Seat Storage Tray (truck specific models)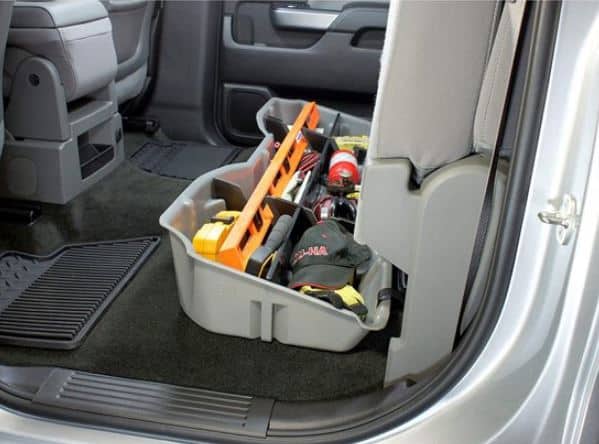 Here is another under-seat storage option. But instead of being a bag, this is a plastic organizing tray.
This one even has removable gun rack holder/dividers. So you can store long guns in here too (but check your jurisdictions rules on this).
Because the space under rear seats differ by truck year and model, you have to buy one of these to fit your exact truck model and year.
But Du-Ha makes lots of options. And they're Made in the USA.
Below is picture of the tray with the seat down.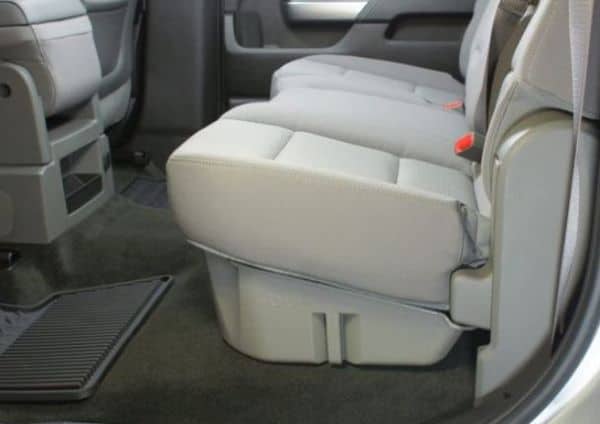 If you want some help organizing stuff under your backseat, check out this popular and well-rated, Made in the USA product made by Du-Ha.
13) Under Seat Lockbox by Tuffy
This metal, underseat lockbox is made by Tuffy. They make a few different models of the lockbox to fit different makes and years of trucks.
This lockbox has the benefit of having a split lid. So you don't have to lift up all the rear seats to access your stuff.
(This is one thing the competitor Du-Ha doesn't currently offer on their lockbox.)
The picture above shows only portion of the rear seat raised to get at your things.
I see this lockbox is available on Amazon and at Walmart. If you're interested in this product, check both places to get the best price and shipping.
14) Truck Cab Storage Drawers – sliding under seat storage drawer by Deezee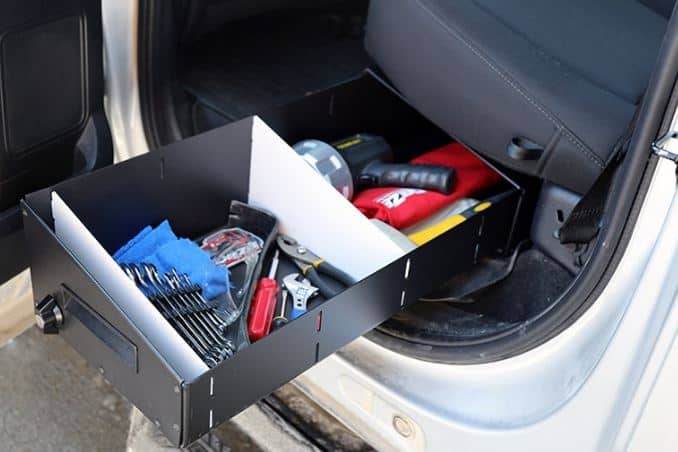 Do you want under seat storage but you can't lift your seats? Perhaps you have car seats installed or other organizers on top of your seats.
Well it seems the company DeeZee has you in mind with this sliding storage drawer.
The only online retailer I could find this at was DeeZee's own website. Check it out to see if this'll fit your truck.
They have a dropdown menu to enter your truck's details.
Click here for more information.
15) Use a Trunk Organizer as a Seat Storage Bag
These are often called trunk organizers, but they work well as seat organizers too.
If you have a spare seat in your truck that is rarely used, these are handy storage options.
I didn't realize the heavy equipment manufacturer Caterpillar makes small goods now, but apparently they do.
This popular and well-rated foldable storage organizer is made by Cat.
16) Truck Organizer Bag with Removable Cooler
Do you usually eat your lunch in your truck or bring your truck to work?
This vehicle organizer comes with a removable cooler. So you can store your lunch in the organizer and remove it when it's lunchtime.
It is marketed as a trunk organizer, but you can set it on a seat in your truck to give you more storage options.
If you're curious about this one, click here for more details.
17) DIY Backseat Storage Solutions
There are a lot of DIY truck cab storage solutions!
This article from Truck Camper Magazine has some good options if you're willing to sacrifice your backseat seating area and to convert it into a dedicated storage area. Having no backseat will definitely give you extra space to store stuff.
If you really need space for your tool bags or camping equipment, then one of these DIY truck storage ideas may work well for you.
18) Back of the Seat Organizer (by Carhartt)
Did you ever think you could get a truck organizer to match your overalls? Well with this seatback organizer from Carhartt you can!
A multi-pocket organizer like this hangs from the back of your front seats. It can be a good option to store small items.
And they are an excellent option if you have kids sitting in the back seats. They can put their books, games, crayons, etc… in the pockets of the organizer and have easy access to them and this will protect your seats too.
These are especially good for road trips when a child may get bored of one toy and want others within reach.
The downside to seatback organizers is they do take up some leg room for those sitting in the rear seat. If it's little kids back there, probably not a problem, but larger adults may not have enough room.
Seat Back Organizer for Small Pickups
Here is a 3-piece seatback organizer set from Walmart. The middle section which has the large screen pocket can be attached to the other sections with a zipper.
I recently bought this before I went on a long road trip with my young daughter. I wanted her to have lots of toys and crayons within easy reach because since it was just her and I, I couldn't help her much while driving.
It worked really well but I have a Dodge Dakota: a more compact pickup truck. It wouldn't work well for bigger trucks because then the zippers wouldn't attach.
19) DIY Back seat Storage Shelves
If you're handy with tools and good at taking measurements, you'll be able to create DIY truck cab storage shelves customized to fit your truck and fit your exact needs.
The backseat storage shelves in this pic are made of 3/4-inch plywood, custom cut to fit this guy's truck.
20) Truck Cab Back Wall Organizers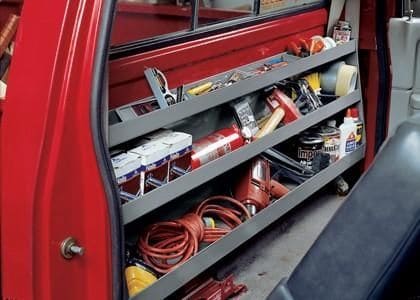 This is a clever way to add more storage along the back wall – behind the seat of a pick up truck.
It is made by the company American Van to it full-size pickups.
Satisfied buyers like this for storing tools, hardware and miscellaneous items. This would be a good option for a lot of older pickups like square body Chevy's and older Fords.
This storage unit measures 53-inches wide by 15-inches tall. So make sure you measure your truck's behind the seat space to ensure this'll fit before ordering.
If you think this could work for you, click here for more details.
If you don't need something this rugged, there are other options. The company Highland made a Highland Truck Cab Organizer, but I can't find it online anymore. And some people mount things like shoe organizers to their pickup's back wall as a DIY storage ideas. The pic below gives you an idea of what is possible.
21) Thin Tool Boxes for under front seat storage
If you only keep simple hand tools in your truck you may be able to fit them inside a thin tool box and slide the box under the front seats.
Or if you can't find a dedicated tool box, you could use a plastic hardware organizer and take out the dividers to suit your needs.
You'll need to look under your seat though because with power seats and accessories in newer trucks, you may not have much room under there.
Obviously your needs will differ from other truck owners…everyone uses their truck differently. For some people their truck is their work truck – their office and tool storage on wheels – while the average pickup truck owner may only use their truck for dropping the kids off and getting groceries.
And every truck has a different amount of available interior storage space. Some of you may have a regular cab, an extended cab truck, a crew cab, a truck with 60/40 split seats or a bench seat, etc… The list goes on.
Regardless of which truck you have, or how you use your truck, hopefully one of these truck cab storage solutions will work for you.
Up Next:
11 awesome Car Organizers and Accessories that owners love
7 Eating in the Car Accessories