Organizing a bedroom can be tricky. The key is utilizing the space you have. That's where these 17 clever under bed storage ideas come in. They'll help transform your under bed area into a great storage space.
In this article we'll look at:
under bed storage totes
rolling under bed drawers
low profile under bed storage
and more…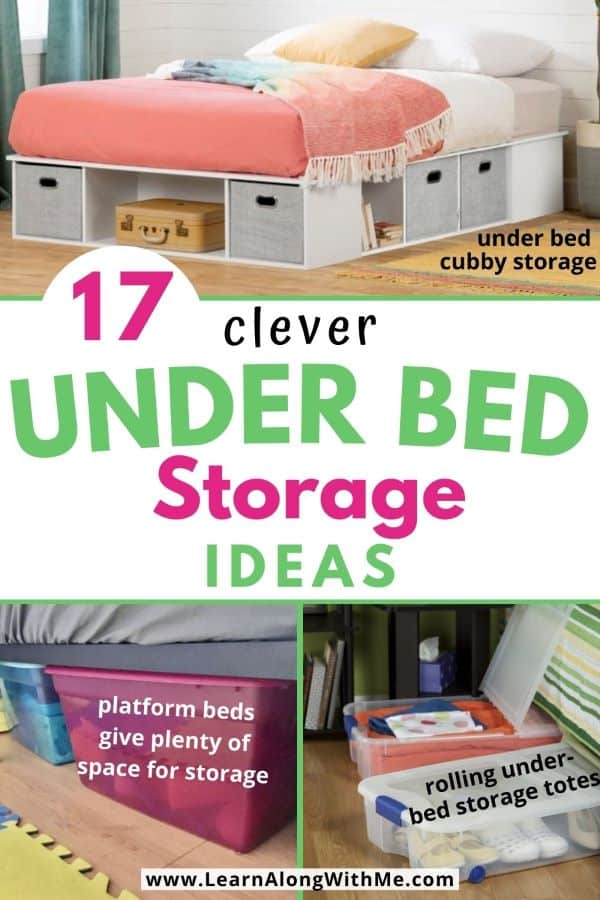 This article contains affiliate links. If you click a link and buy something I may receive a small commission at no extra cost to you. As an Amazon Associate I earn from qualifying purchases. For more information please see the Disclosure page.
17 clever Under Bed Storage Ideas
These under bed storage ideas can be broadly broken down into two categories:
adding storage under your current bed
new bed options that have more storage potential
So whether you want to add more storage under your existing bed, or whether you're willing to buy a new bed with storage, you're sure to find something in this list to inspire you.

If you're looking at storage options for under your current bed, you'll want to measure the distance between your bed and the floor. You need to know this measurement so you can find options that'll fit.
Make sure to scroll through all the ideas to find the one that'll help you the most.
1) Under Bed Storage Bags – Fabric Bags
An easy option to add storage under your current bed is to get some under bed storage bags like these ones.
This particular option from the company ZOBER measures 6-inches tall. So it should slide under most bed frames. (Measure to be sure.)
It has a clear plastic top to protect your stuff from dust, and it allows you to see what you put in the bag.
You could use it to store off-season clothes like sweaters, extra bedding, shoes, and more.
This doesn't have wheels, the fabric bag just slides along the floor.
This is an inexpensive, easy option to add storage under bed.
2) Really Low Profile Under Bed Fabric Storage Bags
The company storageLAB makes these low profile under bed storage bags that measure only 4.5-inches tall.
They are really highly-rated on Amazon…people seem to love them.
If you want to check them out for yourself…
3) Under Bed Storage Totes
This is a simple option to add storage under your bed.
Go to your local store that has storage totes and buy some that'll fit under YOUR particular bed.
In the picture above you can see we store a lot of craft supplies in low profile totes and then put them under a bed. They're easy to access yet conveniently out of the way.
Totes like this can be a great way to store Lego, action figures, dolls, Play-Doh, and other toys under a bed.
These totes don't have wheels, but I'm not too concerned about them scratching our laminate flooring. If you have vinyl plank flooring though – which can scratch easier – you may want to get a rolling solution.
4) Rolling Under Bed Storage Totes (by Sterilite)
If you don't want to slide plastic totes along your bedroom floor, you can get low profile totes on wheels like these 66-quart ones from Sterilite.
They measure 7-inches tall, so make sure they'll fit under your bed.
These totes are cool because the lid is separated in two. You don't need to slide the whole tote from under the bed to access your stuff.
(If you're interested in these totes, make sure you check the prices at both stores because the cost can vary quite a bit.)
5) Wooden Under Bed Storage Drawer with Upholstered Front
This wooden under bed storage drawer has 4 wheels and a nice upholstered front panel with a leather handle.
It measures about 6-inches tall with the wheels on, so it'll fit under most beds.
This is a good option if you want your under bed storage to not only be functional, but to look good too.
6) Wood Under Bed Storage Drawer on Wheels
This attractive wooden drawer has 4 wheels so you can slide it right under your bed. The height of the drawer – including the wheels – is about 6 inches.
It is just shy of 3-feet wide so make sure there are no bed legs in the way. (They do make a version of this drawer that is only 33-inches wide if 36-inches is too wide for your bed.)
If you want a nice look for your under bed storage, check out this rolling wooden drawer.
DIY Under bed Storage Drawer
I came across this awesome full-length rolling under bed storage drawer on Flickr.com
It was a DIY project that would add so much convenient storage under the bed. Just roll it out and access the contents nice and easy.
If you're handy with wood and tools, this is the type of project you could tackle and build a drawer that is custom-fitted for your under bed space.
7) DIY Rolling Under Bed Storage Idea using Old Dresser Drawers
This is the kind of DIY idea you see all over Pinterest.
Basically you find a second-hand dresser, take out the drawers, attach wheels to the bottom of the drawers and then you've got yourself a cool DIY under bed storage drawer.
Below is a YouTube video where a crafty YouTuber tackles this very project.
7B) Our Easy DIY Wooden Under Bed Storage Drawers (using old dresser drawers)
We recently bought our preschool-aged daughter a slightly elevated bed frame. It provided some space underneath her bed. So I wanted to take advantage of that space.
I had some drawers from an old dresser that would work perfectly as wooden under bed storage drawers. I got to upcycle the old drawers and give them a new life.
So I removed the metal sliding drawer hardware and stuck felt tabs to the 4 corners on the underside of the drawer. I decided against wheels: I went the simpler route and used the felt instead.
She immediately put some toys in there. But we want to get small organizing baskets for the drawers to make them a little tidier. (We'll see how that goes!)
Below is a picture of how it looks with the drawers slid under the bed.
8) Under Bed Drawer Unit (by Richards Homewares)
The company Richards Homewares makes this interesting under bed storage option. It is a metal-framed drawer unit where the plastic drawers can slide out, or you can lift the lid off the drawer without sliding it out (under bed height permitting).
It measures just under 8-inches tall.
This could be a good option for clothing like socks and underwear that you need to access daily, but perhaps you don't have room in your dresser.
Just note, the drawers aren't very big…don't expect to store too much stuff in them…and they're made of plastic so durability may be an issue.
9) Elevate your Current Bed with Bed Risers (2-inch risers)
If your bed isn't high enough off the ground to allow for good under bed storage, and you don't want to buy a whole new bedframe, check out getting bed risers.
This particular set of risers from Clever Solutions is a heavy duty 2-inch furniture riser. Using a set of 4 of these risers will hold up to 2,000 pounds.
10) Heavy Duty, Over-sized Stackable Bed Risers
If a 2-inch lift isn't enough for you, I came across these heavy duty, stackable risers on Amazon.
Each riser will elevate your bed 3-inches, but what's cool is that you can stack two of these risers on top of each other to provide 6-inches of lift.
Imagine what you'll be able to store under your bed with an extra 6-inches of lift! (You may even be able to stack totes on top of each other with the extra clearance.)
They claim it'll hold an incredible 6,000 pounds per leg!
11) Under Bed Shoe Storage (Divided shoe organizer)
This is similar to the fabric storage bags we introduced at the beginning of this article, but they're designed with shoes in mind.
These under bed shoe organizers are cool because they have adjustable dividers to create a bunch of separate compartments.
This is nice because some of your footwear is thicker than other pairs so you can set up these compartments to match your needs.
They have a clear zippered top cover to keep out the dust.
12) Buy a Platform Bed to get more Under Bed Space
If you're in the market for a new bed frame, and you want to add a lot more potential storage space, look into getting a platform bed.
This particular platform bed is the 18-inch version by Zinus. They also have a shorter 16-inch and 14-inch version.
The 18-inch measurement is from the floor to the top of the metal rail. So it leaves about 16-inches of under bed storage space.
Our Platform Bed
Last year we bought a second-hand platform bed and it's awesome. I don't actually know what brand it is, but it's similar to the Zinus brand shown earlier.
We have a 14-inch platform bed and it leaves 12-inches of space under the bed. And as you can see from the picture above, it works really well for storing larger totes and even milk crates.
And even though it is a platform bed it isn't much taller than an average bed because we got rid of the box spring.
You don't need a box spring with a platform bed like this because the metal bed slats directly support the mattress.
13) Get a Platform Bed with Cubby Storage
This is a cool idea. It's a platform bed with 9 cubby storage spaces. There are three open spaces along the three sides of this bed.
It comes with 4 fabric storage bins and then you can mix and match your favorite colors of bins or baskets or books in the other cubbies.
If you're in the market for a new bed anyway you should give this a closer look. It is available in twin, double or queen sizes.
Pretty cool.
14) DIY Platform Cubby Bed made from Bookshelves
This is another DIY under bed storage idea that was big on Pinterest a couple years ago.
You can make your own platform bookcase bed using IKEA Kallax units, or other solids bookcases or cube organizers. You set the bookcases on their side, place supportive planks or plywood over top of the bookcases, and then put your mattress on the newly created frame.
Below is one of several YouTube videos I discovered where they make their own DIY bookcase bed.
15) Platform Bed with Built-in Storage Drawers
While researching under bed storage ideas for this article I came across this platform bed that has built-in sliding drawers. There are 2 metal drawers on each side.
The tufted headboard and footboard gives this platform bed a nice finished look. Some of the other DIY options can make things look a little thrown together, but this has a clean modern "grown up" look.
It is quite a popular bed with a high-rating on Amazon.
Do you need more storage in a kid's room? If so, check out our article on…
13 space-saving Twin Bed with Storage options
16) Get a Loft Bed (good for kids rooms)
This option clearly won't work for everyone, but if you have an older child who wants to make the most out of their bedroom space, you could look into getting a loft bed.
This particular loft bed fits a double mattress (or "full" mattress), and comes with the under bed desk. So it's an option for kids but also college students too. (Just don't exceed the 300 lbs weight limit.)
Just check out all the floor space this open up!
Some people put book shelves around the edge of the bed frame for even more added storage.
Are you open to the idea of a loft bed?
17) Lift up Storage Bed (unique under bed storage idea)
This is a queen size lift up storage bed made by the company DHP. It features gas shocks to help lift the mattress up so you don't need to be a weightlifter just to access its under bed storage.
They also make this lift up storage bed in Twin, Full, King sizes in addition to the queen bed shown here.
Plus, you can get it in several different colors to match your taste.
Ikea Malm Lift Up Storage Bed
Ikea also makes a lift up storage bed called the Malm storage bed (as shown in the picture above).
It looks simple and elegant and provides a good amount of storage under the mattress. You could put extra bedding under there, off-season clothes, shoes, books and more.
Click here to see details on the Ikea Lift Up Storage Bed.
How can I add storage under my bed?
In order to add storage under your bed you have two main options. 1) You can add storage under your bed by buying storage bags, baskets or drawers that will fit under your current bed's height. 2) Or you can increase the space under your bed by raising your bed with bed risers or by purchasing a new taller bed such as a platform bed.
How can I store toys under a bed?
To store a child's toys under their bed you can use baskets, totes or drawers to hold the toys. Just remember to measure the under bed space and buy storage products that will fit. If your children are able to read it may help to label the totes to make finding a certain toy easier.
And if you are trying to store variations of the same toy (such as different colored Lego blocks) you can use dividers inside the tote or drawer to create separate compartments.
Thank you for checking out our article on under bed storage ideas.
Will one of these ideas work for you?
I believe the under bed area is one of the most under-utilized storage spots in bedrooms, so if you can harness the storage capability of these ideas, you'll be well on your way to getting your bedroom organized.
Check out our other articles on BEDROOM ORANIZATION
13 handy Over Bed Storage Ideas [make the most of space above your bed]
9 well-rated Bedroom Storage Chest options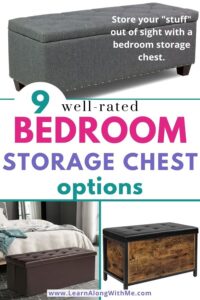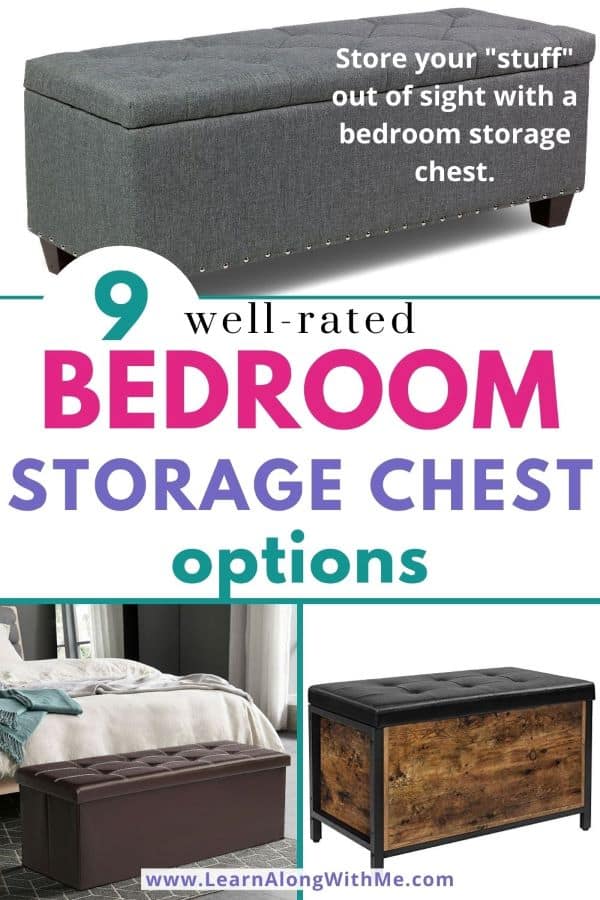 13 space-saving ways to organize a small bedroom
10 helpful Teenage Girl Bedroom Organization Ideas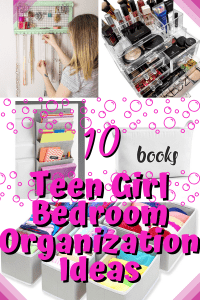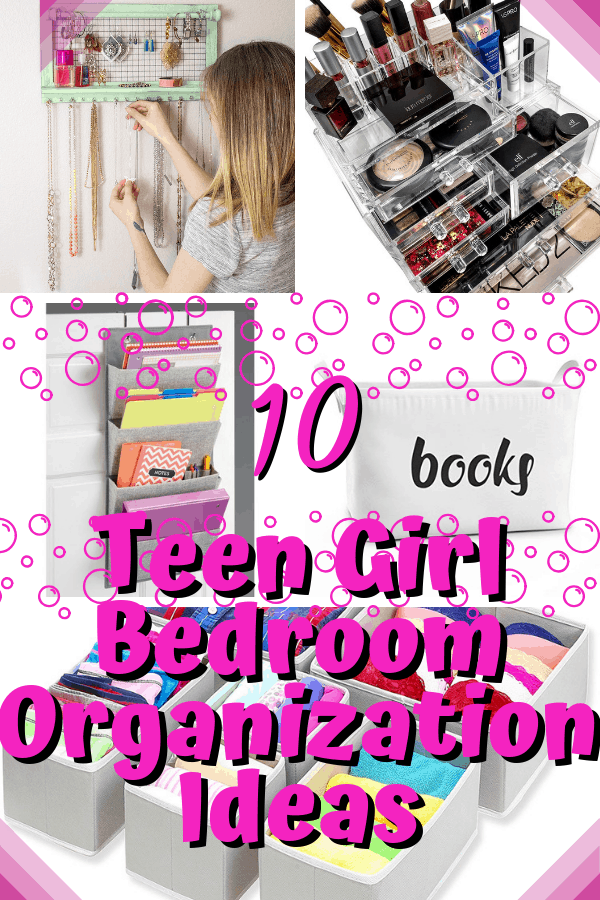 13 lovely Queen Daybed options [yes they make daybeds this big]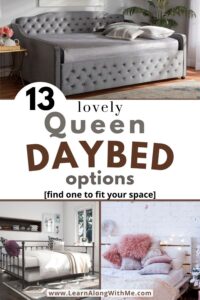 13 awesome Daybed with Storage options [make the most out of a small bedroom]