Do you need better storage solutions under your desk? These 15 handy ideas for under desk storage will help you get your home office, work office, or craft area better organized.
In this article we include:
under desk storage cabinets
under desk storage shelves
under desk storage carts
and more..
Which idea one will work for you?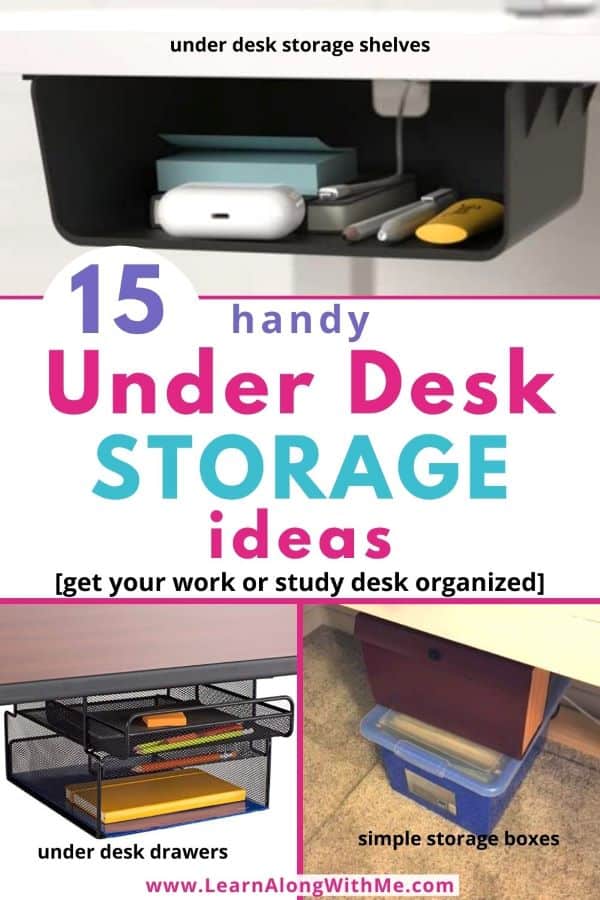 This article contains affiliate links. If you click a link and buy something I may receive a small commission at no extra cost to you. As an Amazon Associate I earn from qualifying purchases. For more information please see the Disclosure page.
We spend a lot of time thinking about organizing our desktop, but we often neglect the area under our desk.
And if your desktop or desk drawers are cluttered, then perhaps some of these under desk storage ideas will get your stuff off your desk, and nicely tucked under your desk.
Under Desk Storage – 15 Handy Ideas
Let's check out the under desk storage ideas.
Under Desk Storage Cabinet
There are lots of storage cabinets – such as filing cabinets – that may fit under your desk, but just make sure you measure first.
1) Locking File Cabinet for Under Desk Storage
This metal filing cabinet has two pull-out pencil tray drawers for organizing stationary, and it features one full-size filing cabinet drawer. And all the drawers lock.
Do you need to have a filing cabinet close at hand when you're working at your desk? This one is just under 2-feet tall.
Will this fit under your desk?
2) Fully Assembled 5-drawer Under Desk Storage Cabinet
When I was looking on Amazon for under desk cabinets, one negative reviews kept coming up on a lot of products: difficult assembly.
You don't have to worry about that with this pre-assembled cabinet from TOPSKY. The only thing you need to do is put on the 5 caster wheels. (Yes, 5 wheels, not 4.)
If you put the wheels on this cabinet sits about 25.5 inches. If you use it without the wheels, it is about 23-inches tall.
Each of the drawers is large enough to store letter-sized papers. So this one cabinet could help you store stationary, papers, and other office items.
Under Desk Storage shelf
There are lots of options out there to add a shelf under your desk. I'll include two options below. One that mounts to the underside of your desk, and one option that hangs from your desktop.
3) Small Under Desk Storage Shelf (adhesive or screws)
Is it mostly small stuff cluttering your desk top?
If you need a small under desk storage shelf this one may work for you. It is just over 7.5-inches wide so it isn't intended for letter-size papers…think pens, post-it notes, stapler, etc…
You can mount it to the underside of your desk by either using the included adhesive tape, or use the wood screws (if your wood desk is at least 0.75″ thick). And it is just a shelf – it doesn't slide out like a drawer. (If you want a drawer, see below.)
Will a little under desk shelf like this help you?
4) Hanging Under Desk Shelf for Papers (by Safco)
This hanging paper shelf would be a good option for someone that does paper work requiring the same forms over and over. This shelf will keep those forms close at hand.
With one of these you won't have to have a stacking paper organizer taking up space on top of your desk.
It is made of powder-coated metal that fit over a desktop and it has a tightening screw to keep it in place.
Do you do a do a lot of paperwork at your job? Will this work for you?
Under Desk Storage drawers
If your desk doesn't have drawers, don't worry. You can still get drawers to attach to the underside of your desk.
If you have a thick, wooden desktop then you could screw the drawers into the underside of your desk. But if you don't have a wooden desk there is still the option of sticking the drawers to your desk using an adhesive.
Most of the options listed below come with an adhesive of some kind so you don't have to screw into your desk. But keep in mind when you're using an adhesive, the drawer usually won't be able to hold as much weight compared to if it was screwed in.
Let's look at some options for sliding under desk drawers.
5) Sliding Drawers can fit letter-size paper (2 mounting options)
Do you wish your desk had drawers underneath? Well this 2-pack of sliding drawers are for people like you.
You can mount these plastic drawers under your desk in one of two ways:
can screw into the underside of your desk (will hold 22 pounds)
can use an adhesive to stick it to your desk (will hold up to 11 pounds)
The drawer is just over 11 and 1/2 inches wide so you'll be able to store letter-sized paper in these drawers.
6) Two Sizes of Under Desk Storage Drawers
This particular set of under desk storage drawers has two different size drawers. One large drawer that is large enough to hold letter-size paper, and one smaller, flip-down drawer that you can use a pen & pencil holder.
These drawers stick to the underside of your desk using an adhesive.
Want to see more details on this set?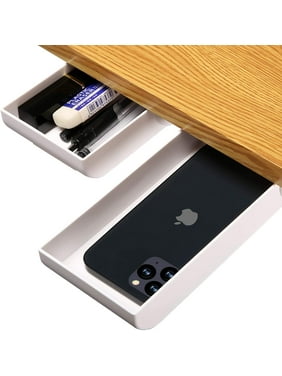 This small and shallow under desk drawer is available on Walmart.com and at other online retailers.
They are described as "hidden" because of their small shape and profile. They'd make a convenient little tray for your pens, pencils, AirPods, etc…
Do you just need a small drawer to get the clutter off your desktop? If so, you may want to check these out.
Note, even though they show two drawers in the product picture, you only get one drawer when you purchase it.

(Yes I even found this product made by Entirety Goods on Etsy…so you may want to compare prices.)







Under Desk Storage Cart Options
A rolling under desk storage cart can be a good way to get stuff off of your desktop, and still have it close at hand.
But before you buy one, make sure you measure the space under your desk first.
You want to ensure any cart you buy will fit under your desk. Measure the height under your desk, but also make sure you have room for your legs…you don't want to stick something under your desk and then have no room for you.
8) Rolling Printer Stand (by Safco)
A short rolling under desk storage cart like this one by Safco can provide a spot for your printer, filing boxes, books or extra paper.
As you can see in the picture it is only 13.5″ tall so it will fit under desks, but if you plan on putting a printer on this, you'll need to take the height of your printer into consideration too.
9) Wooden Rolling Under Desk Storage Cart with Drawer
If you prefer the look of wood over wire, here is a rolling cart made by Furinno.
This one is about 14-inches tall, and just over 15-inches wide. It has 4 caster wheels and you can lock two of them so it won't roll around if you bump it.
What's neat is that you can put stuff on top of the cart, plus it has a pull-out drawers to keep stuff "out of sight."
If you like the look of this one…
10) Under Desk Storage Shelf with Drawer (by Safco)
Here is a unique under desk organizer by Safco. It features a shelf for papers and books, and it has a small, sliding drawer on the top for stationary. Plus, there is a small pencil corral for your pens and pencils.
Will an under desk storage shelf and drawer like this one help to get the clutter off your desk?
Note it does require screwing…so you'll need a wood desk top that is at least 3/4-inches thick.
11) Under Desk Headphone Hanger (with USB charging ports)
Are you headphones cluttering up your desktop?
You can buy a headphone hanger like this to hold up to two sets of headphones, and it has 3 USB charging ports.
Mounting options:
stick to your desk using 3M adhesive tape (which is included)
screw into the underside of your wooden desk (screws also included)
Will this help you get your work or study area organized?
12) Under Desk Storage for Video Game Controllers (Etsy)
I discovered these under desk video game controller hangers in an unusual spot…on Etsy!
These 3D-printed hangers come with double-sided 3M adhesive tape already applied to them. So you just peel off the tape backing and stick them where you want them. Nice and easy.
If you want to support a small business, and you need to tidy up your gaming area, check these out.
13) Under Desk Laptop Holder (Etsy)
Do you do your work or run your business from a laptop? Do you actually use the laptop screen though, or do you have separate monitors?
If you use a laptop but you don't actually need it open on your desk, then a handy under desk laptop holder like this may help you keep your desk surface tidy.
You mount the 3 plastic hangers under your desk and then simply slide your laptop into the foam-lined hangers.
Note: this does require screwing into your desk so it won't work for all types of desks.
Will this give you more space to work on your desk?
14) Under Desk Cable Trays
Under desk cable trays like this are a good way to help keep your cords organized. And you can set a power bar in here so not all your cords have to dangle down all the way to the floor.
I found lots of cable tray options on Amazon but I've included this one because it comes with an adhesive mounting option. (Most of the others I saw were "screw-in" only.)
Are your dangling power cords driving you nuts?
Click here to see more details of this cable tray.
15) Under Desk Storage Box
Organizing and storing stuff under your desk doesn't have to be fancy. You can simply use a filing box like this and some accordion folders.
You can find plastic filing boxes at most retailers that carry office supplies (like Staples and maybe even Walmart).
I hope one of these 15 handy under desk storage ideas will help you get your work or study space organized and uncluttered.
Which one is right for you? A drawer? A shelf? A cabinet? Or something else.
Up Next:
Home Office Organization Ideas & Decor
Build yourself a Cheap DIY Desk (to fit long spaces)