Are you looking for some new ways to display and store your personal watch collection? Or perhaps you just need a place to put your regular, daily watch. In this article we'll look at 21 watch storage ideas to help you store men's watches.
This article contains affiliate links. If you click a link and buy something I may receive a small commission at no extra cost to you. As an Amazon Associate I earn from qualifying purchases. For more information please see the Disclosure page.
List of Watch Storage Ideas for Men's Watches
Below are some different watch storage ideas for men's watches including a variety of watch boxes to store and protect your collection of watches.
Why is this an article specific to storing men's watches?
The reason I have differentiated storing men's watches from women's watches is primarily size. Of course there are individual variations but most men's watches have larger watch faces than women's watches. And the wristbands of most men's watches are larger than women's watches.
This doesn't make a difference if you're just setting the watches onto a surface, or hanging the watches from a rod. But it does make a difference if you're wrapping the watches around watch pillows. (Small pillows that you strap your watch around during storage.) Some watch pillows are quite large, and a smaller, women's watchband won't close around it.
This is just something to keep in mind if you're a woman reading this article, or if you're a man with smaller wrists: check the size of the watch pillows on any watch storage idea you purchase.
When you're selecting a watch box or another type of watch storage idea, it is important to choose a soft lining to protect your watch bands. You don't want to pull out your favorite watch only to discover it has been scratched.
The best way for you to store your watches will depend on several factors such as how many watches you have, and what kind of space you have to dedicate to storing watches.
So not all of these storage ideas will suit your needs, but hopefully you'll find one to help you out.
Read through them all to find one that is right for you.
1) Watch Display Case with Accessories Drawer (by Holmes & Hadfield)
This is an attractive way to store and display up to 7 of your favorite watches.
The box itself is made of wood and is designed to sit on your counter or dresser to essentially show off your watches.
This watch box is different than many others on this list because it doesn't use watch pillows or compartments. Instead, it has vertical storage dowels to place your watch over.
And the compartmentalized drawer provides a place to store various accessories like rings, cuff links, sunglasses, pocket knives, etc…
You could also use the drawer to store Apple watch bands since a lot of people like to buy extra bands for their Apple watch.
The picture above shows this display box with a "Black" finish, but it is also available in Walnut.
2) Real Wood Watch Storage Box (Etsy)
The elegance and simplicity of natural wood goes so well with the sophisticated, industrial-look of watches.
This handmade watch box is made of Indian Teak wood by the Etsy seller TheWoodShapingCo. It will hold up to 10 watches.
It is made of real wood, so it does cost more than most of these other watch storage ideas on this list, but buyers really love the sturdiness and craftsmanship.
Will it be worth it for you?
3) Wooden Watch Storage Box for Men's Watches (MDF wood, cherry finish)
Display and store up to 10 watches in a handsome wooden display box like this highly-rated watch organizer from SONGMICS.
The glass cover of the box will protect your expensive watches from dust, and the white plush liner will prevent scratches of the wristbands.
The upside to a box like this is that it looks awesome, but the downside is that it'll take up dresser-top or shelf space. (It isn't very big though. It's just shy of 12-inches wide.)
This watch box has a cherry wood finish, but it isn't made of pure cherry wood. It is made of MDF covered to look like cherry wood, so it won't cost you as much as some other pure wood boxes out there.
4) Faux Leather Watch Display Case for Men (by TAWBURY)
A watch case like this one from TAWBURY is a great way to store your watches so you can easily find the one you want.
The watch pillows (aka watch cushions) are removable and you strap your watch around the pillows then place the watch/pillow combo back into one of the compartments in the box.
You can store 12 watches on the top shelf and they'll be visible underneath the hinged, glass top. Plus, you can store 12 more watches in the removable drawer.
The watch pillows feature a center core of MDF wood wrapped in foam, and then covered in a velvety fabric so they're soft on the watch bands.
If you want to see how crazy-high this watch box is rated, click here.
Speaking of the watch pillows, they will accommodate watches for wrists 7-inches or larger. Any smaller than this and the watch won't close around the pillow…
But don't worry…you can buy this box with small watch pillows.
Below is a great pic of this watch box "in action" from TAWBURY's Instagram feed. I think it looks way cooler here than in their product photo above.
5) Elegant Faux Leather Watch Box with Valet Drawer (by ROTHWELL)
Isn't this a great-looking watch box!
Its wood frame is covered in black faux leather and has room to hold 12 watches on the top shelf. The locking glass lid will keep dust and debris off your collection.
I think the sliding valet drawer makes this unit really functional. It's a great place to store leather straps, other accessories and jewelry so they'll all be within easy reach (and you'll remember where you put them).
Will this work for you? Do you have less than 12 watches in your collection?
RELATED
21 Sunglasses Storage Ideas (organize, store and protect your favorite shades)
6) Wood Watch Storage Holder for 5 Watches
If you only have a few watches you don't need a big storage case. A sturdy attractive watch box like this should work well.
It has 5 compartments to store your watches, a glass top so you can see and admire your watches, and it has a lock to protect your timepieces.
It is available on Walmart's website where it is currently rated 4.8 stars out of 5. It doesn't have tons of reviews yet, but buyers have claimed they love the smooth finish of the wood and sturdy build.
Doesn't this look incredible! The Etsy seller FortisFinds makes this walnut wood watch storage box with a glass top. And what's great is that you can get the glass engraved with your name and a design.
The photo above shows the box in the 5-watch model, but you can also get it in the 10-watch model shown below.
If you need to get a classy gift for the man in your life – perhaps Father's day, birthday or graduation gift – or for yourself to add some style to your bedroom, check this out.
8) Personalized Wooden Watch Storage Box – Acacia wood (Etsy)
If you really want to knock the socks off a guy and gift him a luxury watch box, check out this one from the Etsy seller ShanikStore.
Not only does the fit and finish look amazing, but you can also have the top of the wooden box personalized. The picture below shows the lid of the box and where you would add your text. Plus, you can choose different diagrams if you don't like the picture of the watch face.

**I have also seen this product listed on Amazon too. Click here to the see price on Amazon.
9) Create a Watch Drawer
Another great way to store your watches is to create a watch drawer in your dresser or closet system.
You can use a standard drawer organizer and place your watches in the compartments.
Or you can buy a watch drawer organizer like the one shown above that comes with the watch pillows to wrap your watches around.
If you don't have the dresser space to designate a drawer solely to watches, you can get a drawer divider or drawer organizer for your sock drawer and store your watches in there.
Placing your watches inside a drawer frees up counter-top and shelf space so you can use this space for other purposes.
10) Single Watch Box
Some people prefer to use a single watch box dedicated to holding just one watch.
This is a great idea if you have a particularly meaningful watch, or if you have just one watch in your possession.
A box like this one above can be used as a gift box when you're buying a man a watch. Or it can be used to store one watch.
Note it isn't heavy-duty storage though…it's just basic storage so he can put it in the same place every time and know where to find it.
Click here to see details on this single watch box.
11) Watch Roll Storage Case
Watch rolls are an attractive way to store watches at home or while traveling. This particular watch roll is made with a faux leather exterior and faux suede interior.
Though these materials are "fake", there is nothing fake about it being able to store your watches.
The roll itself is just under 6 and 3/4-inches wide so it won't take up a lot of room in a drawer or in your suitcase.
Click here to see more details on this well-rated watch roll.
12) Wooden Watch Display Stand (Etsy)
What a handsome way to store and display your watches!
This T-bar shaped wooden display stand is made by the Etsy seller TucciWoodSoul.
It is available in several different finishes to suit your particular tastes.
Do you like the look of this one?
Click here to see more details and current pricing.
13) Industrial Pipe Watch Rack (Etsy)
This unique combination of industrial pipe and wooden arms mounted to a wooden bracelet tray makes an eye-catching watch display stand.
If you get something like this you're going to want to show your friends.
The wood arms means your metal watchbands won't be rubbing against metal pipes.
How great will this look on your dresser?
14) Wall-mounted Watch Display Case (by TimelyBuys)
This ebony wood watch storage display case can hold up to 20 large watches. Each compartment comes with a removable watch pillow. It is made by the small business TimelyBuys.
Plus, the case has an attractive lock to protect your watch collection.
But what makes this really unique is that you can mount it to the wall, or you can attach the included wooden stand to use it as a countertop display case. It gives you options.
Putting your watches in a case like this will make them look like art or elegant décor, and not just way to store your collection.
It doesn't have any ratings on Walmart's website yet, but it is highly-rated on Amazon.
15) Watch Display Case for your Wall (Etsy)
This wooden storage case from the Etsy seller Hobbywood Creations mounts to the wall and provides a decorative way to display a large collection of watches. (They usually market it as a way to store ties, but as you can see it works for watches too.)
It has 49 individual storage compartments.
The potential downside: there is no cover or way to keep dust off of your favorite watches.
A display case like this is good for a person or couple with a lot of watches.
Because it doesn't have watch pillow inserts, you could store watches of various sizes in here (including smaller men's watches or women's watches).
16) Watch Pouches
Watch pouches like this are simple, inexpensive sleeves to store your watches.
Once you buckle them up you won't be able to see which watch is inside a particular sleeve. So to save time you may want to write on the exterior of the pouch or somehow mark it to know which watch is inside it.
17) Leather Valet Tray for Everyday Carry Items (including watches)
Valet trays are like fancy dump bins that hold the contents of your pockets at the end of the day. You place it on a dresser or tabletop then empty your pockets into it.
It holds your everyday carry items, and it works well to hold your watch too.
It isn't designed for long-term storage, but it is great for the watch you wear daily….easy access for everyday use.
If you get in the habit of placing your watch in the valet tray nightly, you'll always know where you left it and slipping it back on will become part of your morning routine.
The genuine leather valet tray shown in the picture above is Made in the USA by the company The Tulip Tree.
It is something that a man may not think to buy himself so it'd make a great birthday, Christmas or Father's Day gift. (Plus, it'll help reduce dresser-top clutter.)
18) Travel Watch Case
Do you need a case to store your watch while you travel, golf, play tennis or go to the gym or pool?
This is a zippered, nylon-shelled protective travel storage case with a plush velvet interior to store watches with outside diameters up to 1.9-inches (50mm) in diameter. It also has a removable foam insert to accommodate and protect watches of various sizes.
To get a sense of size, two of the most popular men's Rolex watches are the Rolex Daytona and the Rolex Submariner. According to this watch retailer both of these watches have 40mm diameter bodies with the exception of the 16800 Rolex Submariner model which measures in at 39mm. So this product will store Rolexes.
It comes with a carabiner so you can hang this watch case from your golf bag, gym bag, or hang it inside a locker.
Click here for more information on this protective travel case.
19) Waterproof Travel Case for up to 18 watches
This hard-sided plastic carrying case with foam interior is pre-cut to fit 18 watches up to 58mm.
It is like a Pelican case but it is made by the company Case Club.
This may be a little much for the average watch owner, but if you're a watch collector and need to travel with your watch collection you'll want to keep them safe. Have a closer look at this case. It is waterproof and dustproof to protect your timepieces.
Click here to see more details on this protective watch carrying case.
20) Watch Winder Box
Watch winder boxes feature motorized, rotating watch slots that spin your watches to provide kinetic energy for automatic watches (aka self-winding watches). You plug in these winders to power the motors and then you turn the dial to adjust rotation speeds.
The Etsy seller Pebblly makes these winder boxes that they sell in one watch, two watch or 4-watch options.
I love how they look like old-school…like speakers or guitar amps.
If you have automatic watches and you want to keep them ticking away – even when you aren't wearing them – check this out.
Plus, you can personalize it! Have your name engraved into the clear front panel.
It is well-priced too considering some of the watch winders I've seen on Amazon.
21) DIY Wall-mounted Watch Rack
Are you handy with tools? Then making your own minimal, yet elegant, wall-mounted watch holder like this could be a fun weekend project.
The YouTuber Sean the Maker made this video with easy to follow instructions so you can make a wall-rack like the one he made.
Thank you for checking out this list of watch storage ideas. I really hope it helped you.
As you can see there are almost as many ways to store watches as there are styles of watches.
Will one of these ideas work for you?
You May Also Like: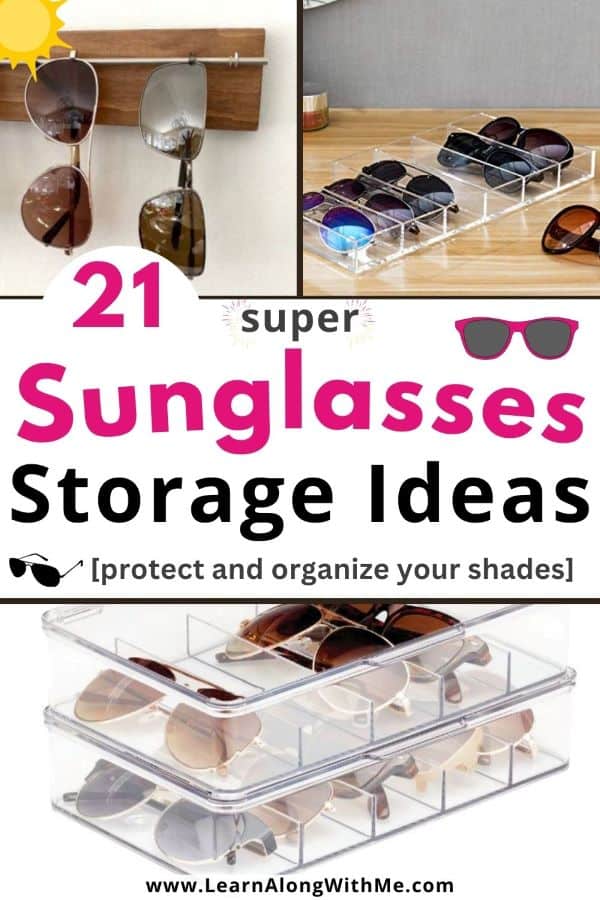 21 super Sunglasses Storage Ideas (organize your sunglasses collection)
25 great Tie Storage Ideas [get your ties organized today]
13 helpful Belt Storage Ideas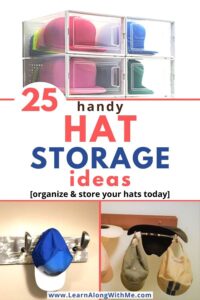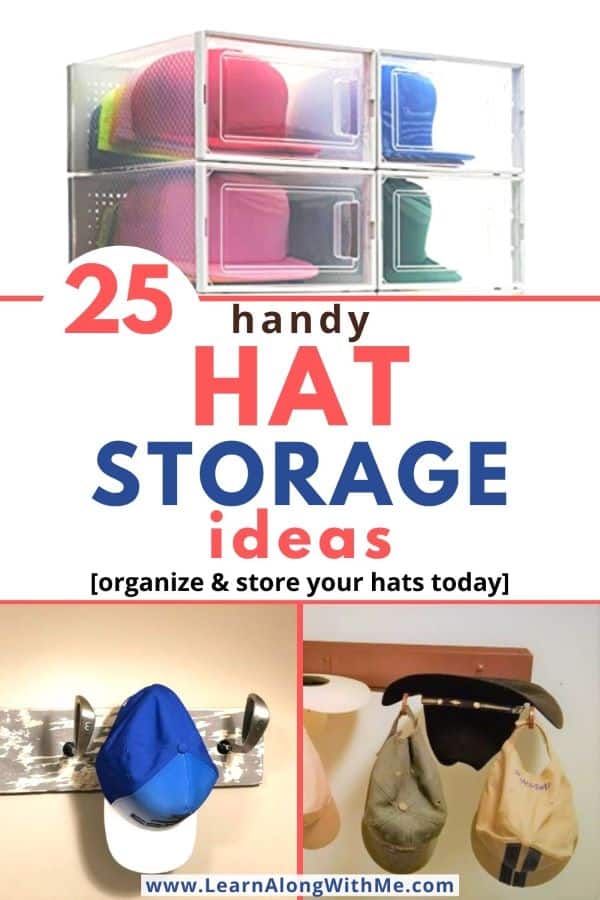 Hat Storage Ideas – 25 ways to store and organize your ball caps, cowboy hats, and more…