Are water bottles falling out of your cabinets or cluttering up your kitchen? In this article we'll look at 11 water bottle storage ideas to help keep your kitchen organized.
Some of these are so simple it'll surprise you.
This article contains affiliate links. If you click a link and buy something I may receive a small commission at no extra cost to you. As an Amazon Associate I earn from qualifying purchases. For more information please see the Disclosure page.
What are the best Water Bottle Storage Ideas?
As people try to drink less soda and more water there has been an explosion in the popularity of reusable water bottles like Yeti's and HydroFlasks. Plus, travel mugs for coffee and tea are super popular too.
But this has led to kitchen clutter problem. How do you store those water bottles and travel mugs at home? There never seems to be enough kitchen space.
And note, some of the pictures show wine bottles being stored, but you can use these organizers to hold water bottles too.
Let's get into the list of water bottle storage ideas and hopefully you'll find the perfect solution for your home or office.
1) Repurpose a Wine Rack
You can find a lot of attractive wine bottle racks. And they can also be used to store your water bottle collection.
It may not look as elegant with water bottles stored on it, but it'll work…and that's what counts.
You can get wall-mounted wine racks, countertop racks and other wine bottle storage ideas that you can repurpose for water bottles.
This particular wine rack may be a little too fancy for your needs, but it'll hold 6 bottles.
Click here to see more details.
2) Plastic Stackable Water Bottle Holder for your Kitchen Cabinets
mDesign makes these super high-rated water bottle holders. You can stack them on top of each other to maximize space inside your kitchen cabinets or on a pantry shelf.
Just place them on your cabinet shelves and you've got a tidy organizer.
They can also be used on the kitchen countertop, in a pantry, or even inside a kitchen drawer (if the drawers are deep enough).
Larger Option to store even more bottles…
mDesign also makes these larger modular racks that can hold up to 5 bottles per tray and you get 4 stackable trays. I don't know how many families have 20 water bottles, but you can use this to store other bottles too (like wine bottles).
Check out this great stackable storage solution.
3) Metal Wire Water Bottle Organizer (can be wall-mounted)
What's cool about these wire racks from AULEDIO is that they are stackable for placing on a flat surface, AND they can be wall mounted.
So if your kitchen cabinets are stuffed but you have room on wall, you could screw this to the wall and you'd have easy access to your favorite water bottle.
These wire racks come as a 2-pack so you can stack them.
You May Also Like our Article on:
simple Snack Storage Ideas to get your snacks organized today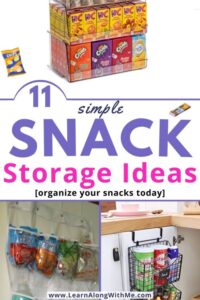 4) Bamboo Countertop Water Bottle Organizer Rack
This bamboo countertop water bottle rack measures just under 15-inches wide and 11.5-inches tall. It'll hold up to 12 bottles (4 per shelf).
If you don't need or want one this large, the same company – Ackitry – makes a 6 bottle version.
If you like the aesthetic of bamboo and have room on your countertop or shelf, check this out.
5) Use a Hanging Shoe Organizer as a Water Bottle Storage Idea
Hanging shoe organizers are an incredibly versatile storage solution and can be used to store WAY more stuff than just shoes.
You could hang one of these from the back of a door, or cut it to suit your needs and screw it to the inside of a cabinet door or pantry door.
These are a great option to make the most of otherwise wasted space.
If you've got the space for an over the door organizer, check this out. You can store water bottles but also travel coffee mugs, baby bottles, dried food storage and lots more.
You can find an over the door shoe organizer at most department stores, dollar stores or other stores that sell homewares.
If you want to get one online, the company Jokari makes the hanging organizer shown below that is marketed towards water bottle and travel mug storage. You can check it out below.
6) Repurpose Magazine Holders to store Water Bottles
This water bottle storage hack is a cheaper alternative compared to some of the other options…especially if you have magazine holders at home you're not using.
You can put the magazine holder on its side and then stack other holders on top.
Or you can place the magazine holders upright. They provide you with lots of options.
In the picture above you can see magazine holders being used to store water bottles and SodaStream bottles.
These would make a good addition to your SodaStream station.
7) Put your Water Bottles onto a Lazy Susan with sides
People consider lazy susans to be one of the best pantry organization ideas…but they're great for more than just food.
If you get a lazy susan with sides you can store water bottles and other taller bottles in them without them falling off.
8) Horizontal Water Bottle Holder by Marie Kondo
The famous home organizer Marie Kondo has a brand of organizers available at The Container Store.
One of her products is this ceramic bottle holder. This holds one bottle at a time so it isn't great if you have lots of bottle. But if you want an attractive, minimalist option, check this out. It'll stop your water bottle from rolling around in the cupboard.
9) Store your bottles upright in a storage container
A simple option to keep your bottles together is to place them upright in a plastic storage container.
Then put the container on a shelf, inside a cabinet, in the laundry room, in the pantry or anywhere else you have room within easy reach of the kitchen.
What's good about this easy option is that you can store a variety of bottles of different sizes.
And it's a cheap option too. You can find plastic crates and containers at most dollar stores or department stores.
10) Use Drawer Dividers inside a deep kitchen drawer
If you have a newer kitchen, you likely have some deep, pull-out drawers. You can get some drawer dividers to section off an area in the drawer to dedicated to storing your bottles.
The bamboo drawer dividers shown above are a popular option available on Amazon.
They are functional, but they also look really good too.
11) Water Bottle Storage for 5 Gallon Water Jugs
Most of this article has been dedicated to storing small, reusable water bottles, but what if you have water jugs at your house? Is there a way to store them besides just having them all on the floor?
Yes there is.
You can buy water racks like this one that'll hold your water jugs and free up some floor space.
You can get this rack in several different sizes to hold a different number of water jugs.
It is also a good option if you have a cabin or cottage where you need to bring your own water.
I hope one of these water bottle storage ideas will help you get your bottles organized.
Maybe next time you open your kitchen cabinets, the bottles won't come spilling out on your head.
If you enjoyed this, Check out:
17 clever Kitchen Cabinet Organization Ideas
35 proven small kitchen organization ideas
Tea Bag Storage Ideas (must read for tea lovers)