Do you have paper clutter all over your house? Are piles of paper smothering every flat surface? In this article we'll look at 9 ways to reduce paper clutter at home and some ways to organize the papers that you do have.
Hopefully at least one of these ideas will help reduce clutter in your home, and hopefully you'll actually be able to see some counters and tabletops.
This article contains affiliate links. If you click a link and buy something I may receive a small commission at no extra cost to you. As an Amazon Associate I earn from qualifying purchases. For more information please see the Disclosure page.

List of Ways to Reduce Paper Clutter
Papers from work, the mail, notes, drawings, etc… can quickly clutter every surface in your home.
Below we'll look at some different ways to help you reduce paper clutter in your home. Though these ideas may not allow you to go completely paperless, they will help you have less paper clutter at home.
The ideas can generally be separated into two categories:
Ways to reduce paper in your home so there is less of it to organize
And what to do with the paper you already have in your home
So let's start the ideas.
1. Go Paperless on your Bills
Most financial institutions, utility companies and service providers have an option to receive electronic bills.
This is something you probably switched to years ago, but if not, it's something you can look in to.
2. Say no to Junk Mail and Newspapers
Do you regularly receive junk mail or local newspapers and flyers that you never read?
Contact your local paper to opt out of delivery.
And the US Federal Trade Commission has this article on how to stop junk mail.
In Canada you can put a note on your mailbox saying that you don't want to receive "Canada Post Neighbourhood Mail." (Reference) Make sure you put it somewhere where it's easily visible.
3. Get a Filing System for Must Keep Essentials
A filing system for the papers you must keep is mandatory. You need to know where to look if you need to find something.
An accordion folder can be helpful. Once you dedicate a section to certain types of documents – such as bills, investments, or taxes – you can slide them into the folder for easy retrieval later.
4. Buy a Rocketbook Reusable Notebook to reduce amount of paper you use
Do you write down notes on little scraps of paper and have them strewn around your house?
If this sounds like you, you should look into getting a Rocketbook reusable notebook.
Instead of writing your notes down on paper and then having to deal with filing it away, you can write your notes in a Rocketbook and file them digitally.
You write down your notes on the Rocketbook "paper" using a Pilot Frixion pen then you can wipe the pages clean using just a damp cloth.
So you can reuse the same piece of paper over and over.
I recently got a Rocketbook Fusion notebook and it has helped me reduce paper clutter.
After I've written notes in the Rocketbook I snap a picture of my writing with my smartphone, and an app with Optical Character Recognition (OCR) recognizes my handwriting and converts it into a digital word file. (More on this below.)
Pretty awesome.
It does require me to write neater than I usually do, but it's worth it.
Rocketbook now makes an assortment of notebooks and planners including the RocketBook Multi-Subject notebook with 70 lined pages and 4 removable dividers.
They make reusable notebooks and planners to suit a variety of different users from students, to workers to people just wanting to organize their family and home better.
5. Dictate your Notes into your Phone or Computer
This is a great way to get rid of the notes of lists and ideas you've accumulated in your house.
Computer voice recognition is getting so good.
You've probably already experienced this on your smartphone using the "voice to text" feature where you can speak your text message and your phone makes it into text.
This helpful feature can also be used to quickly get rid of paper notes and to-do lists you find throughout your home.
Grab your stack of ideas and lists written on paper then you read your notes into voice dictation software on your computer to convert them into digital word documents.
I've done this using Google Docs and using Microsoft Word.
(I feel that the Google Docs voice dictation was superior to Microsoft word. It was a smoother experience and it seemed to have better accuracy. But Microsoft Word was still effective.)
Speaking my notes into voice dictation software allowed me to get rid of lots of papers that were cluttering up my work desk.
And those ideas I jotted down aren't lost: they are on my computer so I can easily search for them and edit them if necessary.
6. Use Smartphone Apps with OCR Capabilities (Optical Character Recognition)
OCR means that the app can look at a a handwritten document and recognize the letters you have written. Then it converts your handwriting into a text document.
This is great because once digitized you can easily search for a certain note on your computer instead of rifling through reams of paper to find where you wrote it down.
I have the "Microsoft Lens" app on my iPhone. This is what I use to take a photo of my handwritten notes, and Lens converts it into text.
Below you'll see an example of this app in action. I wrote the words "Ways to reduce paper clutter" on my Rocketbook notebook then snapped a photo of it using the Microsoft Lens app.
You drag the white box to fit the text that you're trying to capture, then press "Confirm".
You can see in the screenshot below that it was able to recognize my handwriting and digitize it.
Then you have an option to copy the digital text and paste it into another app, or you can "Share" it to email, messages, Messenger and more. Very cool.
The downside – at least for me – is that I have to try hard to write neatly. (Left to my own devices my usual handwriting is almost unintelligible to anyone but myself.)
7. Upload a photo of a handwritten document into Google Docs
I haven't used this before, but Google Docs has the ability to convert PDF's or images to text using optical character recognition (OCR).
This article gives instructions on how you can do this.
8. Use a Binder System to organize papers
Some people find storing their papers in binders a helpful way to reduce paper clutter. Yes, you're still dealing with paper, but at least you've organized it.
Instead of leaving your utility bills in a pile on your desk, you start a binder to contain them.
This is an alternative to accordion folders or filing cabinets that you can get started using right away.
I suggest to get some plastic page protectors so you can slip all the same type of bill into the same page protector.
It's an easy way to reduce paper clutter and makes things a little tidier.
9. Get a Filing Cabinet
A tried and true way to organize papers is to get a filing cabinet.
There are various sizes available to home owners, so you'll likely be able to find one that'll fit your available space.
Some people choose to put their filing cabinet under their desk. (If you want more under desk storage ideas check out article on this topic.)
You can get filing cabinets with a lock to secure your more personal or confidential papers.
It helps to get paper piles off your desktop and into a contained, out-of-sight filing system.
I hope you've enjoyed these 9 ways to reduce paper clutter.
And hopefully they help you cut down on paper piles and cluttered surfaces.
Up Next:
13 Eco Friendly Office Supplies (to make your office more sustainable)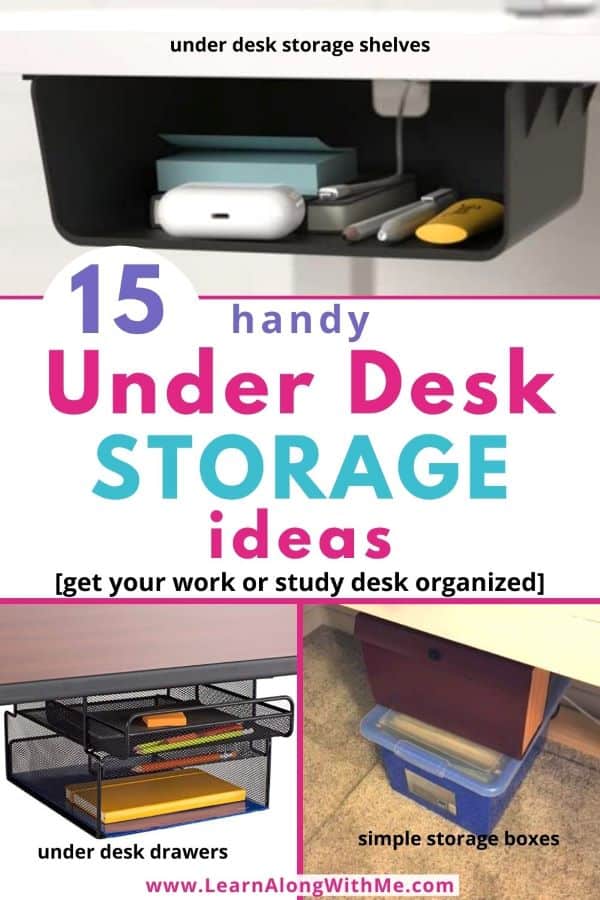 Under Desk Storage Ideas – 15 handy ideas to store stuff under your desk
If you have a standing desk, check out these Standing Desk Storage Ideas