Do you have a chain link fence in your yard? They do a great job at keeping dogs in, or outsiders out, but they do nothing for privacy. Here are 8 answers to 'what can you put on a chain link fence for privacy?'.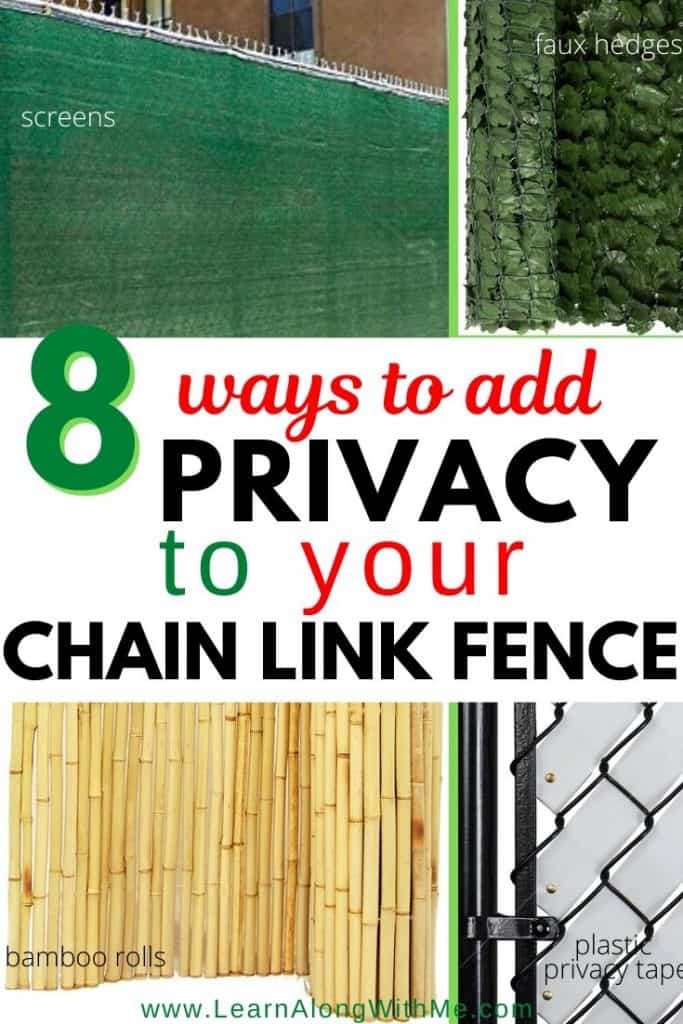 CLICK HERE TO FOLLOW ME ON PINTEREST



This article contains some affiliate links. This means if you click a link and buy a product I may receive a small commission at no extra cost to you. For more information please see my Disclosure page.
Note: if you own one of the businesses in which I've shown your Instagram photo – and you don't want the free publicity I will take it down. Just let me know. Thank you.
1) Plastic Privacy Slats for Chain Link Fences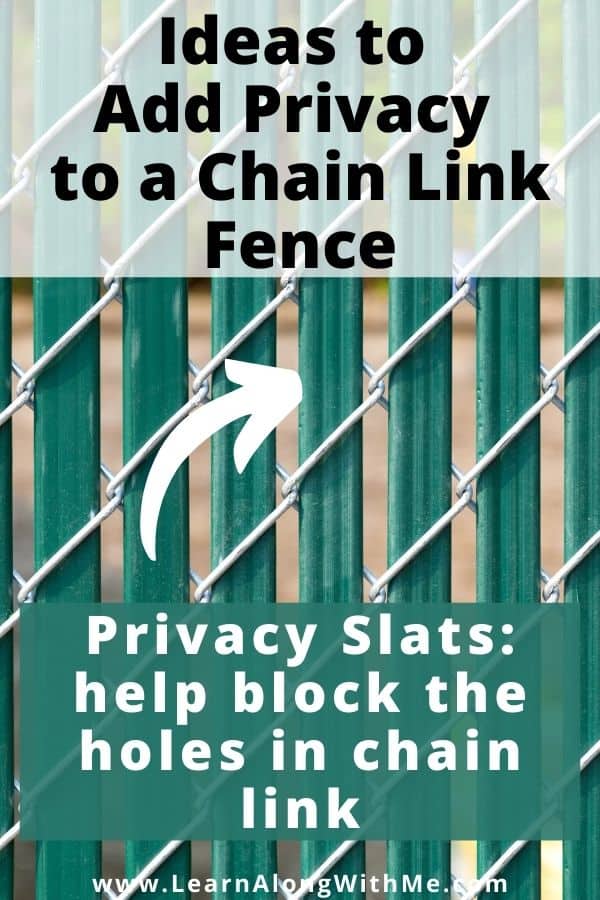 This was the product I was most familiar with before I started researching this article: you see this chain link fence privacy option everywhere!
The photo below is a product photo displaying the Wave Slat product by the Fence Source company. You can check it out on Amazon by clicking here.
It is currently well-rated with 4.5 stars out of 5 on Amazon and over 200 customers left a rating.
Fence Source has these slats available for different heights of fences: for 4-ft high, up to 8-ft high chain link fences.
These privacy slats are usually easier to install than privacy tape (shown below).
2) Plastic Privacy Fence Tape Weave
This plastic privacy fence tape is woven through the holes in the chain link fence in order to fill gaps and provide some privacy.
The tape shown below is made by a company called FenPro.
The tape is 2-inches wide and it's sold in a 250-ft long roll. Each roll is estimated to cover 40 square feet of chain link fencing.
Click here to see additional details (and available colors) on Amazon.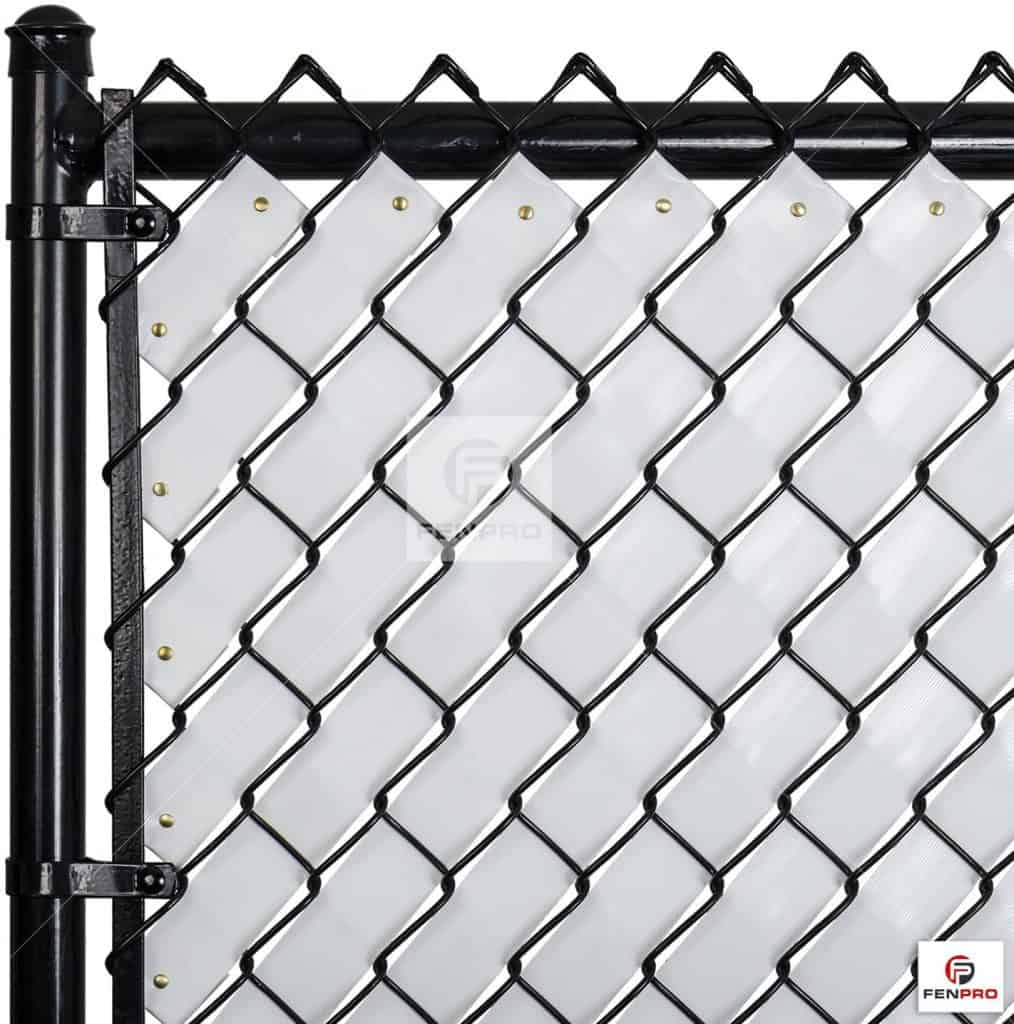 According to the book "The Complete Guide to Garden Walls & Fences" privacy tape is usually more time-consuming compared to privacy slats.









3) Bamboo Rolls
You can purchase rolls of bamboo to act as privacy screen on your chain link fence.
You can use zip ties to attach the bamboo roll to your existing chain link fence.
The manufacturer of the product shown below (Forever Bamboo) suggests in their installation video to use the zip tie around the galvanized wire (which holds the bamboo together), not around the bamboo itself.
Click here to check out the installation video and additional pictures on their Amazon product page.
4) Artificial Hedge Rolls to add privacy to a chain link fence
To help give a little extra privacy and some color to your chain link fence you can check out these rolls of artificial hedges.
They are plastic plants on a roll intended to mimic ivy and other greenery.
The product shown in the picture below is made by 'Best Choice Products' and is available for sale on Amazon.
Below is a picture I found on Instagram. It is from a different company. Their product looks really, really good too.
5) Fast-Growing Vines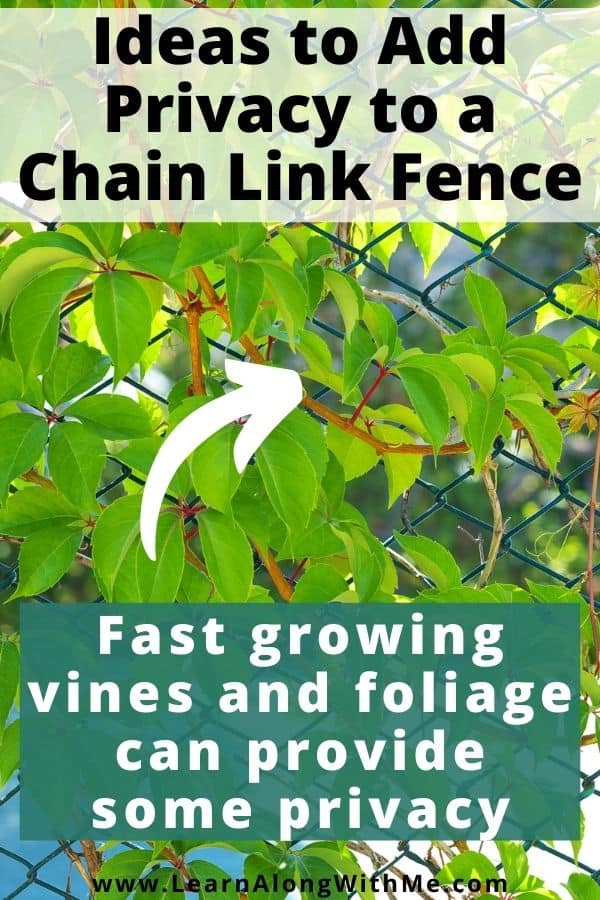 Fast-growing vines may be a natural option to grow and provide a fantastic privacy screen for your chain link fence.
Examples of fast-growing climbing vines include:
Wisteria (produces a truly lovely flower)
Climbing hydrangea
Virginia Creeper
Star Jasmine
And a very famous fence is the outfield fence at Wrigley Field in Chicago where the Chicago Cubs play.
Below is an Instagram photo of this famous fence.
Some ivy and vines can be quite aggressive, so check with a local garden center or nursery about which vine is best for your area.
Below is another picture showing the awesome amount of privacy provided by ivy. (I can't be certain this was grown over top of a chain link fence but it gives you an idea of what is possible.)
6) Planter Boxes along the Top of the Fence
You can hang planter boxes (flower boxes) along the top of your chair link fence and then get some trailing flowers or vines to overflow the planter and hang down.
The picture below is similar to what I mean. (If you want some help with your landscaping, check out her Instagram page for inspiration. @outsideinbydenise.)
7) Lattice to cover your fence
Most hardware stores sell either wood or plastic lattice panels. You can buy "privacy" lattice panels that have smaller holes to see through (like in the photo above).

Place these lattice panels against your chain link fence, and attach with zip ties.
They do still have holes in them, but they aren't as see-through as chain link fences.
The wood lattice panels will require upkeep such as painting or staining. The plastic lattice panels usually hold up well if they are UV-resistant (otherwise they may fade and become brittle).
8) Windscreen Privacy Covers
These windscreens are like tarps that you strap to the fence.
You attach to your existing chain link fence by threading zip ties through the product's metal grommets.
The green windscreen below is made by a company called Clevr and is available for sale on Amazon. It is currently very well rated with 4.6 stars out of 5 and 71 customer ratings.
The image below is the screen intended for a 6-foot tall chain link fence. Other sizes are available.
Another popular privacy screen is the one shown below made by Amgo. It is 5'9″ tall (intended to cover a 6-foot tall fence) and its 50-feet long. It comes with zip ties to attach it to your chain link fence. They claim it has 90% blockage of visibility.
This privacy screen currently has 4.7 stars out of 5 on Amazon…and has lots of reviews.
Will this be right for you?

Conclusion
There are lots of chain link fence privacy options including privacy fence tape, plastic slats, covering your chain link fence with artificial hedge rolls and privacy screens, but there are also natural options like using vines and rolls of bamboo.
Whatever your budget, there is an option for adding privacy to your chain link fence.
Up Next:
In this article we've looked at 8 ways to add privacy to a chain link fence, and here is a different article on 9 proven ways to add privacy to a raised deck.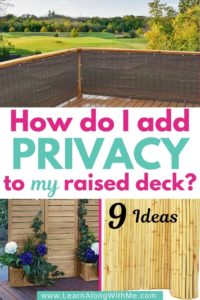 For more privacy fence ideas click here to check out these 19 Privacy Fence ideas to help you build your backyard retreat.
And if you're in the gardening mood, check out these 11 Low-Maintenance Perennial Plants to beautify your yard, and this tutorial on a DIY cheap raised garden bed.
Thank you,
Tim from LearnAlongWithMe.com