Don't you hate it when you need a certain wrench, but you can't find it in your toolbox. To help remedy this, we'll look at 11 handy Wrench Storage Ideas.
Get your wrenches organized and stored properly with one of these ideas.
In this article we'll be concentrating on organizing open-end wrenches, box end wrenches, or combination wrenches. (We won't be looking at socket wrench organization in this article…we'll save that for another article.)
This article contains affiliate links. If you click a link and buy something I may receive a small commission at no extra cost to you. As an Amazon Associate I earn from qualifying purchases. For more information please see the Disclosure page.

This is part of our series on workshop and garage organization. I hope you find some ideas that help you get your tools and workspace organized.
Note: this articles contains some publicly-uploaded images that companies put on Instagram to promote their product. If you are one of these companies and if you don't want the free publicity please let me know and I'll remove your photo and replace it with another. Thank you.
How to store wrenches? – 11 handy Wrench Storage Ideas
Remember an organizer of any kind is only helpful if you actually use it. That means putting the tools back when you're done.
Will one of these wrench organizers be easier for you to use regularly?
Let's start the list of wrench storage ideas and see which one will work for you.
Magnetic Wrench Organizers and Holders
1) Olsa Tools Magnetic Wrench Organizer
When I first read that it was magnetic, I thought perhaps it used magnets to hold each wrench in place. But the back of the organizer is a magnet which allows it to magnetically stick to things in your workshop like the side of your toolbox or metal shelving.
This allows you to suspend your wrenches and have them within easy reach.
Will this work for you?
Click here to see more details…
Pegboard Wrench Storage ideas
Below are some ways to organize and store your wrenches using a pegboard.
2) Pegboard Wrench Holder and Screwdriver Holder Set (all metal)
This metal pegboard wrench organizer is made by MADD Tools. It comes as a set so you get the wrench organizer and the screwdriver holder.
By having the wrench holder stick out from the wall it allows you to use the pegboard holes under the tray. It is a good use of your pegboard space.
Yes it only stores 8 wrenches, but you could either buy a couple sets of these, or put your most commonly used wrenches here for easy retrieval. This would be a good option if you have open-end wrenches that you can't hang on hooks (no box end to hang from).
3) Hang Wrenches from Pegboard Hooks
You can buy variety packs of pegboard hooks and accessories at most hardware stores. And if you have wrenches with a box-end like the ones in the picture above, you can hang your wrenches from these pegboard hooks.
This is a good option for people that regularly require their tools in the same spot all the time. (I.e. they don't need to pack their tools with them.)
You might also like:
11 proven Extension Ladder Storage Ideas
DIY Wrench Storage Ideas
There are lots of different DIY wrench storage ideas out there. Here I've included two options: one is super simple and the other is more complex.
4) Screws in a Board – Simple DIY Wrench Organizer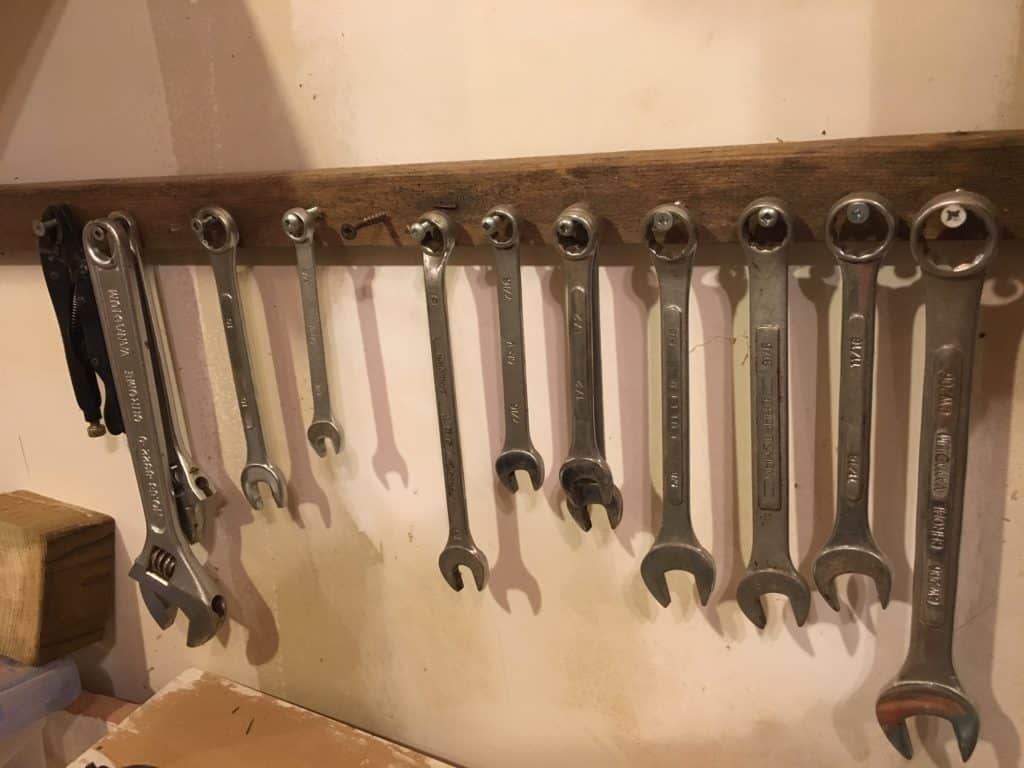 Above is a simple DIY wrench holder that I put up at my parents' house.
It isn't pretty, but it works well for the box-end of the wrenches.
You could make it look better by using fancier screws (more attractive hardware), and by printing labels for the different wrench sizes.
5) Wood Wrench Organizer
I came across this awesome looking wooden wrench organizer on Instagram. (They claim the link to the project to make your own is in their Instagram bio.)
This DIY wrench holder will take longer to make than the simple one I made above, but this one sure looks better.
Wrench Organizer Trays and Inserts
These organizers are good options for people that store their wrenches inside their toolboxes.  Not everyone wants to hang their wrenches on the wall.
6) Ernst Manufacturing Gripper Wrench Organizer
What's cool about this wrench holder/organizer from Ernst manufacturing is that you can lay it flat to organize your toolbox trays, or you can hang it on a pegboard from the handle.
It gives you some options.
7) Tool Sorter Wrench Organizer Tray
This wrench organizer tray from Tool Sorter not only stores your wrenches, but it has labels so you can quickly find the size you're looking for.
It has spots for imperial and metric wrenches.
Some people say the downside of this tray though is that their wrenches don't fit snugly in here. So the wrenches may flop around…especially if you open a tool drawer too quickly.
Want to see more comments about this one?
8) Foam Tool Tray Liners
These look pretty cool.
I came across the company Kaizen Inserts on Instagram and their foam tool tray liners. Check out their picture below.
9) Toolbox Widget Wrench Organizer
Above is a picture showing this modular wrench system. You can stick a couple of the wrench holders together to form a chain of them. And customize it to fit your toolbox. It has a magnet on the bottom of wrench holders so it'll stick to your metal toolbox tray.
Below is a picture of the Toolbox Widget wrench organizer "in action." One kit will hold 15 wrenches.
I haven't used these before…but I don't think it comes with the labels. (If it does, let me know and I'll correct that.)
Will this work for your toolbox?
10) Buy Wrenches that are already in an organizer
I bought this set of wrenches from Canadian Tire several years back and I continue to store my wrenches in the organizer they came in.
You can hang the wrench organizer from the handle if you want, or you can lay it inside your toolbox as is.
So if you're looking to buy a new wrench set, check out the packaging it comes in.
Does it come with an organizer like this?
11) Roll Up Fabric Wrench Organizer (by Bull Tools)
This is a roll-up duck canvas wrench organizer made by Bull Tools. It features 26 pockets to store your wrenches.
And once you roll up the organizer, you secure it with the attached canvas straps.
This is a good option for people that want a convenient way to pack around their wrenches. Carry it by itself, or simply toss the rolled up organizer into your toolbox and head off to tackle the next job.
(I have a small canvas roll up organizer for my jigsaw blades and it works well. So I think this would work well too.)
I hope you found some good ways to organize and store your wrenches.
Some of the factors to address when it comes to how to store wrenches is:
Where do you use them? (Do you need them to be mobile, or will hanging them on the wall in your garage work?)
How easy is it to put the wrenches back into the organizer? (To stay tidy you need to put tools away when you're done.)
What method do you use? Is there a wrench organizer that I should add to the list?
If so, let me know.
Up Next:
You may like these ideas on how to store air tools. (Some neat options in here.)
33 Garage Organization Ideas to tame the mess
Extension Ladder Storage Ideas – 11 proven ways to store them
11 clever Bike Storage Ideas
9 super handy Golf Bag Organizers (lots of people store their golf gear in their garage)