Lots of people are doing yoga at home with online lessons or videos. And if you're taking classes at a local yoga studio, you still need a place to store their yoga supplies back at home. In this article we'll look at 15 yoga mat storage ideas that will help you find a place to store your yoga essentials at home. Plus, some of these ideas will work for small, boutique yoga studios too.
Scroll through them all and see what'll work for you.
This article contains affiliate links. If you click a link and buy something I may receive a small commission at no extra cost to you. As an Amazon Associate I earn from qualifying purchases. For more information please see the Disclosure page.

List of Yoga Mat Storage Ideas
Not everyone has the space for a dedicated yoga studio or workout space in their home. But leaving your yoga mat on the living room floor can be a tripping hazard.
Let's look at some yoga mat storage ideas so you can keep your yoga space clean and organized, and others in your house won't have to swerve around your yoga equipment.
1) Yoga Mat Holder
A yoga mat holder like this is a convenient and practical option for storing your yoga mats…if you have the floor space for it.
This holder reminds me of a laundry hamper on wheels. You can slide it into a corner or into a closet and slide it out back when needed.
I personally don't like the font of the text…but that's just my opinion.
The advantage of this yoga mat holder is that it has room for 2 to 3 yoga mats and is portable.
But one drawback of this option is that it will take up floor space, so it's important to consider your available space.
This is the 27.5-inche tall version, and they make a short 22-inch version too.
2) Wall-mounted Yoga Mat Rack (metal)
Storing your yoga mat on the wall is a great way to free up floor space and utilize vertical storage.
And if you get a wall rack like this one, you can store other yoga accessories like foam rollers, stretching bands and resistance bands.
The rack is installed on the wall, providing a secure place to hang your yoga mat. (It kind of reminds me of a towel rack or wine bottle holder…and I'm sure those options would work for yoga mats too.)
The potential downside to this option is that installation is required, and it may not be suitable for those who prefer their mats to be fully concealed.
Click here to see current price.
3) Yoga Wall Rack (wood)
This wall-mounted yoga mat rack also has the benefits of freeing up floor space, and it provides a soothing, natural décor to your yoga space.
It comes as two separate pieces that are individually mounted to the wall. You can space the wood apart from each other whatever distance suits your needs. (The manufacturer – Yes4All – recommends just over 6.5-inches apart. I personally like to hit the wall studs for any rack which are typically spaced 16-inches apart.)
Do you like the look of this? Will this work in your home yoga studio?
4) Wooden Yoga Wall Rack (Etsy)
This is an attractive wall rack made by the Etsy seller MeadowsWorks.
You can order it with a natural look like the one in the picture above, or you can get it stained in a variety of colors.
Plus, you can get it in a variety of sizes to hold anywhere from one mat up to 10 mats. So it's a great option for a home yoga practitioner or if you own a yoga studio.
Click here to see the pictures of this rack submitted by customers.
5) Yoga Mat Tote Bag
A yoga bag like this is a great option if you take classes out of the home.
The bag will hold your mat, water bottle, stretching bands and other supplies.
Plus, it has a zippered pocket to keep your ID, wallet and phone.
Toss your stuff into here, go enjoy class, then come home and hang the bag on a wall hook.
Easy and convenient.
Click here to see more details on this popular yoga bag.
6) Home Gym Storage Rack for yoga enthusiasts
Doesn't this look cool!
It has spots for so many different pieces of yoga and home gym equipment.
It has 3 main shelves on the cart plus a side basket for foam rollers and multiple hooks to hang stuff like towels, resistance bands, head bands, and more.
This is a super versatile exercise equipment organizer made by VOPEAK.
It allows you to keep all your fitness supplies together.
Just keep in mind the maximum weight capacity is 200 pounds. (This weight limit could be a problem if you have a lot of kettlebells or dumbbells.)
It's nice that it rolls on its four caster wheels, but it does still take up some floor space. Albeit, not as much as you'd think. It measures approximately 24-inches wide (when the side basket is attached), 15-inches deep, and just under 34-inches tall.
Will this fit in your home's workout area?
I came across this article with more dumbbell storage ideas if you need more ideas about storing your weights.
7) Store your yoga mats in a wicker basket
The natural look of a wicker basket can look great in a serene yoga studio.
Storage baskets are a simple and flexible solution for yoga mat storage. You can easily move the basket around your home or even toss it in the backseat of your car.
Choose a basket large enough to accommodate your rolled-up mat and supplies, and tall enough so that it won't tip over.
However, the downside is that as the wicker basket gets older, sometimes the wicker strands break and the sharp ends could scratch your yoga mat.
You can find wicker baskets at many box stores and furniture stores as well as online.
8) Cotton Rope Basket
A cotton rope basket is a popular and stylish option for storing yoga mats.
These baskets are made of soft and flexible cotton rope, providing a natural and rustic look.
The advantage of using a cotton rope basket is they're lightweight and soft, which helps prevent any potential scratches or dents to your mat.
However, the downside it that it will take up floor space unless you have a shelf to set it on.
This particular basket is about 13-inches in diameter and 15-inches high. It is a popular and well-rated basket with a lot of people using it to hold their yoga mats and supplies.
RELATED ARTICLE:
Check out these cute storage baskets available on Etsy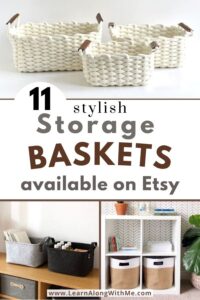 9) Upright Yoga Mat Storage Tube (Etsy)
These are a compact and attractive way to store yoga mats.
They are thick cardboard tubes with the exterior decorated to hold your mat and add some décor to your yoga studio.
There is a wooden plug at the bottom of the tube so this could be mounted to the wall to take advantage of vertical space.
It is out of my price range, but I'll let you decide if it's out of yours.
10) Free-Standing Storage Cabinet
Is this overkill for just storing yoga mats? Yes, I'd say so. But…
A storage cabinet with doors can be a good way to store – and hide – yoga mats, yoga blocks and other home workout equipment.
Cabinets like this are often marketed as pantry cabinets, but you can store so many different things in here.
You could store your rolled-up yoga mats horizontally on one of the shelves, or you could remove a shelf and store them vertically.
The benefit of using a cabinet like this is that it can keep your mats neatly organized and provides ample storage space for other stuff.
But, it's important to consider the available floor space in your home or workout space, as these cabinets can be quite large and may require assembly. This particular cabinet from Prepac is 16-inches deep, 32-inches wide and 65-inches tall. It ships flat-packed so you will have to assemble it once it arrives.
11) Yoga Mat Shelf for the Corner of the room (storage hammock)
I realize there is a yoga ball in the picture above, but just imagine your yoga mats in there too.
You mount this storage hammock in the corner and it's a great way to take advantage of vertical space.
The advantage of using a corner hammock is its space-saving design and easy accessibility. It keeps your mat off the floor and provides something interesting to look at. It has a neat Boho vibe.
But, that being said, some people may not like the look of it. Beauty is in the eye of the beholder, right.
There are lots of other storage hammocks available and they're often marketed as stuffed animal hammocks.
12) Under-bed or Under the Couch Storage
Most people don't have a dedicated home yoga room, so their living room or bedroom doubles as their yoga room.
If you have unused space under your bed or couch, consider using low profile storage containers or drawers to keep your yoga mats neatly tucked away and easily accessible when needed.
And you can bypass the container all together, and just place your yoga mat directly under your bed or couch.
Just try not to squash your mat into an oval shape to avoid creases after long term storage.
13) Get a Yoga Mat Strap
Straps like this wrap around your yoga mat, and make it easy to carry your mat to the studio or park and then you can hang your mat from the strap when you get back home.
This is a good option for a small spaces because you can hang these from coat hooks or other wall hooks.
Heck, you've probably already got the hooks on a coat rack or hat rack, so you can get one of these and put those hooks to good use.
This particular strap is a popular and well-rated strap made by YOGAER.
It is a good, inexpensive yoga mat storage solution.
14) Peg Board Gym Storage Area
Peg boards are super versatile organizers.
A wall-mounted pegboard with hooks or attachments can be customized to hold your yoga mats.
You can arrange the hooks at appropriate intervals to accommodate the size of your mats and create an organized area.
Plus, you can buy extra hooks to hang other exercise equipment like jump ropes, resistance bands, yoga straps and fresh towels.
15) Use Cup Hooks and Chains (a wall-mounted storage solution)
Here is a simple DIY solution for you to hang a yoga mat on the wall.
You'll just need a couple of things from the hardware store.
Get 2 cup hooks, and two strands of lightweight chain that are long enough to wrap around your yoga mat. (About 16-inches of chain goes around our particular yoga mat.) Most hardware stores can cut the chain for you in store.
If you don't want chain you could use rope or twine and tie one end to the cup hook and put a loop on the other end of the cord.
It's an attractive, easy-to-make storage solution.
16) DIY PVC Pipe Storage Idea for Yoga Mats
Using PVC pipes, you can create a DIY storage solution by cutting the pipes into shorter lengths and attaching the pipes vertically to a wooden board or wall.
The rolled-up yoga mats can then be inserted into the pipes, providing a neat and space-saving storage display.
It would be a similar idea to the yoga mat storage tube made of cardboard shown earlier, but instead of cardboard, you'd use PVC pipe.
What about an Umbrella rack?
While an upright umbrella rack may seem like a potential option for holding rolled-up yoga mats, it may not be the most suitable choice.
The slots or compartments in an umbrella rack may not be wide enough or deep enough to hold a rolled-up yoga mat.
So before you commit to using an umbrella rack, make sure the storage slots are about 6-inches wide to accommodate your mat.
Thanks for checking out these yoga mat storage ideas. I hope at least one of them will work for your available space.
I like how some of the options provide additional storage space for other workout accessories too.
Will one of these ideas work for you?
Up Next:
Need some ideas on how to store blankets in your living room? Check this out.
Do you Rollerblade for exercise or to get around? If so, check out these Rollerblade storage ideas to keep them organized.