Is your camping smell starting to offend even the skunks? In this article we'll look at 9 portable camping showers and camping shower tents to get you feeling and smelling better.
This article contains affiliate links. If you click a link and buy something I may receive a small commission at no extra cost to you. As an Amazon Associate I earn from qualifying purchases. For more information please see the Disclosure page.
9 Camping Showers and Shower Tent Solutions
Below are 9 answers to how to shower while camping.
But, if you do shower while you're camping, the US National Parks service reminds you to use biodegradable soap and shower at least 200-feet from waterways so your soap doesn't get into the local water system. (Reference)

With that in mind lets look at the camping shower options.




Electronic Camping Showers
The invention of lightweight, rechargeable batteries has meant that people now have new options for showering while camping.



Ivation Portable Camping Shower
This is a clever electric camping shower. Drop one end into a bucket of water and the battery-powered pump will send water from the "suction" end up the hose to the showerhead.
A very cool camping accessory that is popular on Amazon. And since you aren't suspending the water in the air, you could use this in a pop up shower tent (further below) by attaching it to the roof of the privacy tent.

innhom Portable Electric Camping Shower (battery or 12volt DC)
This electronic shower by innhom has a submergible pump that you put into a bucket of water – but unlinke the Ivation portable shower – the innhom system has a separate battery compartment that doesn't go underwater.
Plus, you can run it off the rechargaeble battery, or plug it into the 12-volt DC outlet in your vehicle. It also comes with a hook to hang the showerhead from a tree for hands-free showering.
It is also available on Amazon. Check it out to see if it is right for you.

Pressurized Camping Showers
These camping showers do not have to be elevated because you pressurize them to spray from the tank on the ground up to the attached shower nozzle. The downside is that they are not hands-free: most of them require you to hold the showerhead and activate a trigger-style on/off switch.
Flow Pro Pressurized Portable Shower (by Reliance Products)
You fill the plastic tank with water, let it warm up in the sun and then press down on the top handle to manually pressurize the tank. The showerhead has a trigger-style on/off switch much like garden sprayers.
Helio XL Foot Pump Pressurized Camp Shower (by Nemo Equipment)
This camping shower comes with a 7-foot hose and a trigger-style shower nozzle. This is the 22-liter size (5.8 gallons) and they claim you can get about 5-7 minutes of water spray from it. You pressurize it by stepping on the foot pump.
You could use it for a full shower, rinsing sandy feet, rinsing dishes or equipment and other campsite cleansing.
Click here to see it on Amazon.
Gravity-fed Camping Showers
We are taught from childhood that water flows downhill and that's exactly what gravity-fed camping showers do. You fill a tank or bladder with water, elevate it above your head and then pour the water over yourself.
Because they are heavy they require a solid tree or hook to hang them from.
Below are a couple of well-rated options for gravity-fed camping showers.



5 Gallon Solar Shower by ADVANCED ELEMENTS
Fill the bag with water, set in the sunlight to warm up, hang it from a tree or hook and you'll be able to shower using the attached hose and showerhead. The showerhead has an on/off feature so you can turn it off while washing your hair or lathering your body so as to not waste water.
Since it's gravity-fed it does require you to hang it from something sturdy – and keep in mind that water weighs about 8 pounds per gallon. So this 5 gallon capacity camping shower will weigh almost 40 pounds full.
Most pop up camping tents (like shown below) aren't built to hold this weight: you'd have to position your shower tent near a tree and then feed the water hose into the camping shower tent.

Simple Solar Shower Option (5 gallon shower bag by Coghlans)
Here is a simple solar shower option from Coghlans. Just fill it up, leave it in the sun to warm up, suspend it above your head and enjoy the warm water. (Be careful they can get quite hot.)
If you want a simple solar-heated shower bag, check this one out.

Wet Wipes for Spot Cleaning
If you primarily sweat and smell from one particular body part – such as armpits or feet – then biodegradable body wipes like these ones from Survivewear can help keep you feeling and smelling fresh without a full camping shower or bath.
Once you bury these wet wipes, the manufacturer claims they start to decompose after 28 days and fully break down after 6 months.

Pop Up Camping Shower Tents
If you want to get clean and enjoy some privacy, look into getting a pop up camping shower tent. They set up in seconds and give you a space to get clean while blocking prying eyes.
WolfWise Pop Up Shower Tent with removable floor
This updated WolfWise pop up camping shower tent now comes with a removable floor so you don't have to stand in the dirt. It has a mesh top and zippered windows to ventilate because showers in a shower tent can get a little steamy.

Pop up Shower Tent for Tall People
This camping shower tent by Ropoda is 83-inches tall (6-feet, 11-inches tall). So it will be a better choice for taller campers compared to the WolfWise shown above.

I hope you've found some good portable shower and camping shower tent ideas for your next trip.
Which ones will work for you?
For more information on how to stay clean while camping check this out.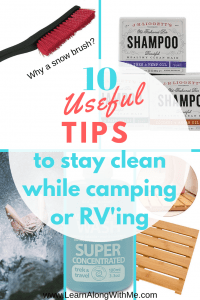 Plus check out:
35 Enjoyable things to do while camping
13 RV Racks to carry your Gear