If you need a place to put your microwave, and you need more kitchen storage, you may want to check out a microwave cart with storage. Two birds with one stone!
In this article we'll look at 15 different options of microwave carts with storage to help you get your kitchen organized.
This article contains affiliate links. If you click a link and buy something I may receive a small commission at no extra cost to you. As an Amazon Associate I earn from qualifying purchases. For more information please see the Disclosure page.
15 Microwave Cart with Storage options to help you organize your Kitchen
Below I've listed 15 options for microwave carts that have storage so you can have a place to put your microwave, and have some extra storage for your kitchen (or office lunch room).
Before deciding on a microwave cart:
Measure the available space in your kitchen, dorm room or office lunch room. (You want to make sure you get a microwave cart that'll actually fit your space.)
Decide if you want a rolling microwave cart or a stationary one
Measure the size of your current microwave (make sure it'll fit onto your cart)
Do you want closed storage cabinets and drawers, or do you want open shelves?
How much storage space do you want on your microwave cart?
1) Baker's Rack Microwave Stand (open faced shelves)
This is a very well-rated microwave cart / baker's rack that has 5 open-faced shelves for extra storage.
In the product picture above, it shows the microwave on the second lowest shelf…I'd probably put it on the third shelf to make it easier to get my food in and out.
This is the 63-inch high version, so it's a rather tall microwave cart. But they also makes a shorter 49-inch tall version that has wheels.
2) Metal Baker's Rack on wheels with open shelving
What I like about this microwave cart is that the open shelf on the top will accommodate a variety of microwave sizes… you aren't restricted by the shape of your microwave.
And since this is on wheels, you can roll it around your kitchen if required, then lock the wheels once in place. Pretty handy.
Along with the two other shelves, it also has wire racks along the side and comes with 10 S-hooks for hanging things like tea towels and utensils.
3) Wood Microwave Cart with Storage Cabinet
This wood microwave cart is 47-inches tall, and 24-inches wide. It is just over 15.5-inches deep so it won't stick out very far from the wall.
It is a rolling microwave cart so you can wheel it around your kitchen if required.
There is a shelf inside the enclosed cabinet for extra storage, and there is a handy sliding drawer that'd be great for storing long-handled utensils.
Prefer it in white?
This white microwave cart with storage is the same as the wood one above, but if you prefer white, check this out.
4) Walmart Microwave Cart with Storage (by Mainstays)
This rolling kitchen cart by Mainstays and available at Walmart is a versatile cart.
You can place your microwave on the top wooden shelf, and still have lots of storage underneath in the enclosed cabinet. Plus, there is a towel rack on one side of the cart and a little shelf on the other end.
It is a popular and well-rated microwave cart at Walmart…but will it work for you?
5) Hodedah White Microwave Cart with Storage Cabinet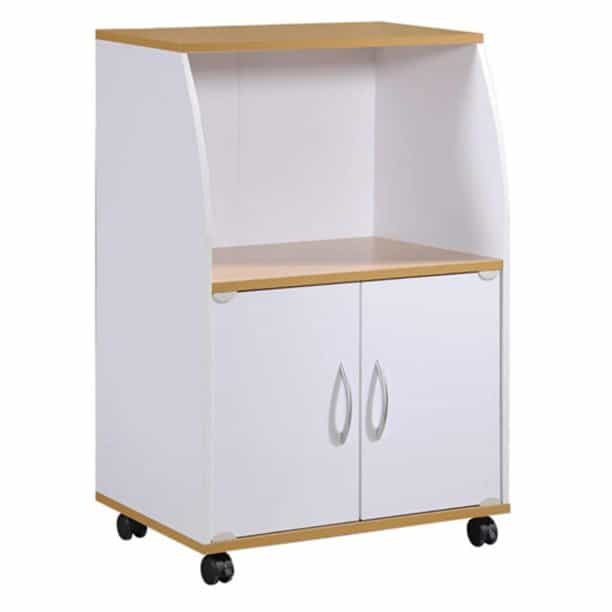 This is a compact microwave cart that is sometimes called a mini microwave cart. It is only 22-inches wide, 15-inches deep and 33-inches tall.
So this could be a good option if you have a small kitchen. Depending on the size of your microwave, you may be able to put it on that middle shelf, or up on the top shelf.
You can lock the caster wheels to keep it in place, or unlock them and roll it where needed.
This microwave cart is available at lots of different retailers. I have provided multiple links below so you can check prices at a variety of stores. (Yes the price can vary by store.)
6) Microwave Cart with Storage Hutch and Drawers
This microwave cabinet has the added hutch up top for more storage.
It is 27-inches wide, 16-inches deep and 67-inches tall (so just 5.5 feet tall). So it is quite a tall microwave cart with storage.
There is a shelf inside the storage cabinet so you could store lots of pantry items or kitchen gadgets in here. And this has the added convenience of two sliding drawers for more organization opportunities.
It isn't on wheels, it is stationary, so make sure you've got a good place to put this before you purchase it.
7) Tall Microwave Cart with Storage Cabinet underneath
This is a tall microwave stand with open shelves and a storage cabinet that measures 5.5-feet tall.
It has 4 shelves and cabinet underneath that has unique mesh doors to give it a farmhouse look.
I would probably put the microwave on the next shelf up to make it easier to access my hot food, but at least this gives you options.
It is just less than 28-inches wide, and since it doesn't have wheels, make sure it'll it in your kitchen.
8) Gray Microwave Cart with Storage and Drawers
The picture above doesn't show it with a microwave on top, but you could easily place a microwave on this 30×22-inch stainless steel top.
And you'll still have 2 sliding drawers, 2 baskets and a bottom shelf to store stuff.
It has caster wheels to roll this cart wherever you need it, and then you can lock it in place by putting the brakes on the wheels.
If you like this gray microwave cart with storage underneath, click here for more details.
9) Gray Microwave Cart with Storage Cabinet (by Ameriwood)
Here is a basic looking gray microwave cart that has a top shelf for your microwave, a short shelf underneath for cups, bowls, etc… and then a storage cabinet at the bottom.
It has wheels so you can roll it around your kitchen, office lunch room or dorm room.
10) Black Microwave Cart with Storage Cabinet, Drawers and Shelf
This is the South Shore Axess microwave cart with a little storage cabinet underneath, a sliding drawer and one open shelf for storage.
It has locking wheels, so you can move this around your kitchen or dorm room if you need to.
And there is a shelf inside the storage cabinet so you can store even more things inside here…out of sight.
This one is pretty well-rated too.
So if you want a small black microwave cart with storage…check this out.
11) Large Microwave Cart with Storage Shelves
This kitchen cart isn't tall (only 34-inches tall), but it is fairly wide. It is 31.5-inches wide.
If you place your microwave on the top surface, you still have lots of opens shelves to help store your kitchen items.
It has a metal frame and wood shelf tops.
Will this work for you?
12) Microwave Kitchen Cart at Bed Bath & Beyond
This attractive kitchen cart is available on Bed Bath & Beyond. It has 2 wheels on the front and straight wood legs at the back. So you can wheel it where you need it.
You could place your microwave on the top shelf and still have two open shelves underneath for additional storage.
These open shelves can look really great – if you're organized – but they'll look cluttered if you don't be careful.
Click here for more details of this kitchen cart.
13) Tall Microwave Cart with Storage and Drawers
I came across this storage cabinet on Amazon. It is made by Inval and stands about 5.5-feet tall, and is fairly narrow at just under 24-inches wide. So it doesn't have a big footprint and it'll help you utilize vertical space in your kitchen.
It has a storage cabinet underneath and an enclosed storage cabinet up top.
Plus, there are three sliding drawers for extra organization options.
14) Microwave on top of drawers
This picture doesn't show it, but if your microwave's footprint is fairly small, you may be able to place it atop this 7-drawer storage unit.
The top surface is approximately 18 inches by 15 inches….will this fit your microwave?
Then you could use the drawers to store stuff like utensils, tea, plates, tea towels, pantry items, and lots more.
If you're someone who can think outside the box, maybe this option will work for you.
15) Wide Baker's Rack to Use as Microwave Cart (Walmart)
This kitchen stand is 33-inches wide and has 4 shelves for storage. The three bottom shelves are 16-inches deep, and the smaller top shelf is only 8-inches deep.
I think this looks attractive, but at this point on Walmart.com it doesn't have many reviews.
It is a stationary kitchen stand, so this isn't an option if you need a mobile cart.
But will this work in your kitchen?
Will one of these microwave carts with storage work for you?
They can be a great way to get your microwave off your kitchen counter.
You'll need to consider the amount of space you have in your kitchen, how tall you want your cabinet, and whether you need it on wheels or not.



This is just one article in our series of kitchen organization articles.
Below I've linked to more articles that can help you get your kitchen organized, and tidy.



Up Next:
17 handy Kitchen Cabinet Organization Ideas to maximize storage
13 popular Rice Storage Container Ideas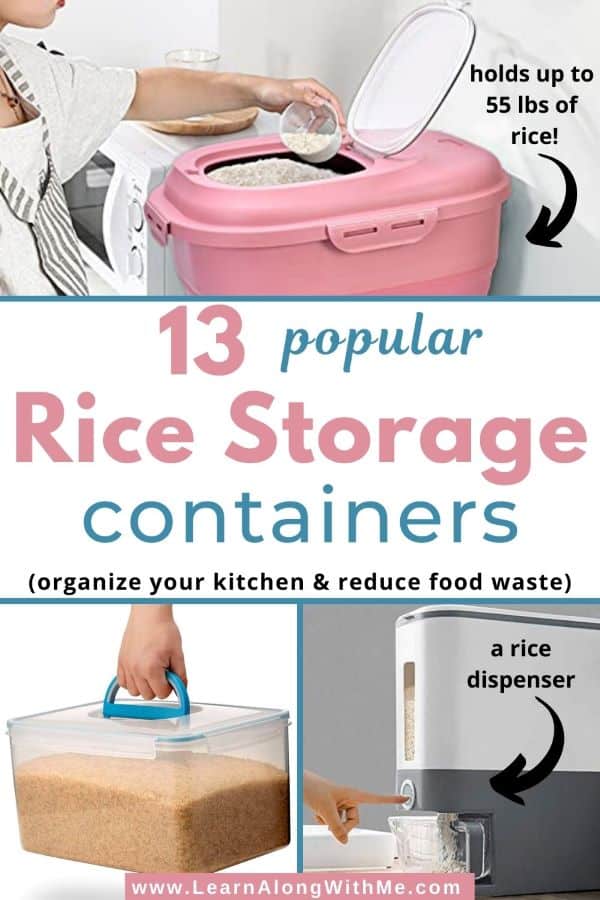 Plus, check out:
17 proven K Cup Storage Ideas to get your coffee pods organized
17 awesome Spice Storage Ideas