Are your purses toppling out of your closet? Hopefully at least one of these purse storage ideas will help you get your purse collection tidy and organized.
Many of these ideas will work for:
purses
tote bags &
various shoulder bags
This article contains affiliate links. If you click a link and buy something I may receive a small commission at no extra cost to you. As an Amazon Associate I earn from qualifying purchases. For more information please see the Disclosure page.

How to store purses – List of Different Purse Storage Ideas
The best way to store purses at home is to:
first remove all the contents from the purse including any loose change, makeup or food crumbs
clean the purse thoroughly, removing any dirt or debris with a soft cloth.
Then, stuff the purse with tissue paper or bubble wrap to help maintain its shape and prevent creasing.
It's a good idea to store purses in a cool, dry place away from direct sunlight, as exposure to heat and light can damage the material. For this reason, a bedroom closet usually works well.
If it's a leather purse, it's recommended to condition it with a leather conditioner before storing it. This will help keep the leather soft and supple and prevent it from cracking over time.
Additionally, it's important to avoid storing leather purses in plastic bags or other airtight containers, as this can trap moisture and cause the leather to become discolored or moldy. (Reference 1, Reference 2)
And if you're hanging a leather purse, some people don't like to hang it from the purse's straps while in storage because it may stretch or stress the purse. Put it into a ventilated dust bag, and hang it from the dust bag's straps.
If you're storing your purses in open areas – such as in baskets, bins or on a shelf – you should consider using breathable dust bags to stop your collection from becoming a sneeze waiting to happen.
Overall, proper storage and maintenance of purses can help extend their lifespan and keep them looking their best for years to come.
Below you'll see there are lots of ways to store your handbag collection.
The best way for you to store your purses will depend on several factors such as:
how many purses you have
whether they tend to be small bags or larger bags
and also the storage space available to you.
Will you be hanging them in your closet, putting them on a shelf, on a wall, etc….
Let's start the list of handbag storage ideas.
1) Breathable Purse Storage Bags (Dust bags)
If you want to keep dust off your stored purses you can get a set of purse storage bags like these ones from the company Interesse.
They have a see-through plastic front panel so you can easily identify which purse is in the bag, and the back panel is a breathable fabric. (Which is what you want when storing your purses.)
These storage bags will work with most of the other purse storage ideas in this article. Meaning you can put your purse into one of these bags, then store the bags in your closet, on a shelf, under the bed, etc…
These dust bags have straps, so you can hang them directly from the dust bag straps.
Click here for details on this 9-pack set.
Use Pillow Cases as Dust Bags
According to this article, you can use old, white, lightweight cotton pillow cases as dust bags for your purses.
The good thing about this that you probably already have some pillow cases at home you could use.
The downside is that pillow cases don't have straps, so it makes it trickier to hang your purses using pillow cases as dust bags. (If you're handy, you could sew some straps on.)
2) Install Shelf Dividers in your closet
Closet shelves are super handy, and work well to store one or two purses. But any more than this, and your shelf could look jumbled…especially if your purses don't have a flat bottom to stand upright.
Wire shelf dividers or acrylic shelf dividers like these placed on a closet shelf work well to create a designated space for your handbags.
They help prevent piles of clothes like sweaters from toppling over onto your purses.
The downside to this purse storage idea is that the purses will take up shelf space. This may not be a big deal if you have a large closet, but it could be a problem if you have a small closet.
These shelf dividers are for wooden shelves, but you can also find shelf dividers intended for wire shelves.
3) Adjustable Divider Set for a Shelf or Counter
This is a similar concept to the shelf dividers shown above, but this is a stand-alone unit. Meaning, you can place this onto any flat surface, or even into a drawer.
So yes, it'll work on a shelf but it would also work on a countertop or a dresser-top too.
The vertical partitions can be moved to different spots to accomodate different sizes of handbags.
Click here for more details on this unique purse organizer.
4) Stackable Acrylic Purse Display Boxes
Don't these look great!
These stackable, clear plastic bins will store your purses, keep dust off of them, and you can easily see what is inside. They have magnets on the swinging door to help keep the door closed.
You can store and stack the bins on your closet shelves or on the closet floor.
Do you have enough space in your closet for an attractive option like this?
This isn't a great option if you have a small closet, but if you have some room to spare on a closet shelf, this is a great-looking way to store and protect your purses.
The manufacturer claims these acrylic bins are breathable too…some air must still be able to get in even when closed.
How good will this look in your closet?
5) Repurpose Magazine Holders to hold purses
You can wrap tissue paper around the outside of your purse (as well as inside to maintain its shape) and then slide your purse inside a magazine holder.
Or, to help protect the outside of your purse, you could put your purse into a dust bag before storing it in a magazine holder.
6) Hanging Purse Organizer Rack
The company Boottique makes this metal hanging purse organizer rack that can be hung two ways.
directly from a closet rod,
or you can hang it from its included over the door hook
In the picture above you see it hanging from a door. It is designed to fit onto doors up to 1.5-inches thick.
It's kind of hard to see the actual product in photo above, so below is a product photo showing the metal organizer.
It has 12 metal hooks – 6 on each side – and it can hold up to 50 pounds, so you'll be able to store a lot of handbags on here.
This purse organizer is well-rated with thousands of customer-submitted ratings.
I see that Walmart.com has a 2 pack of these organizers. Click here to see the price of the 2-pack.
7) Buy purse hooks to hang your purses from your closet rod
Do you have room along your closet rod to hang your purses?
If so, you could use these unique, and really well-rated, purse hooks by ArtLiving.
They have a slightly wider hanging surface to accommodate purses with straps up to 1.5-inches wide.
The good thing about this option is that your purses will be visible and easy to grab out when needed.
The downside is that your purses will take up space in your closet that you may need to hang your clothes.
8) Use S-hooks to hang your purses from your closet rod
These S-hooks (with a twist) are another way to hang purses from your closet rod.
If you don't have space along your closet, you can also hang the s-hooks from a tension rod mounted inside your closet.
Check price on this 12-pack of purse hangers.
9) Hang your purses from shower curtain hooks
An easy DIY holder is to hang your purses from shower curtain hooks.
You can then slip the rings onto a clothes hanger or hang the rings directly from a bracket or closet rod (if your curtain rings will fit around your closet rod).
Ideally, you'd have your purses inside dust bags with handles. Then you'd hang them from the dust bag's handles.
But if you don't have luxury bags, hanging them from the purse straps should be okay…especially if there is nothing inside the purse weighing it down.
RELATED ARTICLE: Check out these stylish Scarf Storage Ideas for your fashion scarves
10) Multi-pocket Hanging Purse Storage Organizer
The company Zober makes this well-rated hanging purse organizer that has 4 pockets on each side to hold up to 8 purses in total.
You can hang it from a closet rod (as shown in the picture), or hang it from a large wall hook.
Related Article:
Check out these clever Closet Storage Ideas to help you get our closet organized.
11) Hang your purses from individual wall hooks
This is a straight-forward way to hang your handbags: hang them from hooks mounted to the wall.
You can buy decorative hooks to suit your style.
And this can work in your closet, or you can put some hooks near your entryway coat rack so you can easily have several purses near at hand. (Just make sure you grab the right purse on your way out the door! Or you'll get to the store and discover your wallet was in a different purse.)
Wall hooks are a great option if you want a simple storage idea that takes advantage of vertical space and gives you easy access to your handbags.
Below is a picture of 3 purses being stored on one wall hook. It is mounted inside a bedroom closet. (Note these aren't luxury purses so they are being hung from their straps, and they aren't inside dust bags.)
As you can see the wall hooks don't have to be fancy. You could even use cup hooks to hang your purses.
12) Mount a Coat Rack to the wall inside your closet
We usually think of coat racks being hung by the front door, but do you have some wall space in your closet or on your bedroom wall?
If so, a coat rack like this will allow you to hang lots of purses as well as other things like scarfs and belts.
A coat rack with several hooks is a good option if you have several purses to store, whereas the individual wall hooks shown earlier are better if you just have one or two purses to hang.
Below is a picture of a very basic coat rack holding some purses. Do you have room for a small rack like this inside your closet or on your bedroom wall?
13) Hang your purses from an accordion wall rack
This is basically the same idea as a wall-mounted coat rack like shown above, but accordion coat racks have the benefit of having an adjustable width.
You can compress or stretch out the rack to fit your space.
This particular one has 14 different pegs to hang stuff from, but you can get accordion coat racks in a variety of sizes, colors and knob shapes.
These are functional and they look good too.
14) DIY purse display & Storage using Acrylic Wall Pockets
I came across this DIY purse storage idea on YouTube and I thought you'd appreciate it. The YouTuber uses plastic wall pockets to create a unique purse storage wall.
Since most of these wall pockets only have two screws, you don't have to be super-handy to do something like this at your house. Check out the video below.
15) Use a Bin inside Cube Storage Furniture
Many people have cube storage furniture (like the IKEA KALLAX unit) in their home.
You can tuck your purses inside a fabric storage cube, then place the cube inside one of the storage cubbies.
If the cube is a tight fit inside the cubby, it should prevent a lot of dust from getting onto your purses, but you could also drape an old pillow case over the top of your purses if you want to make sure your purses don't get dusty.
16) Store your purses under your bed
Storing your handbags under the bed in a low-profile tote or storage bag is a good way to use this often underutilized space.
And it's a great option if you don't have a walk-in closet or a big closet because storing your purses under your bed and not in your closet will free up extra space in your closet for other things.
Of course it isn't the best option if you have larger purses and only a small space under your bed.
I realize the picture above shows shoes being stored in this under bed organizer, but what's cool about this particular storage bag from storageLAB is that the dividers are adjustable. You can move the dividers around to suit the different sizes of your purses.
This is a low-profile bag, so it won't work well to store large, wide handbags, but it should work for most purses and clutches.
17) Over the Door Pocket Organizer
If you have room behind your bedroom door or closet door you could check out a hanging pocket organizer like this one from Simple Houseware.
I realize the picture above shows baby items, but these pockets work to hold more than just baby stuff.
The benefit to this option is that it takes advantage of "wasted" space, and you don't have to hang your purses from their straps: they just sit in the pockets.
The downside is that at only 4.5-inches wide, the pockets will not hold larger purses without compressing them. So it is best for slimmer purses or clutches.
18) Use an over the door hanging rack
This type of over the door racks are super versatile. You can use them to hang towels and bath robes, but they can also work well to hold purses and tote bags.
Using this vertical space is an efficient use of space and you'll still have easy access to your purses.
These can also be used at the back of your closet door…as long as you don't have bifold closet doors.
You may want to put your purse into a dust bag with handles first, then hang it from the dust bag's handles. This'll spare the stress of gravity on your purse.
19) Perfect Curve Over the Door Purse Rack
This is a unique way to store a purse collection. Do you have room at the back of your closet door or bedroom door?
With this purse rack by Perfect Curve you cinch the strap between an over the door hook and an under the door hook.
Each strap has 9 hooks that can be moved up or down to fit your needs, and it comes with 2 straps.
So with this one inexpensive option you can store up to 18 purses!
It is a clever way to take advantage of vertical space.
A commonly mentioned downside to this rack though is that the purses need to be light or the hooks will droop.
20) Place your smaller bags inside larger bags (KonMarie method)
If you have different sizes of purses, you can store your small clutches inside your small purses then place these inside your larger purses and so on… almost like nesting dolls.
This is the purse storage hack as taught by the professional organizer Marie Kondo.
Below is a YouTube video of Marie showing this method in action.
21) Use a Drawer to store your purses
Do you have a drawer in your dresser or closet that you could use to store your purse collection?
Using drawer dividers or a purse organizer like this one from mDesign inside the drawer will help tidy and organize your purses.
Plus, being inside a drawer will help minimize dust.
This "out of sight" storage solution is a good way to help minimize clutter in your closet, and can free up shelf space for other items.
Quick Summary of How to Store Purses at Home
Empty out all the contents from the purses

Clean them with a soft cloth

Stuff them with tissue paper or bubble wrap

Place them in dust bags if you want

Store them in a cool, dry place away from sunlight

Condition leather purses and avoid storing leather in non-breathable plastic bags
Then store them in a place that works for your space, be it in the closet, on a shelf, under the bed or in a drawer.
I hope you've found these purse storage ideas to be helpful.
Is there one idea that'll work for your purse collection?
You May Also Like: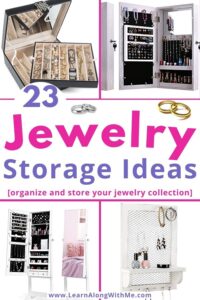 Check out these Jewelry Storage Ideas to help organize your jewelry.
You'll appreciate these stylish ways to store your fashion scarves
Need help with organizing jeans? Check out these Jeans Storage Ideas.
If you need help organizing your undies, check out these Underwear Storage Ideas.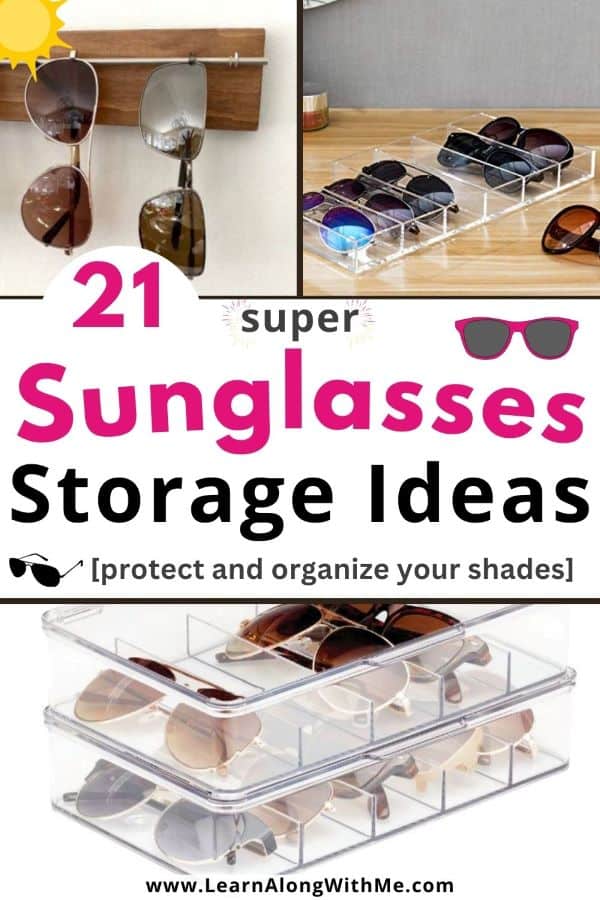 Need help storing your collection of shades? Check out these Sunglasses storage ideas.