Are you curious about RV deck ideas? Perhaps you have a seasonal site – or even a permanent one – and you want a nice deck outside your RV. In this article we'll look at 14 RV deck ideas that may inspire you.
There are even a couple deck ideas that are portable so you could store them in your RV or tow vehicle during travel days.



Appreciation: I want to say thank you to the Instagrammers that allowed me to use photos of their RV decks in this article. That was kind of them and I hope you the reader will find some inspiration from them.
This article contains affiliate links. If you click a link and buy something I may receive a small commission at no extra cost to you. As an Amazon Associate I earn from qualifying purchases. For more information please see the Disclosure page.
14 inspiring RV Deck Ideas
I have included some beautiful RV decks from Instagram, a few YouTube videos showing how to build an RV deck, and some RV deck decorating ideas to enhance your RV's outdoor space.
Just note, not all these camper deck ideas are going to work for your situation.
So make sure to scroll through them all to see which ones catch your eye.


Enjoy!



RV Deck Idea #1 – simple square deck
This is a simple, yet awesome and functional RV deck.
The clever thing they did with this is they built to deck to have a double-duty: they also use the deck as an RV step stabilizer. They built the deck to go underneath the bottom step of their stairs and this helps stop their RV from swaying.
You see in their photo description they say it is quieter too.

In one of their other Instagram photos it shows them building the deck frame. I can't be certain, but it looks like the built the base using 2×6's set on concrete deck blocks.
Check out their Instagram profile for additional pictures.
RV Deck Idea #2 – A fantastic RV deck and cover idea
Check out this awesome deck with covered roof. They've done a great job making their RV deck look inviting and festive with some awesome decor. Plus, the deck has a covered metal roof protecting them from the elements. This probably helps keep the inside of the RV cleaner too…they can leave their dirty shoes outside.
You can't really see the roof in this photo, but this Instagrammer has other photos on his Instagram profile. Check it out if you want to get a better idea of how this RV deck looks from multiple angles. (You can click "View Profile" button in top right corner of the above picture.)
RV Deck Idea #3 – long RV deck spans length of RV
Here is a great wooden deck that is long enough that it spans the length of the trailer. You can read his description above to see how he built it. And if you click the arrows in the picture above you can see "in progress" pics.
I like how he chose deck dimensions to minimize wood waste and labor time. He bought 16-foot long 2×4's as the base, so he made the length of the deck 32-feet long. And the deck is 6-feet wide so he only had to cut the 12-foot deck boards in half to get the deck surface.
Looks very good.




Now want to see the follow-up pics… Here's how it looks 2 years later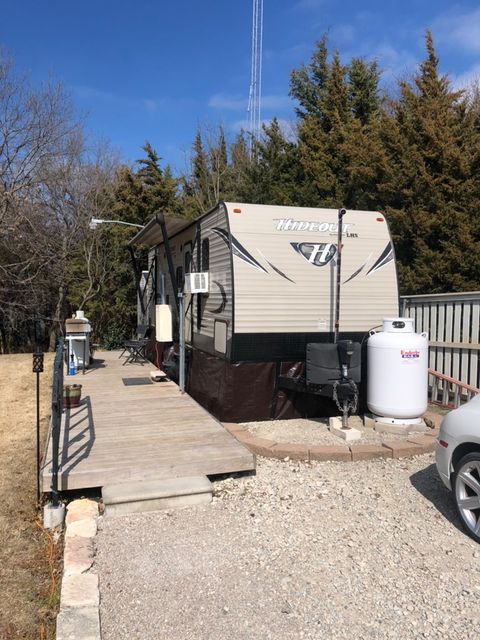 The 2 pictures above show how the deck looks 2 years after being built. And that is with no stain or sealer.
Still looks awesome. Thank you to ProjectConger for sharing these photos with us!






You May Also Like: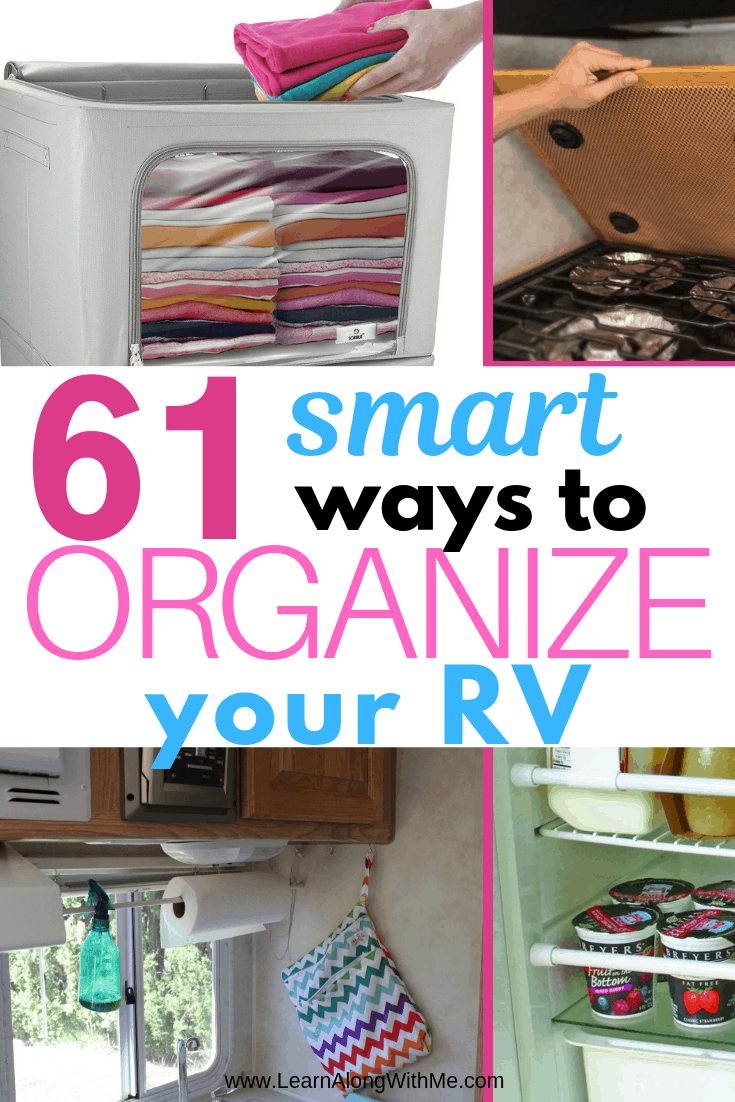 61 smart RV Storage Ideas (get your RV organized today)
RV Deck Idea #4 – movable "floating deck" sections
This is a good example of movable RV deck. Each of the sections is 6-feet x 8-feet so I wouldn't say it is super portable…but they could be moved.
Instead of having all the boards go in the same direction and look mundane, they made it more visually appealing by staggering the direction of the deck boards.
If you click the arrow button on the right side of the picture above you can see the "in progress" photo of this RV deck.
They keep the wood off the ground by setting the 2×4 base on top of cinder blocks. Then they used shims to get it level. (In this case it looks like they use an old kitchen cabinet door to prop up one end.)
RV Deck Idea #5 – deck with railing for added security
This RV deck features a railing which is a good safety feature, and may be required depending on how high you make your RV deck.
It is a little hard to tell from the picture, but it looks like they made this deck using composite deck boards (plastic mixed with wood fibers). These are a great low-maintenance decking option. And it looks to be sitting on solid concrete footings…not movable concrete blocks (but I may be wrong?).
RV Deck #6 – pallet RV deck
This is a very cool deck that they built out of pallets. You can usually find pallets for free on second-hand marketplaces like Facebook Marketplace.
The cost of wood has really gone up (in my neck of the woods anyway) so a cheap RV deck idea like this one is appealing. Watch the video above to see how they did it.

RV Deck Idea #7 – Use Interlocking Rubber Tiles
Do you need to re-surface your RV deck, or are you looking for a unique deck-surface alternative?
Check out these interlocking rubber tiles made from recycled rubber. Instead of using virgin rubber they use recycled rubber (mostly from old car tires).
I'm sorry I don't have a good picture of this "in action" but since it is rated for outdoor use it could work well as RV deck surface.

RV Deck Idea #8 – portable RV Deck Ideas
These guys built their RV deck in modular sections with the goal of being able to move them around in a pickup truck when they leave their seasonal camping site.
It turned out well and the RV mat on it looks good too.
You may also like…
9 well-rated outdoor RV rugs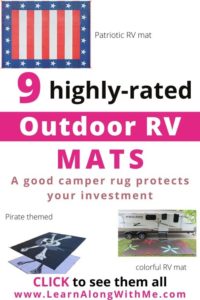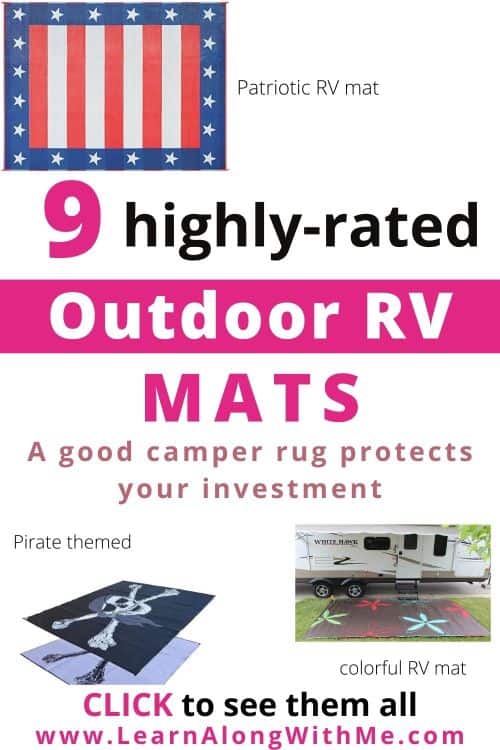 RV Deck Idea #9 – fantastic raised RV deck
In this video he shows how he built this awesome raised RV deck. He built it level with the door of the trailer so he doesn't need to walk up RV steps to get in: he can walk up the solid wood stairs of the deck.
He said has a permanent site, so he shouldn't need to move his trailer too frequently.
RV Deck Idea #10 – RV deck decorating ideas: deck lights
How cool would these deck lights look on your RV deck? They look great but they can also clearly define the edge of your deck.
The ones shown above are popular on Amazon and people seem to like them.

RV Deck Idea #11 – incredible RV outdoor living space
Just look at the RV deck on this AirBnB listing!
It is a full entertaining space: an outdoor RV living space.
And the string of globe lights make it look magical.
RV Deck Idea #12 – RV deck decorating ideas – globe lights
I was inspired by the RV deck idea #11 to include globe lights in this section. These are LED bulbs so they shouldn't be as power-hungry as incandescent bulbs.
How much will these transform your RV outdoor living space?
These globe lights are popular on Amazon. These are the 100-foot long string, but you may only need a shorter, 50-foot string for your RV deck.
RV Deck Idea #13 – Dorothy's handmade wooden deck
I came across this gem when Googling images for RV Deck ideas. So I reached out to the deck builder and she was nice enough to allow me to share this with you.
The deck builder's name is Dorothy, and on her website she does a great job of showing us the steps it took to build this deck. You can see in the picture above that her ground was sloping so she had some challenges that she overcame with careful measuring, and adjustable post brackets.
In the photo above you can see the concrete piers that set in the ground and then the adjustable metal brackets holding up the vertical 4×4 posts.
For more details on how she built this incredible RV deck…check out her website.

RV Deck Idea #14 – beautiful wood deck with a removable section
Click the arrow in the photo above to see the finished deck. (Small arrow on right side of the picture.)
See what they did there?
Pretty cool…they made the small section that is near the front of the trailer movable so if the trailer needs to be moved and the backed in again, that small section can be out of the way.
This was built by the folks at "Solid Angle Homes Inc"
I hope you've found some inspiration in this list of RV deck ideas. I'm considering this a "work in progress" and I hope to add more pictures of RV decks as I find them.
Up Next: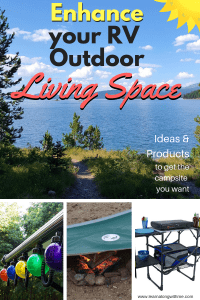 9 simple ways to Enhance your RV Outdoor Living Space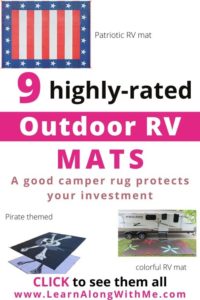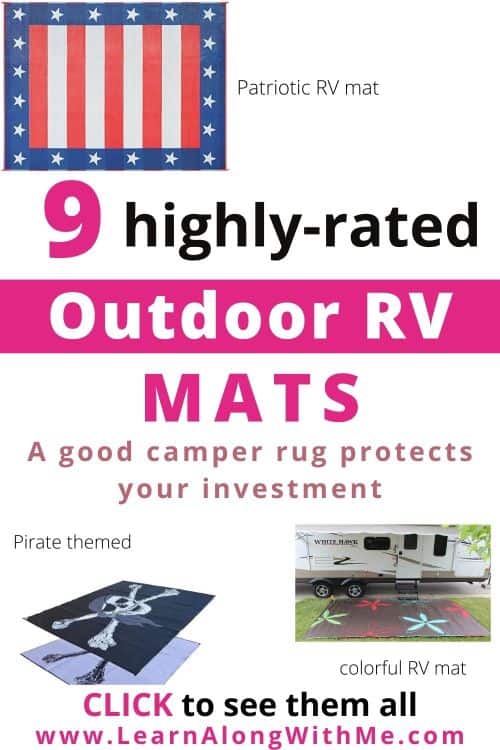 9 highly-rated Outdoor RV rugs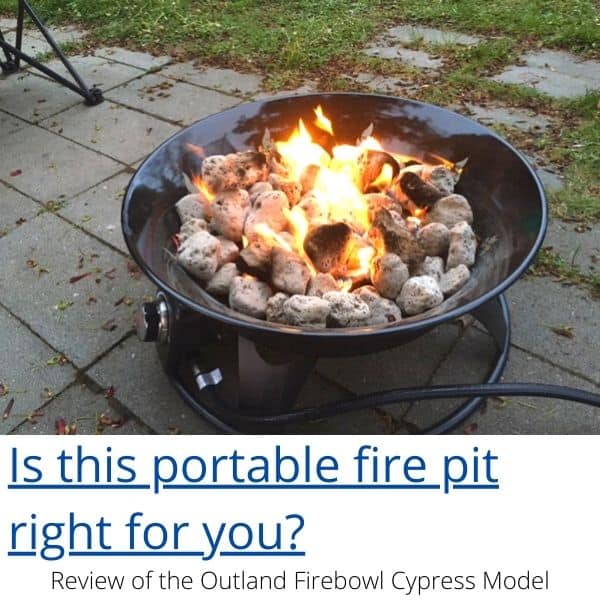 Outland Firebowl – great addition to your outdoor RV space
15 helpful RV Trash Can Ideas