After an active day of camping its nice to kick back and relax in a comfortable camping chair. In this article I'll show you some of the different styles of camping chairs that are now available. Camping chairs have come along way since the 80's.
We look at:
folding camping chairs
double camping chairs (sometimes called loveseat camping chairs)
heavy duty camping chairs
and some other really unique camping chairs.
This article contains affiliate links. If you click a link and buy something I may receive a small commission at no extra cost to you. As an Amazon Associate I earn from qualifying purchases. For more information please see the Disclosure page.
Please Note: this article has been updated to include some new and different chair styles.
List of Camping Chairs
Below is the list of camping chairs in a variety of styles. Some of them you've definitely seen around the campground, but some of them may be new to you.
If you grew up with the folding camping chairs that had the strips of nylon around a flimsy aluminum frame.  You know the lawn chairs – the ones where the seat breaks and your butt ends up on the ground – then you'll be pleased at the larger assortment of portable chairs now available.
Will one of these work for you?
1. Zero Gravity Camping Chairs (by Amazon Basics)
Why do they call them zero gravity chairs? I have no idea.
But a quality zero gravity camping chair can be super comfortable.
The 2-pack shown in the picture above is popular set made by Amazon Basics. You get the chairs, and you get the folding side table too. Pretty cool.
The pic shows them set up on a patio, but since they fold, they are popular for camping too. You'll see them in campgrounds across the nation. If you're looking for a reclining camping chair, this may work well for you.
Many RVers toss them on the bed inside their camper during travel days (or into the back of the pickup truck if you have a travel trailer).
2. Coleman Camping Chairs with Built-in Cooler
These Coleman camping chairs exploded in popularity about 15-20 years ago.
I have three folding camping chairs similar to these, and I love how compact and easy they are to carry.

You slip them inside the carrying bag and then sling it over your shoulder.
The Coleman camping chairs shown above are really popular on Amazon.
It is the Coleman brand with a 4-can cooler on the armrest, a cup holder on the other armrest and small pouch attached to the seat for other personal items.

If you have mobility problems though, they aren't the easiest chairs to get out of. (You may want to check out "director's chairs for this…see below.)
3. A Purple Camping Chair (add some color to your campsite)
Do you want some color at your campsite? Tired of black, blue or gray camping chairs? I guess someone at the company Kijaro was too.
They make this popular folding camping chair in a variety of colors including this purple version.
Below is another picture of this purple camping chair.
You can see the strap along the back that makes it easy to sling over your shoulder and carry. It also features a dangling fabric organizer sewn next to the seat, and cupholders on each armrest.
4. Lightweight Folding Backpacking Chair
They call these backpacking chairs because they are so light and compact they'll fit into your hiking backpack.
I'm tempted to call them slouch-style chairs because they're a low to the ground camping chair. It puts you in a relaxed, slouched position.
And even if you don't plan on hiking these are still a great space-saving seating solution.
It folds down to just over 14 inches long!

And they weigh about 2 pounds. You can read more about this camping chair on Amazon.
5. Director's Camping Chair with Side Table (by Timber Ridge)
This director's chair has a cool little cupholder on one side so your beverage will always be within easy reach.
Plus, it has a small tabletop for your phone, book or snacks.
They are usually easier to get out of than the folding camp chairs because the solid armrests of Director's chairs provide a good support to give yourself an extra push with your arms. This makes it a valid choice if you have knee arthritis or other lower limb conditions.
This Timber Ridge director's chair can support up to 300 lbs.
If you want a highly-rated camping chair with side table, you should check this out.
6. Browning Camping Directors Chair XT
The outdoor company Browning makes this popular Director's Chair called the XT. It has a fold-down side table with cupholder, and a cool little footrest across the bottom.
What a lot of people like about this chair is the rather high seat height. (Browning claims the seat height is 26-inches off the ground.)
The Browning XT Director's Chair is rated to hold 325 lbs. The chair itself weighs about 10 lbs.
This is a good camping chair for people that want a high seat height.
7. Heavy Duty Director's Chair (a King Camp Chair)
This director's chair can hold up to 396 lbs, so it is considered a heavy duty champing chair. (And the chair still weighs just less than 10 lbs.)
It has a fold-down table with a cupholder on one side and a removable bag on the other side.
8. Folding Camping Chair with footrest (by ALPS Mountaineering)
This foldable camping chair with a footrest is very similar to the folding camping chairs mentioned above, but it has the added luxury of a footrest.
So you can really stretch out and relax at your campsite.
It has a powder coated steel frame with a weight capacity of 225 pounds.
I personally haven't tried this chair, but judging by its high rating, other people love it.
9. Inflatable Air Sofas (by Wekapo)
Doesn't this look cozy?
If you have a hard enough time blowing up a beach ball, don't worry – you don't have to blow this thing up with your mouth. They claim you don't even need to use a pump.
You hold it up in the air and swish it around capturing the air and then quickly close the seal.
And talk about versatility, you can use this on dry land or in the water as a floatie. And you can even use it as a picnic blanket…just keep it deflated and spread it out on the ground.
I think it'd be best reserved for sandy beaches or grassy campsites just in case twigs or sharp rocks tear it.
This inflatable camping couch sure looks cool.
10. Over Sized Camping Chair ( 500lbs Weight Capacity)
This saucer-style, oversized camping chair by Guide Gear claims that it can hold up to 500 pounds.
The chair itself is big and heavier than most other options, but it needs to be to compensate for that extra weight-carrying capacity.
So don't expect it to be the same size as the folding camp chairs that you're used to. It may even be large enough for your young kids to have a nap on it.
This isn't a great option for backpack camping, but if you're RV'ing or tent camping near your vehicle, this will be a good camping chair for you.
11. Oversized Folding Camping Chair with Lumbar Support (by KingCamp)
This KingCamp camping chair looks like other folding camping chairs we've seen already, but this is an oversized chair that can support up to 350 pounds.
Plus, it has a lumbar support.
It's hard to tell from the picture above, but there is a adjustable strap with padding that goes around the back of the chair and connects to the armrests. So you can cinch the strap tighter to pull the lumbar support pad closer to your back.
I haven't tried this chair yet, but I know that regular camping chairs can be a pain in the back.
If you suffer from low back pain too, you may want to check this chair out.
12. Ozark Trail Camping Chair (Oversized mesh chair at Walmart)
This Ozark Trail camping chair is their over-sized mesh version that can hold up to 400 lbs.
It has a cupholder on one armrest, and a 3-can insulated cooler bag on the other armrest.
You can get this at Walmart.com or you may be able to find it at your local Walmart.
It is a popular and well-rated chair…currently rated 4.6 stars out of 5 on Walmart.com
13. King Kong Chair (by ALPS Mountaineering) – 800 lbs capacity
There used to be a chair called the Maxx Daddy Heavy Duty Camping chair, but that company isn't around any more. I had trouble finding out the exact specs of that chair, but this KING KONG Chair is often cited as a worthy alternative.
It is marketed as a heavy duty camping chair for heavy people.
That's because this chair has a listed weight capacity of 800lbs!
So if you need a heavy duty camping chair, check out this quality chair made by ALPS Mountaineering.
14. Low Profile Concert Chairs / Beach Chair / Camping Chair
These low camping chairs are perfect for stretching out on the beach, and they're great for grassy camping areas too.
They're really low to the ground, so they're not great for people with mobility issues (keep that in mind).
But if you want a low slung, folding camping chair that'll get you nice and close to the campfire, check this out.
Does this fit your needs?
15. Low Profile Coleman Camping Chair / Beach Chair
The iconic camping company Coleman also makes a low profile camping / beach chair. Their chair has the added convenience of a cup holder. (But when you're that low to the ground, the ground itself usually makes a good cup holder.)
And as you can see on the picture below, the back of this chair also has a fabric pocket to put your keys, phone, sunscreen, towel, etc…
Are you looking for a really well-rated beach chair / camping chair?
If so, check out this Coleman low profile camping chair.
16. Portable Cooler Chair (backpack style folding camping chair)
This portable cooler chair looks pretty cool because you can wear it like a backpack, fold it out into a chair/stool when you want, and it has a soft-sided cooler for your drinks or picnic.
They claim the seat will hold up to 220 lbs (100kg). And the product itself weighs just over 3 pounds.
Just note, it isn't a big seat. On its Amazon product page there is a picture of a guy sitting on it…and the chair looks fairly small. Keep that in mind.
17. Tommy Bahama Folding Camping Chairs
We have a couple of these Tommy Bahama folding camping chairs and we love them.
Yes, we use them mostly for the beach but they're good for chilling on the grass too.
It has a cup holder and sunglasses holder on the armrest, a soft-sided cooler and dry storage compartment on the back.
It folds down flat and has backpack straps so you can sling it on your back and still have your hands free to carry your other items.
I thought these were only available at Costco (where we bought ours), but I recently saw them on Amazon.
(Check around for prices though because the cost can vary.)
Our friends always try to buy them from us because they love them too.
I have been very impressed by our Tommy Bahama folding camping chairs…and I think you'll like them too.

But they are pretty low to the ground. The arm rests do provide a surface to push off from… so keep that in mind.
18. Folding Loveseat Camping Chair
If you just can't get enough of your partner, then this loveseat camping chair is perfect for you.
You can position the chair to offer side-by-side seating (both looking straight ahead), or you can extend it a bit to provide a half-circle type seating arrangement.
Each seat can hold up to 300 pounds, and there is a cup holder for each seat too. This chair is really popular, and has really high rating.
19. Double Camping Chair (by Kelty)
Sorry you don't get the cute dogs with this double camping chair, but you do get a highly-rated folding loveseat camping chair.
The company Kelty also makes a "low" version of this double chair, but this is their taller version. (Though some people still feel it is quite low so may not be great for those that have difficulty getting out of low chairs.)
Is this what you're looking for?
20. Ozark Trail Double Camping Seat (at Walmart)
Are you looking for a highly-rated double camping chair? This chair is made by Ozark Trail and available at Walmart.
It has a powder-coated steel frame and each chair can hold up to 250 lbs.
It currently has a very high rating of 4.9 stars out of 5 on Walmart.com with over 100 reviews.
(What I like about this option is that if you buy this online, it is actually sold and shipped by Walmart and not by some unknown 3rd party seller.)
21. Folding Outdoor Rocking Camp Chair
This outdoor rocking chair is made by GCI Outdoor.
I know when I first looked at the chair, I couldn't figure out how it actually rocks.
But there is a video on the Amazon product page that shows you how it works. (The secret is the shocks in the back!). This seems like a popular rocking chair but I haven't seen one in person yet.
22. Camo Camping Chair (Tripod stool with back rest)
This camo camping chair is a lightweight tripod stool with backrest that folds up and makes it easy to pack around with its attached shoulder strap. And it has a cupholder and mesh pocket in a fabric organizer that is sewn onto the seat.
This would be a good option if you need a seat when you're fishing or out hiking.
And compared to other stools out there, it is has a respectable 18-inches seat height. Weight capacity of this chair is 225 lbs.
But if you do get this camo camping chair, I beg you, please don't just leave it anywhere….you may not be able to find it agai. 🙂
Is this what you're looking for?




You may also like this article on 9 well-rated portable stools for camping, fishing, etc..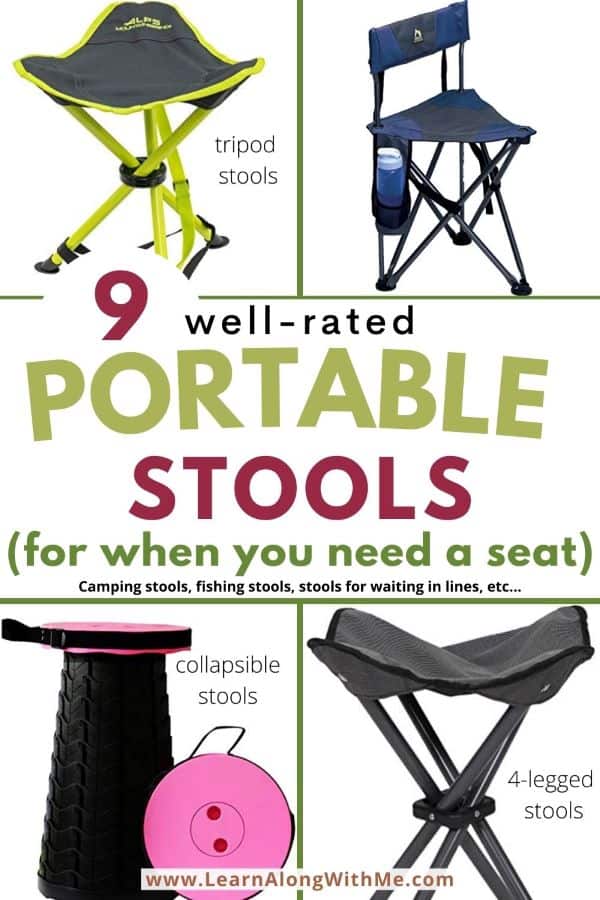 23. Kids Folding Canopy Chair (for young children)
This is a clever design for a kid's chair.
It has a built-in canopy to provide shade, and cup holder for water. It is the Kelsyus canopy chair for kids.
The weight limit is 75 pounds.
The biggest complaint I've read about this chair is that it is small. It is probably better for toddlers or young children…not older kids. So keep that in mind if you're looking for camping chairs for kids. This does have padded shoulder straps so your little one may be able to pack it around themselves.
I hope you've enjoyed this list of the different styles of camping chairs that are now available.
As you can see camping chair styles and varieties have really changed over the last few years. There are folding camping chairs with footrests, there are inflatable couches, there are folding backpack stools and more. You don't need to settle for a campsite's wooden picnic bench anymore.
There is something for everybody now-a-days.
What camping chair will work for you?
Up Next:
9 well-rated Portable Stool options – take a load off with one of these stools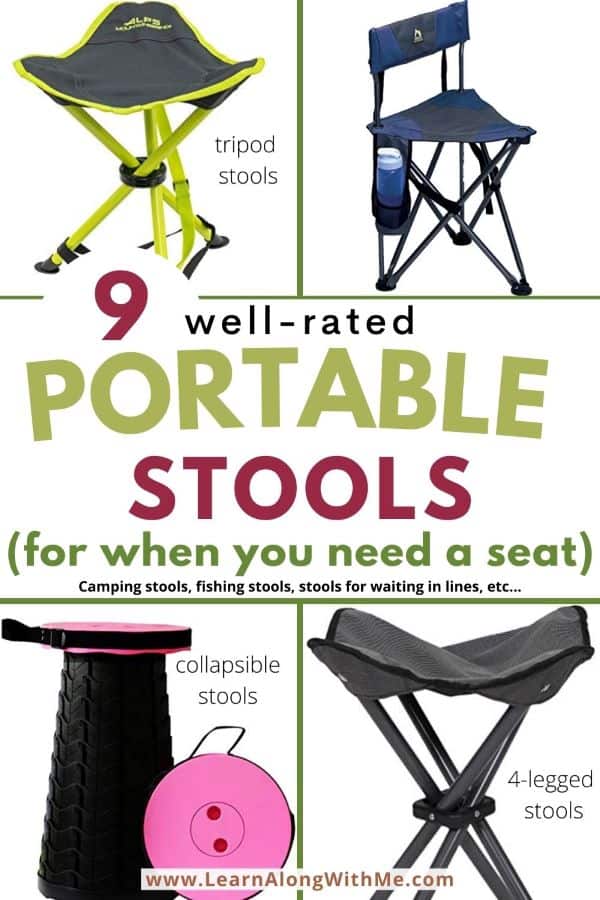 11 popular Camping Fans to help keep you cool
9 highly-rated outdoor camping mats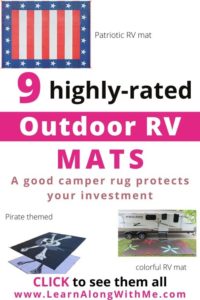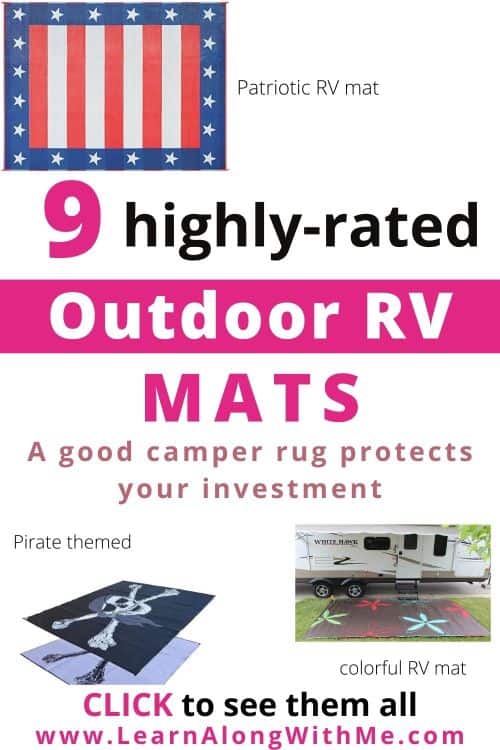 35 Enjoyable Things to do While Camping
Check out our other RV and Camping Articles
Below is the previous Pinterest Pin I had for this article…before I "super sized" the article and added more great camping chairs.