If you are looking for RV storage ideas and RV organization ideas then you have come to the right place. We'll list some storage solutions for your RV bathroom, RV kitchen, RV dish storage, RV bedroom, and even some DIY RV storage hacks.
Your RV can be a sweet little home away from home.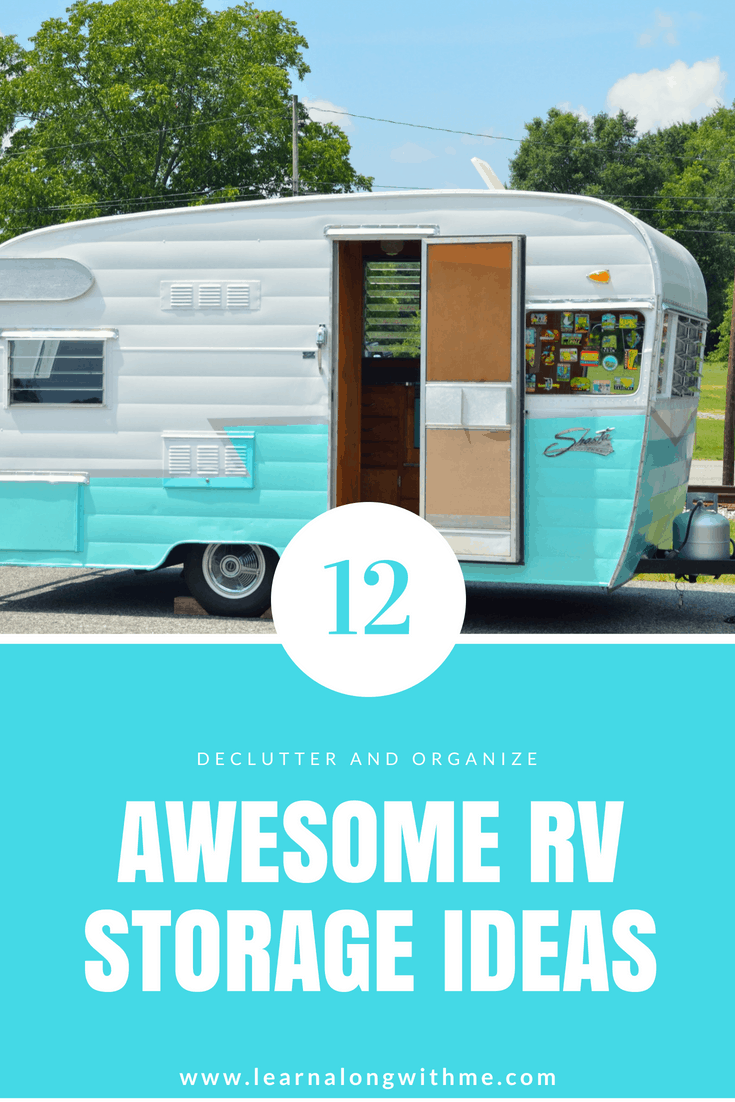 Save this picture for later…click here to pin it to Pinterest.
(This post contains some affiliate links to help support the site (and my family). If you click a link and buy a product I receive a small commission at no extra cost to you. Please read my Disclosure page for more information.)
But how many times do we try to bring too much of our home with us? And our small RV quickly gets cramped and resembles a teen's bedroom.
Camping should be a relaxing experience and getting stressed out over RV clutter is not a good feeling.
What is the point in having cool things, like an RV, if you aren't in the right head space to enjoy it!
---
Below are RV storage ideas and RV organization ideas, but keep in mind that decluttering is going to be very important throughout.
Ask yourself these RV Decluttering Questions:
Do I need this item?
Do I need this many of this item? (Do you really need 4 spatulas or 7 wooden mixing spoons?)
Is there any "2 birds with 1 stone" item that will do more than one job? (Think multi-tool)
If you are frustrated and struggling with a cluttered RV, check out our "Clutter Free RV" RV Organization Bundle. Available Now.
And another theme repeated throughout when it comes to RV storage is thinking vertically and making the most out of 3-dimensions.
We want to avoid leaving everything laying around cluttering up your counter-tops and tables.
---
RV

Bathroom

Storage Ideas
1) Hanging 6 Pocket Shower Organizer
I don't know about you but I like knowing where everything is in my shower. I have a spot for my shampoo, spot for body wash, etc… If I wanted to I could shower with my eyes closed because everything has its place.
And a shower in an RV is small enough already so having to root around for the shampoo bottle sliding around by your ankles is too much.
Luckily, to help keep the tiny space organized there is a mesh hanging pocket organizer to hang over the shower rod.
It could work well for your camper, travel trailer or motorhome bathroom to help keep things organized. Hanging organizers like this are a very versatile RV organization idea.
This is a quick way to get your camper organized today. Easy, no tools required. Just hang it. What are you waiting for? 🙂
2) Shower Rod to Hang Baskets for Toiletries
Another great RV bathroom storage idea to help organize shower essentials in is to hang plastic baskets over a spring-loaded shower rod.
You put this second shower rod into your shower/tub area close to the back wall and hang the baskets from them.
You could have a different colored basket for each family member. Now your teenaged daughter will never get mad at you again for accidently using her Clearasil as shampoo.
If you can't find the shower rods at your local hardware store I see that Amazon has some well-reviewed ones. (And as you can see in the picture below there are many other organization uses for these rods.)
Here is a DIY Shower Toiletry holder that my daughter and I made to keep my shampoo and body wash off the tub floor.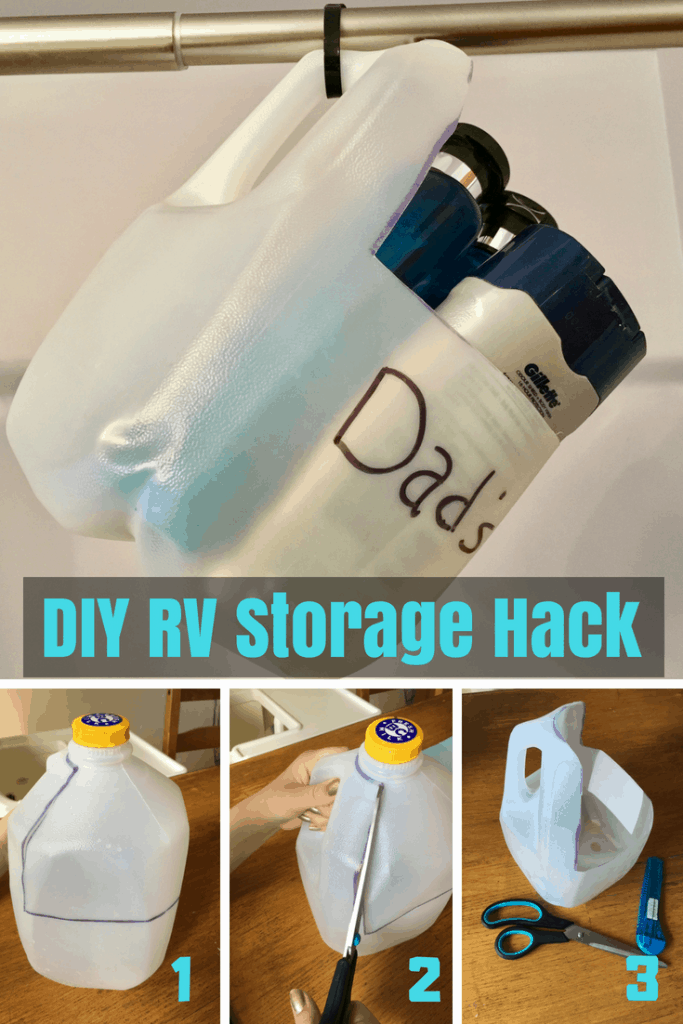 Punch holes in the bottom of the old milk jug to let water drain out of it. And when you're done you have a DIY RV storage hack for your shower essentials.
Sustainability Tip
To minimize buying more plastic items you can re-use an old milk jug as I've done.
We're trying to make the most out of the 2nd "R" in the Reduce, Reuse, Recycle mantra.
I realize that this isn't the prettiest RV organization hack in the world, but how often do you have other people in your shower anyway? (Hmm…I better not ask that.)
For those of you who do require a pretty RV bathroom shower (maybe you have family visiting), you can buy plastic baskets at a dollar store, or online and then use a hook or zap strap to attach it to your shower tension rod.
3) Command Hook Towel holder (an easy RV storage hack)
What did people do before Command Hooks? Just leave stuff laying around? Barbarians.
At home I just drape my towel over the shower rod, but when I'm camping in my friend's RV I always seem to get it soaked doing this. I think its because the shower rod is higher at my house.
But anyways, I'm glad they stumbled upon command hooks.
Below is photo of a command hook towel holder used beside an RV sink. That way when you get your face wash in your eyes the towel is only inches away!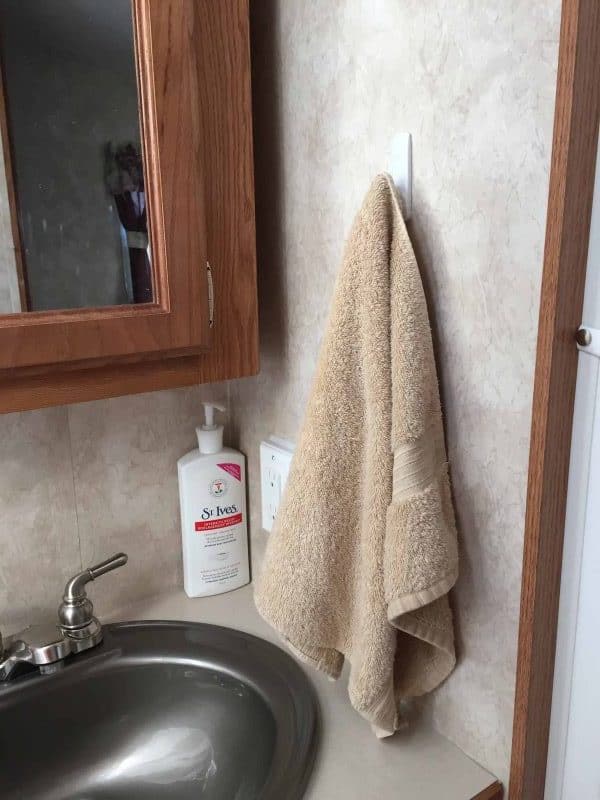 A lot of folks like a white command hook in their RV bathroom, but if you want a more luxurious look get rubbed bronze ones from Amazon (shown below).
I know many retailers carry Command Hooks but if you can't find it in your area, here is a link to Amazon for your convenience.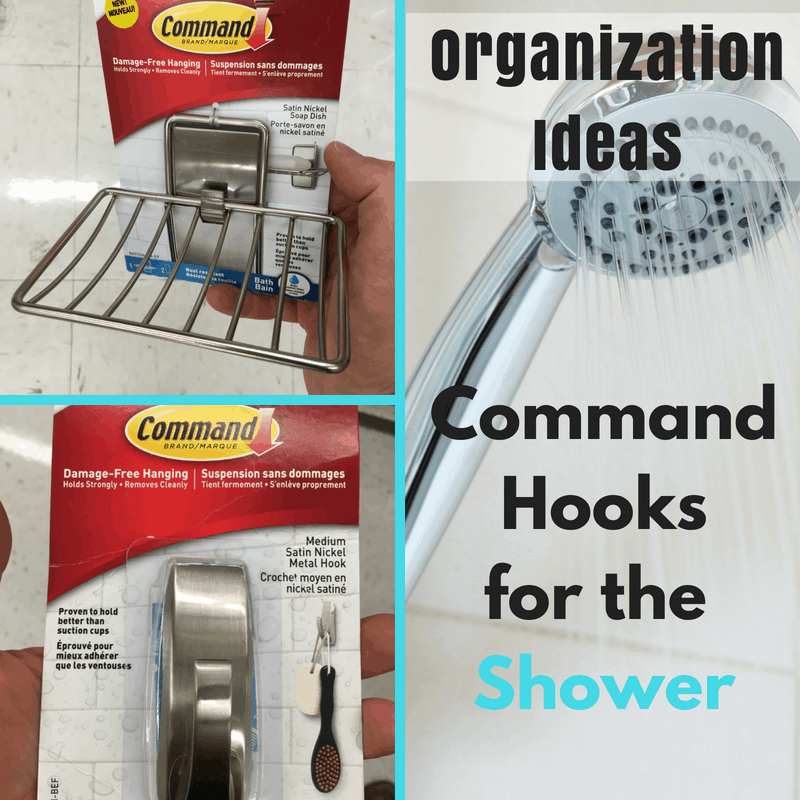 And you can also buy Command Hooks that attach to your shower walls so you can hang up your back scrubber and soap holders too.
Command Hooks are a great RV organization idea: very versatile!

Need some Gift Inspiration for an RV'er?
4) Use Pocket Organizers on Inside of Cupboard Doors
I already mentioned the cool pocket organizer for organizing the shower toiletries, and I've found many other uses for the pocket organizers.
The shower ones are mesh (so they don't pool water), and they work equally well for holding cleaning supplies under the sink, rolled up magazines, deodorants and other toiletries.
You can stow them cleverly inside the door of the sink cabinet instead of cluttering up the limited counter space.
Tired of having a cluttered, messy RV? Check out our "Clutter Free RV" RV Organization Bundle. (Available now so you can start organizing your RV today.)
But if you don't want to buy the bundle right now, and would prefer to get a FREE SAMPLE from the bundle, click the picture below.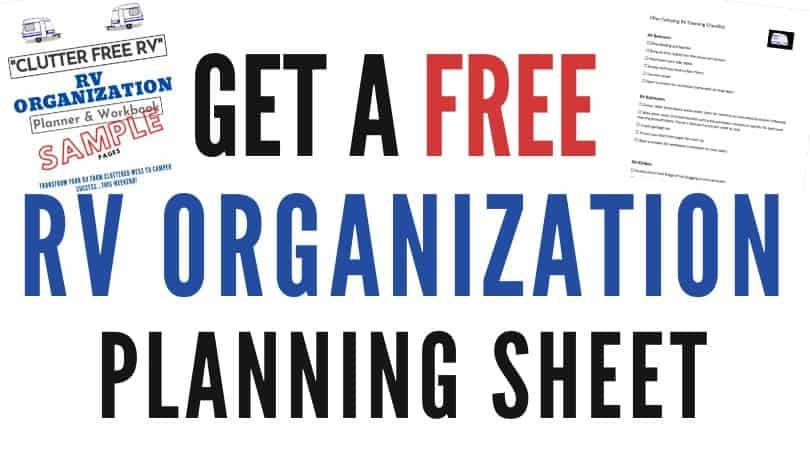 5) Over the door towel or robe hanger
IF they fit on your bathroom door these can be a great way to reduce clutter in your bathroom. But sometimes they just won't fit in the tiny gap between the top of your door and the door jamb. So keep your receipt.
And be careful if you have a "wet" bathroom where your whole bathroom gets wet during a shower because your precious fluffy robe will get soaked.
Immediately below is the one that I have in my bathroom, and below that is a similar item for sale on Amazon.

Clever "No tools" Required Storage Shelf for your RV
My sister came up with this "no tools" required RV bathroom organization idea. She was hesitant to screw into her travel trailer's walls so she came up with this clever camping hack instead.
Using two tension bars she created a shelf that allows extra storage for towels and paper.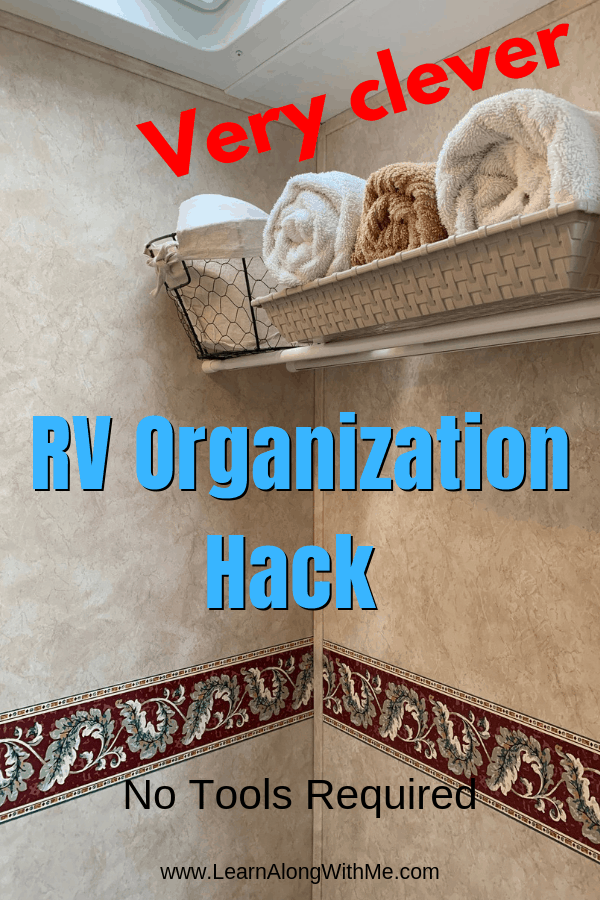 You can buy tension bars at most local retailers, but if you can't find them there I have provided a link to Amazon for your convenience.
(And if you want to learn more Tension Bar Organization Ideas click here to check out my article about this.)
Other RV Bathroom Organization Ideas
If you're looking for other RV Bathroom Storage and organization ideas check out our post 8 Simple RV Bathroom Storage and Organization Ideas
---
---
RV Storage

Kitchen

Ideas
6) Install Drawers Under the Table
It is amazing how quickly surfaces get cluttered with papers, remotes, sunglasses, keys, etc…
And your table in an RV can quickly turn into a "pocket-dumping zone" where everything gets thrown onto it.
Luckily to help store all these random items and keep your table clean there are little shelves that clamp to your table, and swivel underneath your table.
They may be marketed as desk organizers, but they can be used to help tidy up your RV too.
Or if you want another storage idea, you can buy these under-cabinet trays that can screw to the underside of your cabinets, OR you can use an adhesive.
They fold down to access the items and then push back up until they are parallel to the cabinet.
This is a good RV storage idea if you always have lots of little items scattered across your counter-top.
7) Inside Cupboard Door Storage Basket
These cool wire storage baskets can be used to keep various kitchen items including the garbage can!

They help to free up space along the bottom of the cabinet…once again maximizing space and thinking in 3D!
Another RV organization idea that involves using vertical spaces and "wasted" space.
Sustainability Tip –> You can purchase compostable kitchen garbage bags.
So instead of having to buy standard plastic bags companies like "Green Earth" make compostable trash bags. If you have any trouble finding them at your local stores I have found them on Amazon.
Want a cool journal to jot down notes and details from your camping trips?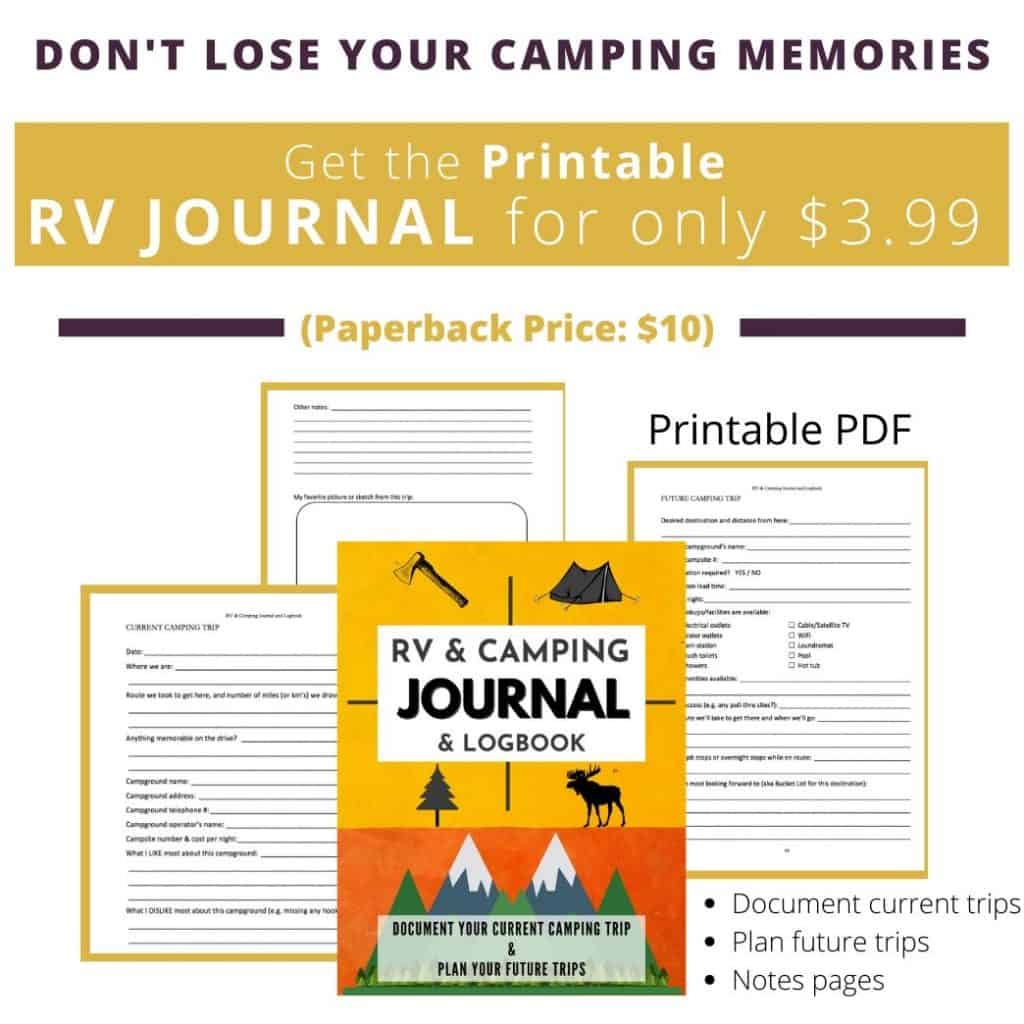 8) Vertical Dish Holder (a clever RV Dish Storage idea)
To make the most out of your cupboard space you can purchase these vertical dish holders. Just be careful that your dish set will fit into the holder: sizes vary.
If you're looking for a RV dishes storage idea, you should check out these vertical holders.
Click here to see more RV dish storage ideas on our RV Kitchen Organization article.

9) Oh Spices!
I don't know about you but I have enough trouble organizing my spices at home let alone in a small RV kitchen!
You can easily find spice racks that sit on the counter, but counter space is so limited in an RV. What to do? Well you gotta think vertical.
Below are three RV storage hacks for your Spices
Spice Rack #1 Magnetic Metal Bar and Metal Spice tins
The above picture doesn't give it much context but you mount the rack to wall and the spices are stored in small metal tins. They are magnetically attracted to the metal wall strip.
I have heard some people complain they don't stay when travelling.
So I guess it depends if your RV is mostly stationary or moving around.
Spice Rack #2 – Acrylic Shelves
This clear acrylic hanging spice rack looks really cool and modern.
It is 3 separate shelves so you can put them on your kitchen walls wherever works for you. You could put two on one wall, and the other shelf somewhere else.
Spice Rack #3 – Clip Strips
The style of spice rack below is one where your spice bottles clip into the "clip strip" that is glued inside a cabinet door, or to a wall.
It has almost 900 reviews on Amazon and is sitting at 4.1 stars out of 5. (Yet of course some folks may have got a "lemon" because some state it didn't hold the bottles well, nor adhere to the wall. If you click the picture below you can read the reviews yourself.)
If you want to see more Spice Rack Hacks, click here.
10) Magazine Rack to Store Plastic Wrap and Tin Foil
This is a clever way to keep your tin foil and plastic wrap organized.
You can store them in a magazine rack for easy access.
Some people I know attach velcro strips to the side of the magazine rack, and the other velcro strip to the inside of a cupboard so they can raise it off the bottom a little.
Here's a #kitchen idea: secure an old magazine rack to the inside of your cupboard door to store your cling film & tin foil rolls!

— Stainless Direct UK (@StainlessDirect) April 1, 2016
Sustainability TIP
To cut down on plastic wrap you can make or purchase Beeswax Cotton food wraps.
I came across this blog article documenting how you can make your own. I haven't done it yet, but it is on my to-do list for sure. My sister made her own and gave them out as Christmas presents.
Sustainability TIP
Speaking of reducing plastic have you switched to a reusable, washable straw yet?
It is estimated that every day in the USA there are 500 million straws used. According to eco-cycle that could fill up 127 school buses each DAY.
Metal Straws Bamboo Straws
If you're interested in other simple ways you can reduce your plastic check out my article here.

11) Use Cork Board Inside Cupboard Doors for Lists and Notes
A great RV organization idea to keep those little bits of paper off the kitchen counter is to pin them onto a cork board inside a cupboard door.
You can pin your shopping lists, appointment reminders, business cards (great place to put your RV service company's card), and other pieces of paper.
It is another DIY RV organization hack that you can do quickly and easily.
And if you want to keep track of your camping adventures you can get a Camping logbook like the one below. (Get the Instant Download PDF Now by clicking the picture below).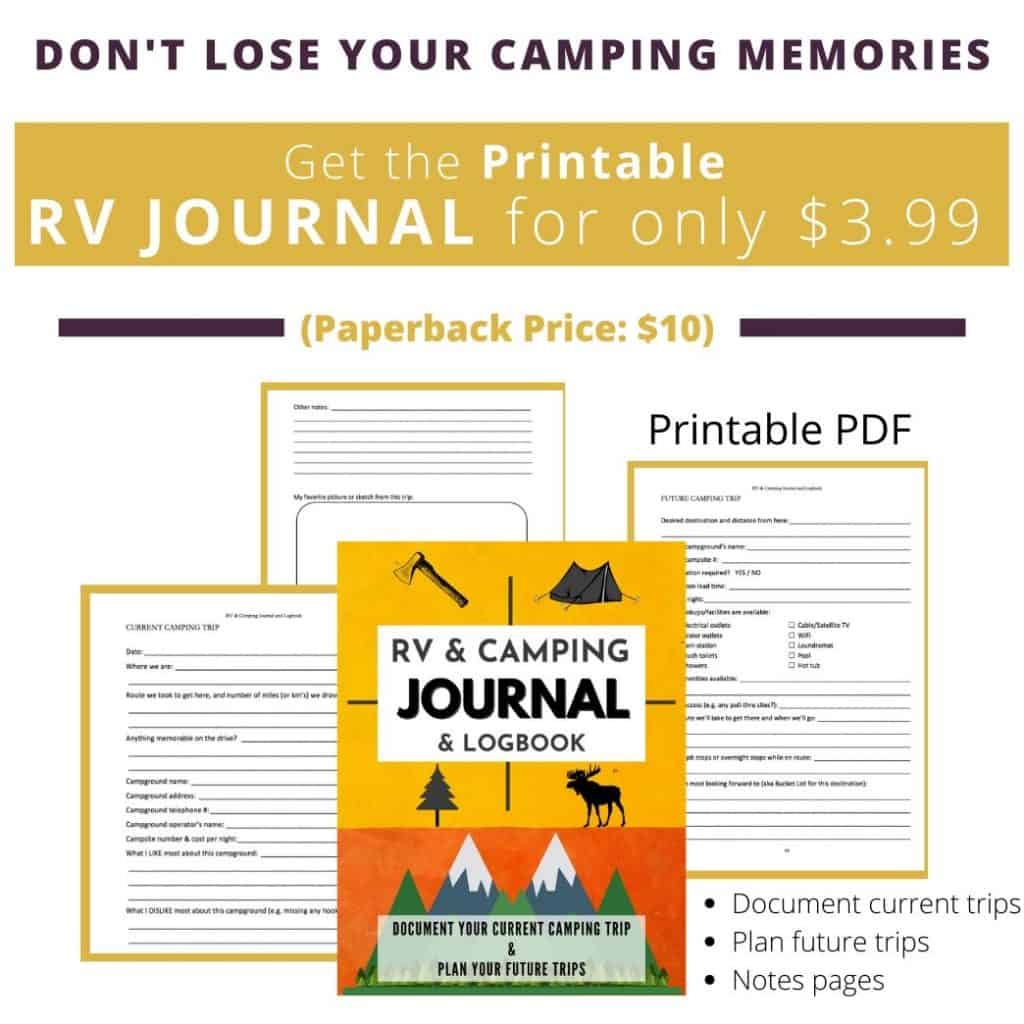 12) Screw Jars to Underside of Upper Cabinets (a DIY RV storage hack)
I'm sorry I don't have a picture of this right now but I'll work on that.
So follow me on this one…you screw a lid from a mason jar onto the underside of a wooden kitchen cupboard or shelf. Then you simply screw the mason jar onto the lid and it stays right there.
I originally saw this used for garage organization where you have a different jar for different size of screws or nails.
But it will work just as well as a RV storage solution for kitchen items like tea bags, leafy spices, coffee, etc… and it keeps these items off your counter. (I think you see the theme here 🙂
Want to start your own blog? Check out GreenGeeks for an Eco-Friendly option. (I use them for my sites, and I love their support.)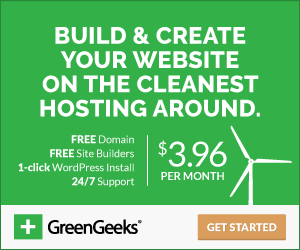 13) Nesting Bowls (an attractive RV storage idea)
Nested kitchen bowls really maximize cupboard space.
To reduce the amount of plastic you use you can buy them in glass or metal. But if you buy glass you have to keep in mind the extra weight and potential for breaking if you travel on bumpy roads.
The ones in the picture below are my sister's. I wish I had bowls that cool. (hint, hint)
The bowls I've linked to below are available on Amazon, and they even have a colander! That is pretty darn smart.
14) RV Sink Dishes Drying Rack
At home I have a dish drying rack that sits atop my counter and lets water drip into the sink.
But in an RV there just isn't room on the counter top.
A company called Camco makes this compact size dish drying rack that is intended to fit inside your RV sink. Less counter top clutter the better.
I have been surprised how many people click this picture below and go to Amazon and buy this dish drying rack. Then again it is rated 4.8 stars out of 5 (!!) with almost 100 reviews.
Paper Plate Dispenser
As you can probably tell from my sustainability tips I believe in the 3 R's, and single use paper plates don't rate too highly…but I also realize there can be times when they are super handy.
Such as when you have more guests at your campsite than you do regular plates.
Or if you have a bunch of 3 year-olds over for a party and you don't want everything to break.
And at least they aren't plastic.
This dispenser mounts to the underside of a cabinet as you can see from this product image from Amazon. Once used recycle or compost the plates if possible.
---
RV Storage

Bedroom

Ideas
15) Hang Baskets by Kids' Beds (a DIY RV storage hack)
Simply attach command hooks to the wall and mount an inexpensive dollar store basket to create a great place to keep books, cards, lip gloss, etc…
You can also put a mini flashlight in there for when kids need to use the washroom in the middle of the night.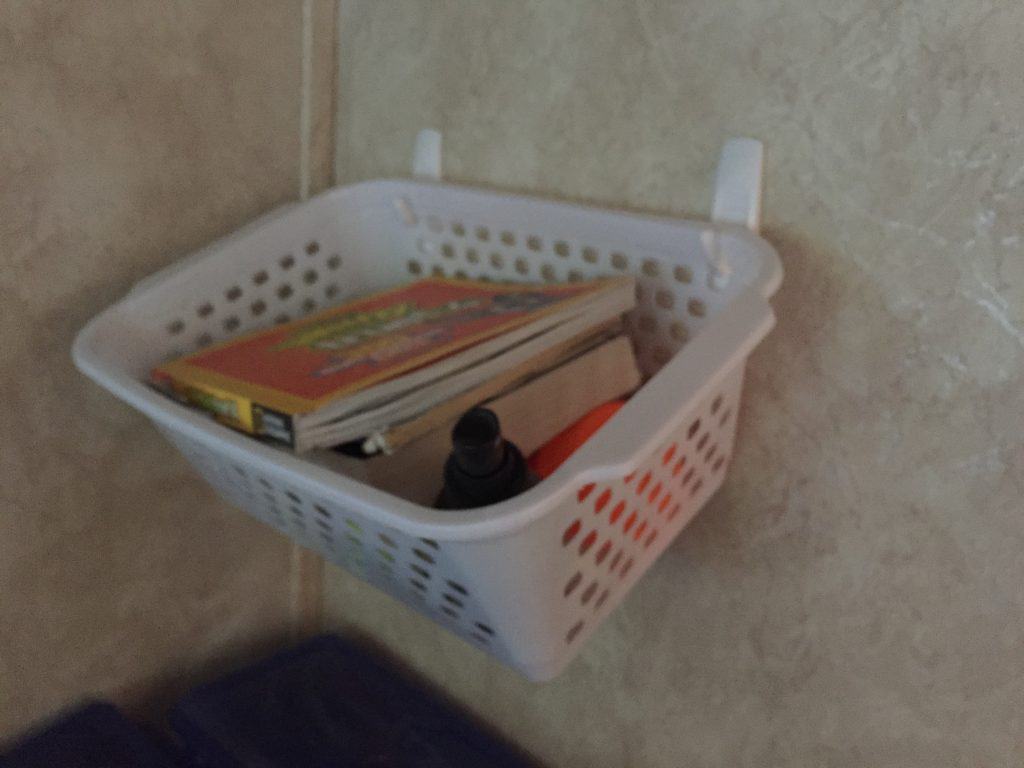 It is a clever DIY RV organization idea.
Other great uses of Wall Mounted Storage Baskets
The vintage-looking basket below is made by a company called Spectrum. They are very versatile and allow you to use the 3-dimensional space in your RV.
As you can see by the pictures you can use them almost anywhere, from the bathroom to the bedroom and the kitchen too.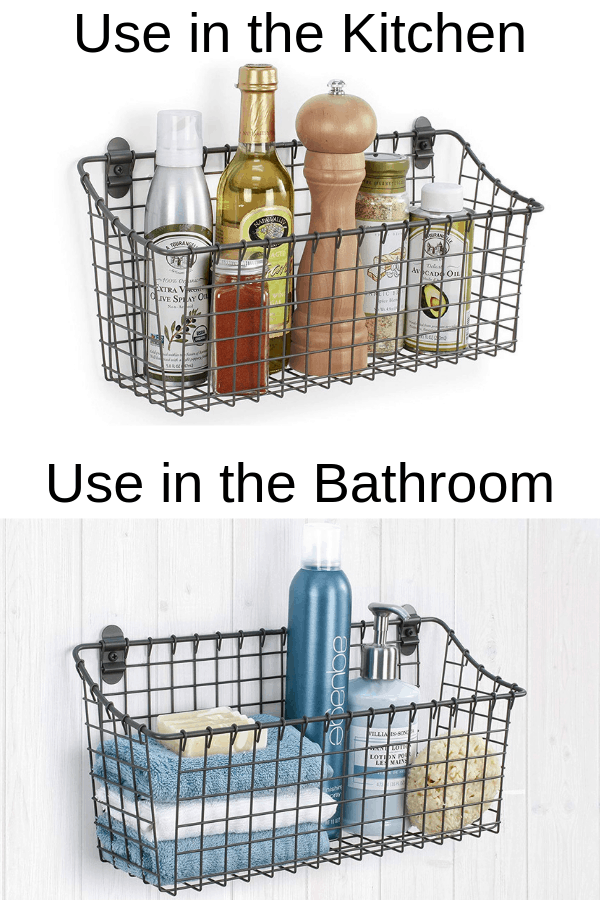 The shelves above currently have an extremely good rating of 4.8 stars out of 5 on Amazon.
It will require you to screw it into your wall to secure it, but if you own your RV it should be a fairly straight forward process.
Want to start your own RV blog and make some money from your favorite hobby? If so, check out what GreenGeeks has to offer for eco-friendly website hosting. (I use them for my websites and I'm super happy with them.)

16) Add Cube Shelving to Closets
Closets in an RV can be a nightmare to organize. So first ask yourself if you need that many clothes for a weekend camping trip. If the answer is "damn right I do" then these wire cube shelves will help.
They have a modular design so you can change them from short and squat to tall and skinny.
I can't claim that this nice organized setup in this picture is my own (it's a product photo) but it shows the general idea of what is possible.
Friends of mine had a wool and fabric shop and they used wire cubes like this to display their products. They had bright, multi-colored cubes instead of black ones but they worked the same way. They gave us some of the racks after they were finished with them.
They are very versatile organizers.
In your RV you could use them for shoes and boots, clothing, books, hats, etc…
Want more RV BEDROOM ORGANIZATION IDEAS? If so, click here.
New to RV'ing? Check out what Good Sam Club has to offer you (including peace of mind).
17) Buy a Bedside Caddy Organizer
I'm too embarrassed to show you a picture of my bedside table at home because I've got stacks of books, pens, magazines, lip chap, etc…
But in an RV we don't always have the luxury of a bedside table.
This little hanging caddy helps solve that problem. It hangs off the mattress so you can feel right at home. It's a great RV bedroom storage idea.
Below is a picture of one from Amazon…it has 12 pockets whereas the ones I've seen in real life only have 5 pockets.
18) Velcro Strips for Remote Control (a DIY RV organization idea)
I know you aren't supposed to watch TV in bed, but laying down and relaxing after a long day at camp can be just what the doctor ordered.
But where did you leave the remote control?
Attaching one strip of velcro to the wall next to your bed, and the other piece on the back of the remote creates a really "gripping" situation.
It is a DIY RV storage idea you can make in just a few minutes.
My daughter is a little craftier than me (she loves her glue gun!), so she hot glued one piece of magnetic strip to her remote and taped another magnet to the wall by her bed.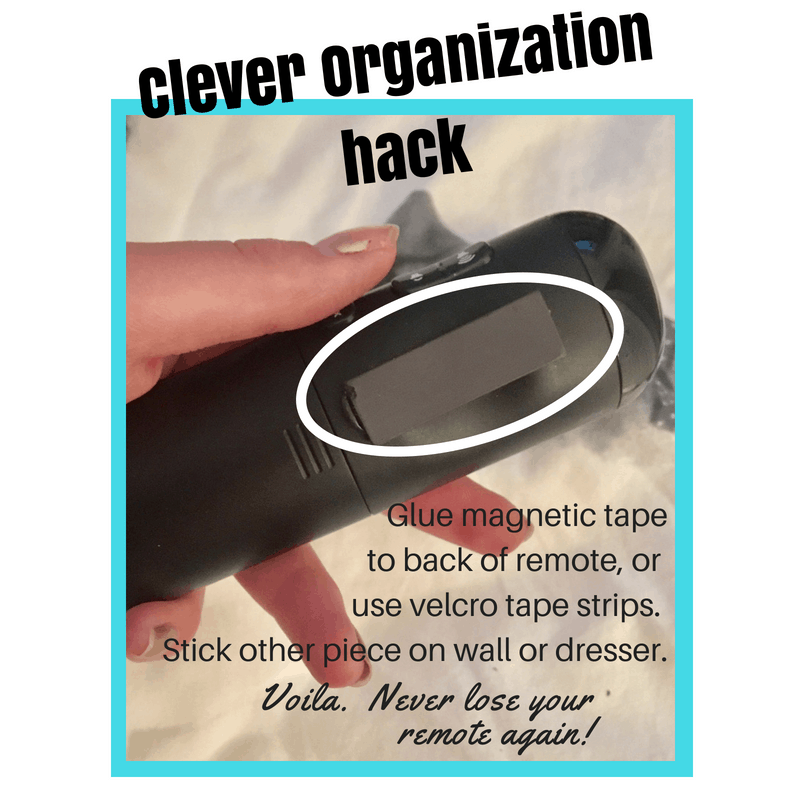 Outdoor Space RV Ideas
If you want a cute, personalized mat check out this one available on Etsy. So cool. It's not an RV storage idea…but it is a great way to make your RV inviting and sets the tone for a well-cared for RV.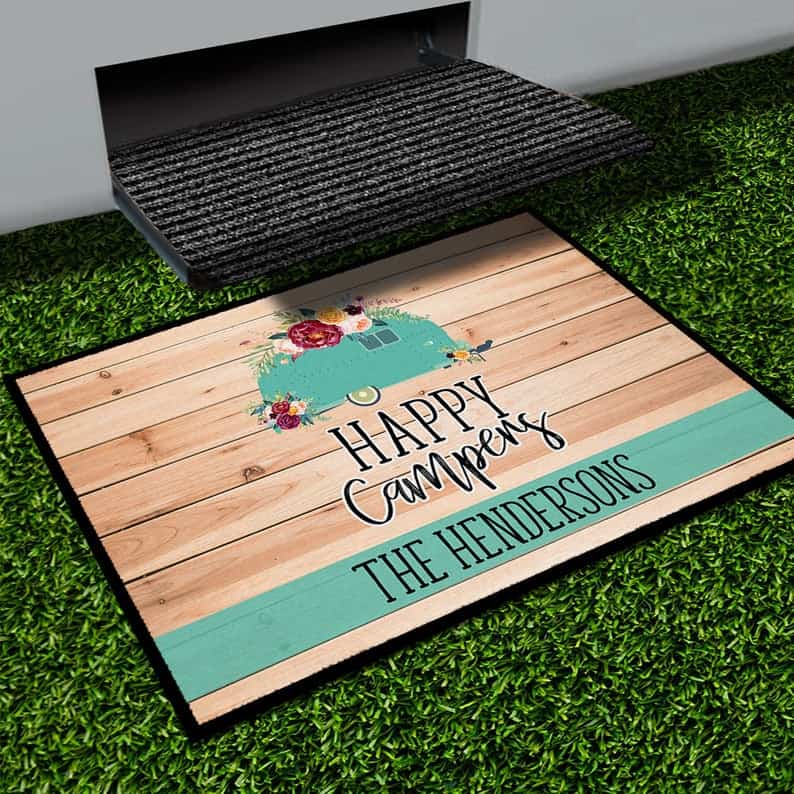 For more ideas to enhance your RV outdoor living space click here.

But if you don't want to commit to buying the bundle right now, check out the free Sample Pages from the bundle. (Click the picture below.)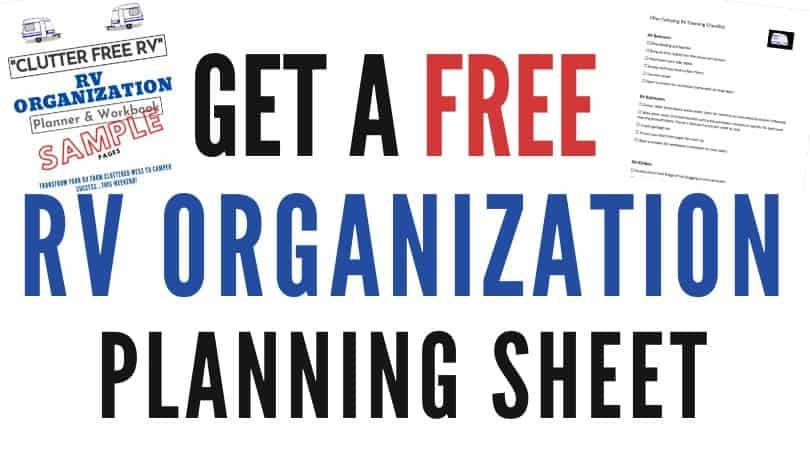 If you want more RV Storage Ideas check out
If you want tips on improving your RV Life check out
Thank you and I hope these RV organization ideas help to sustain your sanity during the camping season.
Cheers to RV'ers: the original tiny home lovers!
If you have any additional tips or comments on these RV organization ideas please leave a comment below.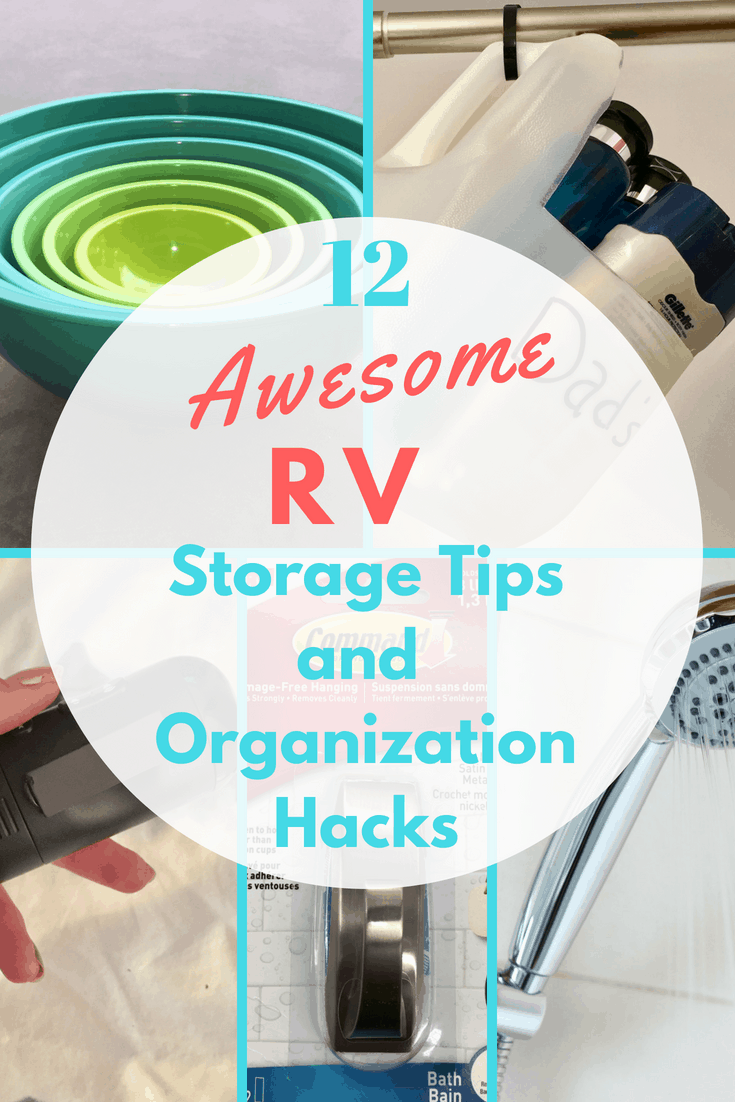 If you want to remember these RV storage ideas and tips you can pin the pictures to your Pinterest boards.
Just press on the image and press the Pinterest icon.