Do you want to find out some awesome RV bathroom storage ideas? Well then you've come to the right place.
I have collected 27 RV bathroom storage ideas that are sure to help you organize your RV bathroom.
Click here to pin this image to Pinterest.

Updated and Improved –> When I first released this post it had only 8 ideas. Now it has 27 camper bathroom storage ideas, and some great bathroom decor.
This article contains affiliate links. If you click a link and buy something I may receive a small commission at no extra cost to you. As an Amazon Associate I earn from qualifying purchases. For more information please see the Disclosure page.
Keep scrolling right to the bottom because you never know what idea will appeal to you.
RV Bathroom Storage Ideas – Let's Get Started
In a small bathroom – like an RV – you want to keep your personal care items off of the counters.
So you'll see a variety of wall-mounted organizers, curtain rod organizers, and ways to organize drawers and cabinets.



Shower Curtain Hanging Organizers
1) Mesh Hanging Shower Curtain Organizer
These hanging organizers are very handy to keep your toiletries in on place.
Now you don't have to clutter up your sink counter with creams, lotions, shavers, etc… you can just put them into this organizer.
And because RV bathroom are so small they'll still be within easy reach.
And if you get a mesh one (like this one) you could hang it on the dry side of the shower curtain, or the wet side of the shower curtain (inside the shower).
Click here to get more details on Amazon.
---
Sick of having a cluttered RV despite your previous organizing attempts? You need a planner. Check out our "Clutter Free RV" RV Organization bundle.
If you want to try some FREE SAMPLE pages from the above RV Organization Bundle, click the picture below.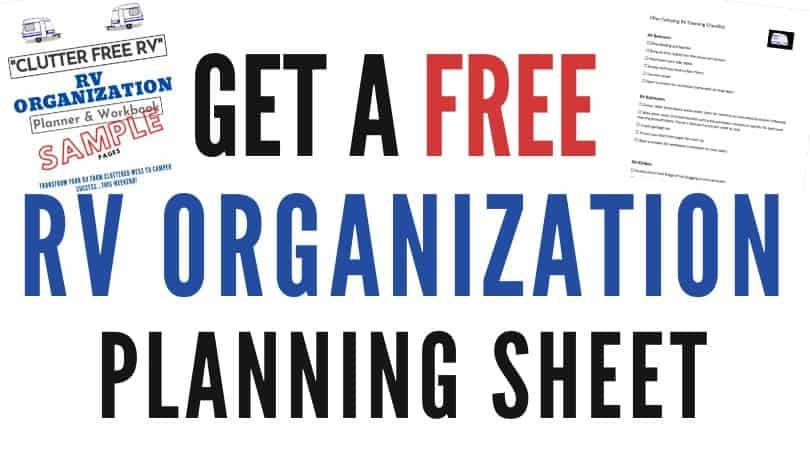 ---
Wall-mounted Razor Holders
There are a variety of razor holders that you can mount to your shower wall, or your bathroom wall.
Most women I know shave in the shower, and men often shave in front of the mirror (and get little bits of hair everywhere).
So couples often need razor holders in a variety of places.
2) Two-Pack of Stainless Steel Razor Holders (adhesive)
This 4 pack of wall-mounted razor holders made by BRYUBR would allow a woman to put hers in the shower, and a man to mount his on the bathroom wall.
They stick to the wall using an adhesive: which has its drawbacks.
In order to stick well your wall should be smooth and non-porous, such as tile, metal, glass, mirrors, or smooth fiberglass.
It isn't recommended for painted walls, textured drywall or other porous surfaces. On the Amazon products page they list the recommended surfaces to stick it to, and which to avoid.
3) Razor Holder by Command brand (adhesive)
Here is another style of wall-mounted razor holder that uses an adhesive.
This is from the Command brand (made by 3M).
The manufacturer claims it is strong and can hold up to 3 pounds. (I'd hate to shave with a 3 pound razor!)
And some people stick these to the inside of bathroom cabinet doors for extra storage opportunities.
4) Suction Cup Razor Holders
If you don't want to use an adhesive in your RV bathroom or shower, you could try suction cup razor holders.
The 2-pack shown below is made by the company Teletrogy.
If you mounted these in the shower you could also hang wash cloths, sponges, soap-on-a-rope and other personal care items.
Click here for more details at Amazon.
Toothbrush Holders for your RV bathroom
Are you looking for clever toothbrush storage ideas?
Toothbrushes, toothpaste and other dental hygiene products are a common culprit for bathroom counter clutter.
5) Multi-compartment Wall-mounted Toothbrush Storage Holder (adhesive)
No drilling or screwing required…it sticks to the wall using an adhesive strip.
My sister who has a travel trailer feels the no drilling storage ideas are very important.
She doesn't want to risk screwing into the wall and hitting a pipe or wire.
If you feel the same way you may want to check this item out on Amazon.
It'll help keep your small bathroom counter-top clear and uncluttered.
6) Small 2-brush toothbrush holder (adhesive)
Here is another toothbrush storage idea.
This little toothbrush holder from Camco is a compact storage item that will get the toothbrushes off the counter and onto the wall.
It comes with double-sided tape to adhere it to the wall.
It'll help you utilize the vertical space in a small RV bathroom. It is available on Amazon if you want to see more details.
7) Suction Cup Toothbrush Holder (and razor holder)
This wall-mounted toothbrush holder by VANVENE is a versatile bathroom organizer.
It is a cute person-shaped suction cup hanger to hang your toothbrushes, razors, face clothes and more.
And what is cool about this product is that it comes as a pack of 4!
So perhaps if you like to brush your teeth over the bathroom sink you can mount yours near there, and if your spouse is a "shower brusher" then they could mount it in the shower.
This is a cute and versatile RV bathroom storage idea.

8) Over the Cabinet Door Organizer
It can be used as a garbage (as shown in the picture), but you could also use it to store hair care products, extra toothpaste and other narrow items.
And if you notice in the picture above the top of the organizer is quite close to the top of the cabinet door. Therefore, really tall items won't fit in the basket without smacking against the frame when you try to close the cabinet door.
Make sure you measure your cabinets before ordering to make sure it'll fit.
Click here to see the size of this unit on Amazon.
If you're struggling with a cluttered RV you should check out this RV Organization Bundle.
Will it help you?
If you'd rather try a FREE SAMPLE of our RV Organization Bundle first…click the picture below.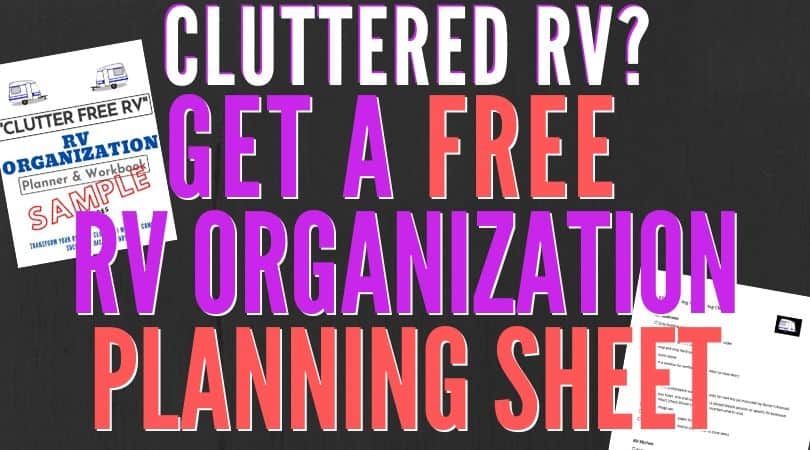 9) Wall-mounted Baskets (screw into wall)
Many folks don't want to screw into their RV walls, but are happy to drill and screw into their cabinets.
Most cabinets are solid enough to attach a basket like the one shown above.
(Obviously check if your cabinets are well built enough to hold a basket and check under-cabinet dimensions to make sure a basket like this would allow you close the door without hitting the plumbing.)
They make various sizes of the baskets: the one shown above is small size and would stick 4.5″ into the cabinet.
Will that steer clear of your plumbing pipes?
If you like the look of these wall baskets, click here to see more details on Amazon.
10) Sliding Basket Under Sink Organizer
Have you ever looked deep to the back of the bathroom cabinet?
Did you find stuff in there that expired 5 years ago? Yeah, me too.
A sliding basket organizer like the one above is designed to help that.
It is narrow (only 11″ wide) and may fit under the sink cabinets. But it is 12″ high, so I'm not sure how much stuff you'd be able to put on the top shelf.
You could use it under the kitchen sink or bathroom sink.
Take a measurement of your bathroom sink cabinet. Is there at least 11″ to spare between your pipes and the edge of the cabinet?
Do you think this RV organizer will work for you?
Click here to see more details on Amazon.
Towel Holders
I dedicated an entire article on ways to store towels in an RV. Because it is important to a lot of RV owners.
Below I've listed just a few options that may inspire you.
11) Wine Rack-looking Towel Holder (screws into wall)
If you don't want to screw into your RV wall, this towel holder claims it can be screwed onto a door.
Just be cautious you'll still be able to enter and exit the bathroom easily considering you'll no longer be able to open the door as wide as before
Don't like chrome? Click here to see what other colors this is available in.
12) Swiveling Towel Bars (adhesive hold)
This modern and sophisticated towel rack by KES is now available with an adhesive to stick it to your RV bathroom wall.
The manufacturer claims it can hold up to 6.5 pounds.
If you want more details of this adhesive model, click here to see it on Amazon.
Are you okay to screw into your walls or cabinet? If so, KES also makes a swiveling towel rack that you screw into the wall. Click here to see details of there "screw in" model.
13) Toilet Paper Holder Doubling as Towel Hook
On a Facebook group I'm in someone mentioned they use toilet paper holders to hang towels.
They mounted a couple TP holders high up on their RV bathroom walls and drape towels over it.
The TP holder shown below isn't exactly like the one I saw on Facebook, but I just had to include this picture. I just had to add it because of its "outside the box thinking."
Seems like such as smart idea having your toilet paper held vertically.
Why do we always mount TP horizontally?
This item shown below is available on Amazon if you want to have a closer look.
Just read the cautions about what kind of walls you can stick it to. They have a list of acceptable and unacceptable walls on their product detail page on Amazon.
14) Command Hooks to Hang Towels
This is a simple fix to hanging towels.
Command Hooks by 3M makes hangers that are designed to be used in the bathroom. They claim they are water-resistant.
If you plan on hanging wet towels from them you'll want to consider the large size, which they say will hold 5 pounds.
Unless you're drying yourself off with a down-filled duvet, that should hold your wet towel.






Click here for more RV towel bar and RV towel storage ideas.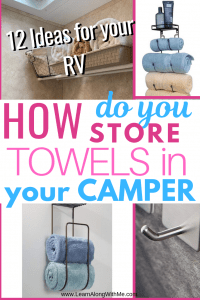 15) Paper Towel Holder to Hold Toilet Paper in your RV
Below is a reader-submitted photo showing how she uses a vertical paper towel holder on the floor to hold her toilet paper.
This is a good idea if you don't want to screw into the walls: simply place it on the floor in front of the toilet.
Here is a link to a similar (but not exactly the same) paper towel hold on Amazon.
16) Tension Bar Shelves above your RV toilet
The picture below is one that my sister took of her RV. It is a very clever idea.
I mentioned above how she is hesitant to drill into her walls so she came up with this idea instead.
Her RV is usually parked for the season at a campsite, so the baskets will stay put, but if you're traveling then you can just take the baskets down and set them in the tub or shower.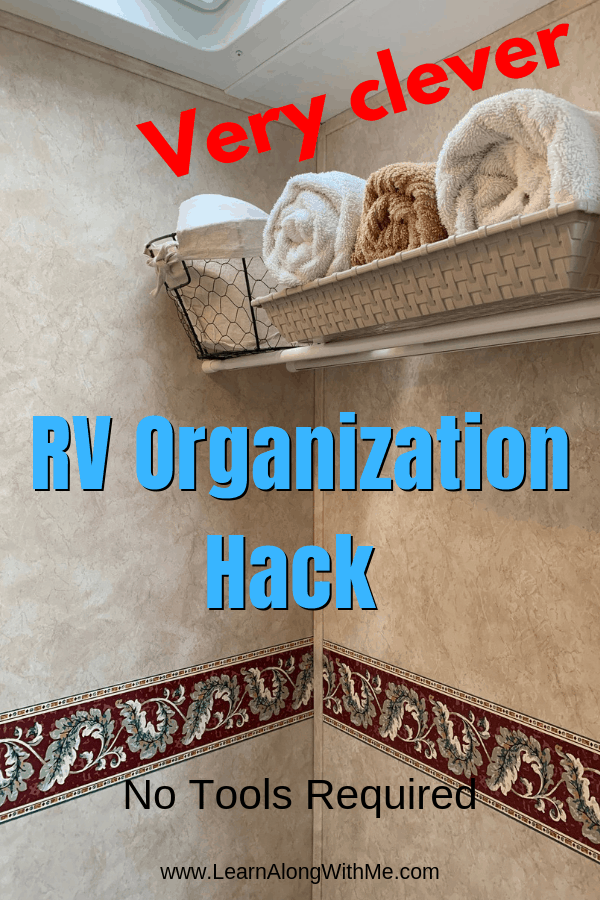 You can buy tension bars at most of your local stores (I bought some at Walmart), but if you do online shopping I have provided a link to Amazon.
17) Seagrass Baskets (to put on your tension bar shelves)
If you don't already have a basket to place on your tension bars shelves, above are seagrass baskets with handles. (Take off the shelf and put in the shower on travel days.)
18) DIY Tension Bar Shower Organization Idea
To help organize your RV shower you can install a tension bar along the back wall of your shower.
Then you can hang plastic baskets or an RV shower caddy from this rod.
Below is a picture of this DIY idea. This photo is in a residential house, but it shows you the idea in action.
RV Shower Organizers
I have an entire article dedicated to shower organization ideas so you can check it out if you want more ideas.
But below I have listed some options to inspire you.
19) Hanging RV Shower Caddy
This 5-pocket mesh RV shower caddy has a hanger on top so you can hang it from your shower nozzle, or a quality command hook.
It is made out of mesh so water won't pool in the pockets and get stagnant.
And once again it makes the most out of the vertical space so everything isn't piling up on counter-tops or on the floor of the shower.
Because it is portable you can take this RV shower caddy with you if you use a campground's shower or public showers. Really cool organizer.

20) Shower Soap Dispenser (Wall-mounted)
Another shower organization solution is this wall-mounted soap dispenser called "the Dispenser III".
It has three chambers: one for shampoo, one for conditioner and one for shower gel.

Having a dispenser like this in your shower will help you eliminate all those annoying shampoo bottles at your feet sloshing around while you're trying to shower.
No tools required for installation. You use waterproof silicone glue and 2-sided tape.
This could also help your family reduce plastic.
If you buy shampoo and conditioner in bulk, you could fill up the dispenser before camping and leave the large bottles at home.
You don't have to buy more small plastic bottles, and over time this plastic soap dispenser would result in less plastic waste.
Click here for more details on Amazon.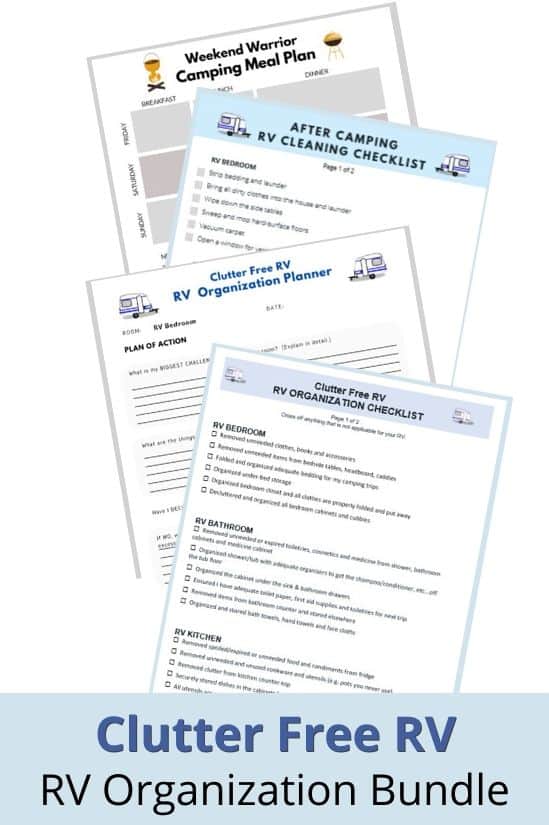 21) A Shower Basket Shelf (adhesive)
Here is another way to help keep your personal shower items off the floor.
These shelf adheres to tile, or tempered glass so no drilling required.
It provides a shelf to ensure your personal care things are close by, and its basket design will help keep things in place. It is an elegant-looking RV bathroom storage idea.
This is a popular 2-pack made by KESOL.
Will this help you organize your RV bathroom?

22) Command Brand Wall-mounted Shelf
I didn't realize that "Command" made shelves and organizers.
I thought they only made the adhesive hooks.
I guess it makes sense that they've expanded into making the actual organizers too.
Above is a wall-mounted wire basket from Command that they claim will hold 6.5 pounds and can make a great RV bathroom storage solution.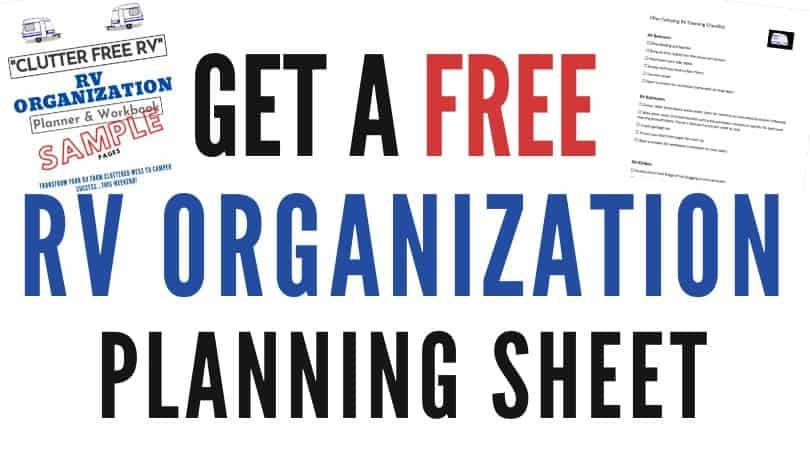 23) Shower Organizing Shelves Kit (suction cups)
This stainless steel set of 3 wall-mounted shower organizers from ARCCI will help keep your shampoo, conditioner, soap and scrubbies off of the shower floor.

These use suction cups to stick it to your shower wall.
This means your wall needs to be flat and non-porous.
Click here for more details on this shower organizer.




Shower Door Hanging Baskets
Another good shower organization idea is to use hanging baskets like the one shown below.
You'll probably be able to find them at your local dollar store. (Check if they have foam under the metal hangers to prevent scratching your glass doors.)
They are another great way to get the shampoo bottles off the tub floor.
Over the Door Organizers (clever RV bathroom storage idea for "wasted space")
There are several styles of "over the door organizers" that you can utilize in your RV bathroom to help maximize storage by using this "wasted space". These organizers can help you reduce clutter inside your RV bathroom cabinets and off of the countertop.
24) Hanging Pocket Organizers
This over-the-door pocket organizer shown above is made by Simple Houseware.
You could store extra soap in here, shampoo bottles, toothpaste, hair dryer, etc…
An organizer like this one helps you maximize space in your small RV bathroom by letting you utilize vertical space. Think 3-D!
It is 18-inches wide and 52-inches tall.
Will that fit on your RV bathroom door?
It is intended to hang over the top of the door, but if you don't have enough clearance to shut the door, you could screw it into your wooden door.
Check out this popular 2-pack of hanging organizers on Amazon.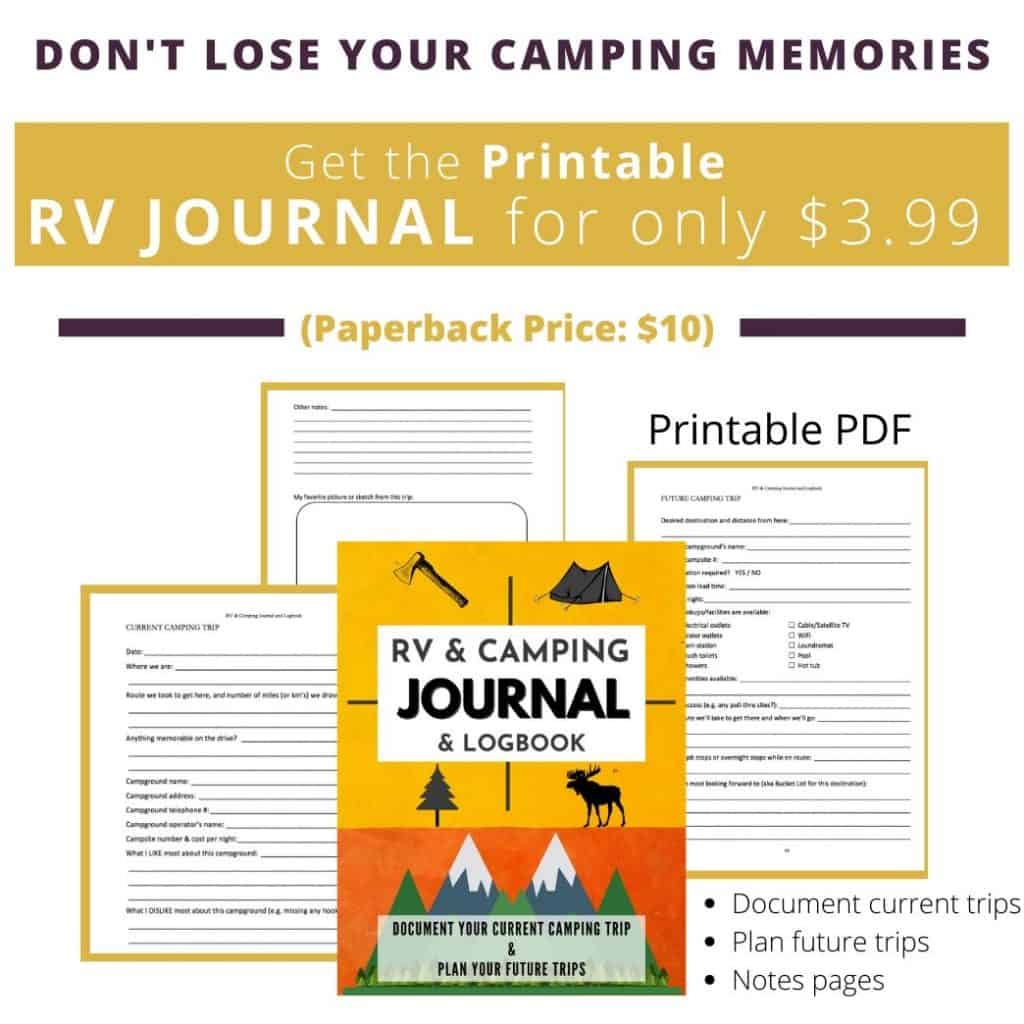 25) Hanging "Shelf" Pocket Organizer (handy RV bathroom storage idea)
The organizer shown above (also made by Simple Houseware) is an interesting design.
It hangs from the back of your door, but the 6 pockets are almost like little shelves.
It is a narrow organizer –
only 13-inches wide
And it is 52-inches tall.
It has a clear plastic window in the front of every pocket so you can see what is in it. This item will help reduce clutter on your RV bathroom cabinets and countertop.

RV Bathroom Garbage Cans
You usually don't have a lot of room in your RV bathroom. So you need a small garbage can. You have to work with the small space you have.
I have listed two options for you: one with a lid and one without.
26) Narrow Garbage Can WITH Lid
The narrow garbage can shown below is a 5 Liter step can garbage made by MainStays, available at Walmart.
27) Narrow Garbage Can WITHOUT a Lid
Umbra makes a sleek and narrow garbage can intended for small spaces that you can find here on Amazon.
It is a very popular waste can!
Will this fit between your RV toilet and cabinet?
Want more RV trash can and camping garbage can ideas?
RV Bathroom Decor Ideas
Just because it's in your RV doesn't mean it has to look junky or tacky.
Below are some decor ideas that will spruce up your "home away from home."
Rustic Shelves (Over the toilet shelves)
I love the look of these rustic shelves.
They are cute and make a neat RV bathroom storage idea (keep things off your counters).
They are fairly lightweight too: the unit weighs just under 3 pounds.
But I think you'll still need to drill it into your wall.
And this shelf doubles as a handy organizer because once again, it is providing a way to get your items off of the counter-top.
You'll notice it has no lip on the edge, so it won't act as a containment device: you'll have to take down items during traveling days.
Will this go above your RV toilet? Click here to see this on Amazon.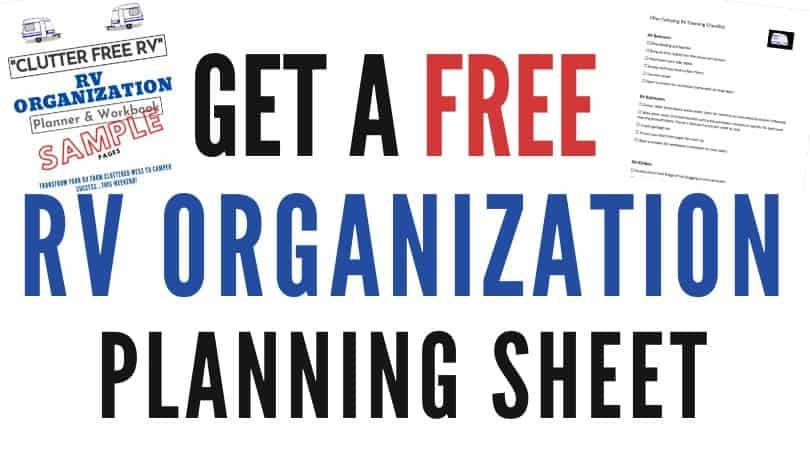 Shower mat
This machine washable microfibre accent rug has a non-slip bottom so it should stay where you put it.
They claim it dries fast, and you can get it in a few different colors with the chevron pattern.
Intentionally "Campy" Shower Curtain Set (Etsy)
This retro cool shower curtain shown below is something I came across on Etsy.
It's so eye-catching!
If you have friends over to your RV you know they'll comment on these bright bathroom decor items.
I think these are campy, but not tacky. But obviously tastes vary. 🙂
Just double check sizes to make sure this shower curtain isn't too large for your RV shower. If you want a smaller "RV-sized" edition, click here.
Here is another style you may like better.


You may also like these 11 intriguing RV Shower Curtain options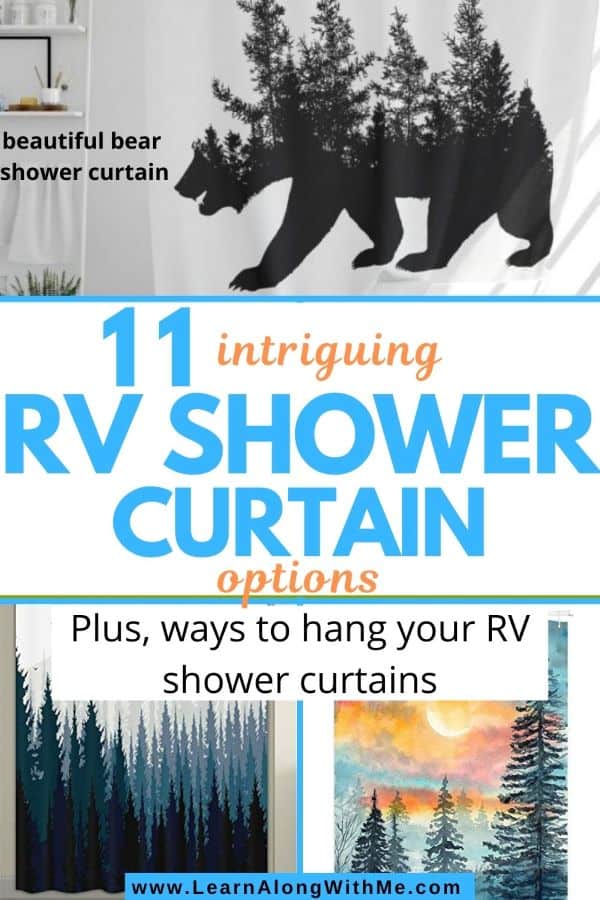 Travel Size Accessories
Your RV likely doesn't have much space to begin with, and filling it up with "regular size" accessories can quickly take up more space.
You may not need all these travel accessories – like a portable hair dryer – but then again, maybe they'll help you.
(And before you get upset and say, "You don't need all that stuff camping!" remember that everyone uses their RV differently, and it is estimated that 1 million Americans live in their RV full-time. Their needs may be different from yours.)
Folding Travel Hair Dryer (by BaBylissPRO)
Hair dryers are notoriously power-hungry appliances. So this won't work for everyone.
But if your RV is connected to shore power (AC power) you could use a small, folding hair dryer like this popular one from BaBylissPRO to help with your hair routine. (And it'll take up less space in your RV bathroom.)
This small, portable hair dryer is well-rated with thousands of reviews on Amazon.
Will it help you?
Hanging Toiletry Bag for Makeup, hair care products, etc…
This is a great accessory for your RV or for traveling. It folds up into a handheld purse, and then you can hang it unfolded from the back of a door, the shower curtain, or you could hang it from a Command Hook.
And it has elastic straps in the pockets to help keep your products upright. Pretty cool.
I hope this has given you some ideas on how you can organize and decorate your RV bathroom.
If you have other ideas on RV bathroom storage ideas please leave a comment below. I'm sure other readers would appreciate it.
Thank you.
Up Next:
75 clever RV Organization Accessories that'll Change your Camping Trips [forever?]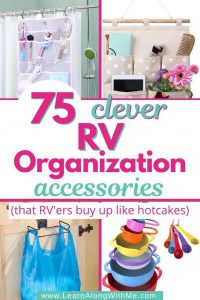 Check out these other RV Storage and RV organization posts.
As you can see by the old image below, this article used to have only 8 RV bathroom storage ideas, but I've updated and improved it to include 27 ideas to try and help you out.
Below is my old Pinterest pin for this article…back when it only had 8 RV bathroom storage ideas. I hope you've enjoyed the updated version.