Does your small kitchen feel cramped and cluttered? If making more space isn't an option, you'll have to make better use of the space you DO have. Let's look at this inspiring list of 35 clever small kitchen organization ideas.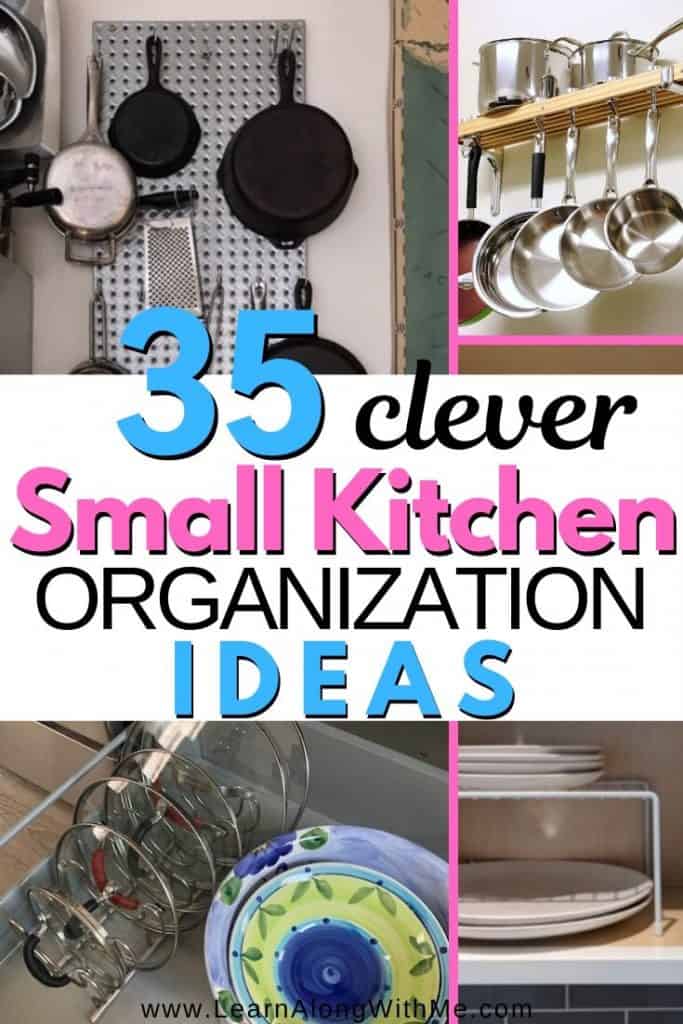 This article contains affiliate links. If you click a link and buy something I may receive a small commission at no extra cost to you. As an Amazon Associate I earn from qualifying purchases. For more information please see the Disclosure page.
You can find most of these products at your local retailers. But if you can't find them locally, I have provided links to online retailers where applicable.
How do you Organize a Small Kitchen so you can find stuff?
To organize a small kitchen it is important to get rid of stuff that you don't need, buy multi-tasking kitchen items, and make the most of the kitchen cabinet space, wall-space and other storage spaces that you do have.
Hopefully the tips in this article will help you get your small kitchen tidy and organized.

Let's start the list of small kitchen organization ideas so you can have a more functional small kitchen.
Just remember we need to evaluate what we already have in our kitchen and eliminate what we don't need because there is no sense in buying organizers and organizing items we don't need.
1) Get rid of duplicate-sized pots and pans
Do you have a cabinet full of pots and pans but only end up using one or two of each and the rest collect dust?
Well, let them collect dust at someone else's house. Or store them in a different spot in your house if you must keep them.
2) Donate food items that you'll never use
Go through your pantry cabinets. Do you have old food in there. If you haven't cooked it in a year, will you ever?
Put that food to good use and donate it to your local food bank or soup kitche.
3) Pack up and store excess dishes elsewhere
Many houses – especially older houses – may have under-sized kitchens compared to other rooms in the house.
Do you have a spare bedroom closet, basement or other spot where you could store extra dishes for the rare occasions you have company over?
Free up your kitchen cabinet space and store those dishes somewhere else.
4) Eliminate mismatched and unused cutlery (aka silverware, flatware)
Does your cutlery drawer weigh about a thousand pounds because it is stuffed with forks, knives and spoons?
Go through this metal mess and donate what you don't need. It can free up some kitchen drawer space for other items.
5) Put seldom-used kitchen appliances in a hallway closet or garage.
This is closely related to #3 listed above but it pertains to appliances and not dishes.
Just because it's a kitchen appliance doesn't mean it needs to be in your small kitchen at all times. Store the small appliances you rarely use in a closet or somewhere else then just take it out when you need it.
This can free up countertop space and kitchen cabinet space.
6) Label things (everything!) and know where they are
To help keep things organized, reinforce your storage regimen by labeling shelves, storage jars, etc… so everything has a place , and gets returned to that place following use.
7) Group and organize by category (like with like)
Instead of having things spread all over the kitchen and in different cabinets you can try organizing things by category.
Such as baking goods with baking, dishes together, cookware together, etc…
Kitchen Drawer Organization Ideas
Many kitchen utensils and cutlery are stored in kitchen drawers. And there are lots of ways to make good use – better use – of your kitchen drawers.
Below you'll find a few kitchen drawer organization ideas to help you make the most of your tiny kitchen.
8) Tray Dividers and Organizers
Marie Kondo of "Tidying Up"-fame loves boxes and containers for organizing drawers.
You can get drawer dividers in different sizes and styles.
The interlocking set shown below allows you to "click together" a wide variety of shapes to customize to your kitchen drawers.
Click here to see details on Amazon.



If you want more a standard drawer divider for your cutlery – but one that is suited for a small kitchen – check out this adjustable tray divider made by Camco.
It is intended for use in RV's and campers (speaking of tiny kitchens!) – so it should be perfect for your small home kitchen.
It adjusts side-to-side to fit a variety of kitchen drawers.

It is hard to tell from this picture how it would look inside a drawer, but click here for more details and pictures on Amazon.








Below is a photo from Instagram. I've included it because the first photo in the carousel shows how this person does what Marie Kondo suggests.
Marie Kondo says you should organize kitchen utensils by size: similar-sized utensils together.
9) Nesting Kitchen Gadget Set
Here is another cool idea that RV'ers and other tiny kitchen users love. It is a nesting kitchen gadget set. It has graters, a slicer, a peeler and more.
It is a clever idea and good for people that have limited utensil storage space.
7 Simple Habits of People who always have a clean kitchen (Do you do these things?)
10) Magnetic Bars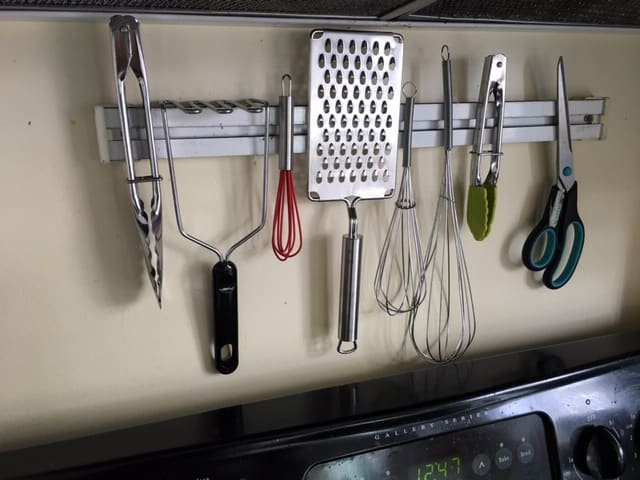 We have a magnetic bar mounted above our stove. It is by no means a beauty, but it is helpful.

And I know it isn't a drawer organizer, but it helps free up space in our drawers by storing utensils elsewhere.
I was going to store spices (in steel tins) on the bar, but we've decided to stick metal utensils on it. (And it is a good way to keep the sharp scissors away from our 3-year old.)
Many people like magnetic strips to store their kitchen knives.
RELATED ARTICLE:
Check out these other popular ways to store kitchen knives.
11) Utensil Jar
Another way to remove some kitchen utensils from the drawers is to put them in a utensil jar near the stove.
The photo above is from my sister's RV (a tiny kitchen for sure).
All the regularly used utensils are within reach.
Does your family eat a lot of rice?? If so, check out…
13 proper & popular Rice Storage Containers [organize your kitchen and reduce food waste]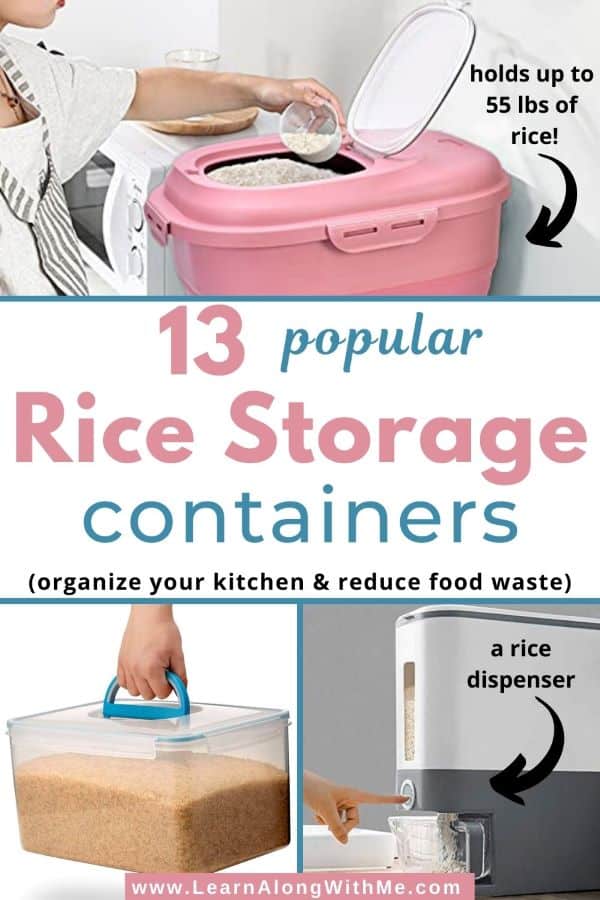 12) Food Storage Container Lids –> how to organize them!
Are food storage container lids a thorn in your side?
My sister-in-law helped us organize ours using just a box: circular lids together in one direction, and square lids together perpendicular to the circular lids.

If you want something more than a box, check out the adjustable tupperware lid organizer shown below.
It is available on Amazon if you want to see more details.
Kitchen Cabinet Organization Ideas
Well-organized kitchen cabinets may very well be the key to a good, efficient small kitchen.
The next few kitchen organization ideas are dedicated to getting your cabinets better organized.
We'll start by looking at some pots and pans storage ideas.
Pots and Pans Storage – Essential small kitchen organization ideas
Most kitchens have a dedicated cabinet for pots and pans.
But is yours a scattered mess?
First: Eliminate duplicates or unnecessary items
I already mentioned this above, but it is worth restating.
Do you need all the cookware you currently own? Do you have duplicates of pots and pans? (Leftovers from previous sets mingled together.)
Donate what you don't need.
13) Ceiling-mounted Pots and Pans Storage – Vertical Pots and Pans Storage
Just because have a cabinet where you keep your pots and pans, doesn't mean you have to store them in there. You can store your pots and pans in other places.
Think vertical when it comes to posts and pans storage.
If you have the space, you could hang a rack from the ceiling (like the photo below.) The rack in this photo is available on Amazon if you want to see more details.
Many small kitchens may not have the space to do this, but if you do, give it some thought. It'll free up room in your cabinets, and your most used pots and pans will be within easy reach.
14) Wall-Mounted Pots and Pans Storage Rack
Another great option for storing pots and pans, is to put them on a wall.
If you have room on a wall you could install nice open shelves, or install a rack like the one below.
15) DIY Pots and Pans Storage
Make use of your skills, your available space and materials on hand.
Check out this simple pots and pans storage ideas I found on Instagram.
16) Pegboard Pots and Pans Storage
If you have some wall space – even a narrow rectangular section of wall – you can install some pegboard and use "S" hooks to hang your cookware.
Check out the picture below. So awesome! (And it's right next to the stove so within easy reach.)
I love magnetic knife bar too.
17) Stack Pots and Leave Lids separate
Stack your pots inside each other in your cabinet, and leave the lids separate.
You can use a lid rack to store your pot lids.
What's cool about lid racks is that you can mount them to the wall, or to the inside of cabinet doors (like in the picture below).
If you don't want to screw into your walls or cabinet doors, check out this "over the door lid organizer" from Spectrum Diversified. They make quality products.
You can also get lid organizers that sit in the bottom of a kitchen drawer like in the photo below. Nice and tidy!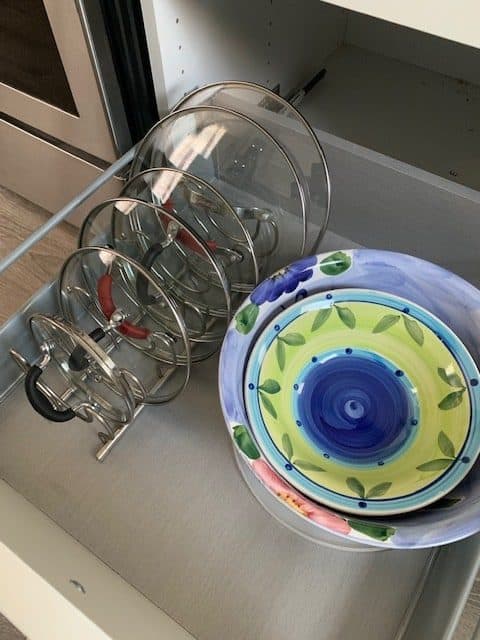 18) Nesting Cookware Set
This is a cool idea. Instead of having your pots and pans spread out inside a cabinet, you can buy a nesting cookware set like the one shown below.
It stacks nicely and it'll will help organize your tiny kitchen.
The set below is available at Walmart.com
It is currently well-rated at 4.7 stars out of 5 with 26 reviews.

There are lots of nesting (or stacking) cookware sets available. So have a look around and I'm sure you'll find one you love.









19) Store Pots and Pans in Oven when not in use
This is an easy DIY pots and pans storage tip that anyone can do. When you're not using your oven you can store cookware inside it.

My mom did this when we were kids.
You just need to remember to remove the cookware before pre-heating your oven. But you'll soon develop a habit of checking the oven before you turn it on.
It has been a long, long time since I've lived with my parents and I still have the habit of checking inside the oven before I turn it on!
20) Slide-out Cabinet Shelf
If you hate getting on your hands and knees trying to find something at the back of the cabinet – you are not alone!
And there is help.
These slide out cabinet shelves make your kitchen items way more accessible.
You can get them in different widths and depths – so measure and order carefully. (I know in my 70's kitchen there are no cabinets wider than 14-inches.)
The product shown above is a slide out organizer made by Lynk Professional.
21) Nesting Mixing Bowls – metal
Most of us already have these, but it's worth mentioning. If you have nesting bowls that fit inside each other, they're going to take up way less cabinet space.
Stop the cabinet sprawl!
If you don't already have a set of mixing bowls, check out this popular stainless steel set below (available on Amazon).
21B) Colorful Nesting Bowl set from Joseph Joseph
Here is a colorful nesting bowl set from the company Joseph Joseph. It comes with measuring cups and a colander too.
It could help you organize your small kitchen cabinets, or it could a great house-warming gift for someone moving in to a place with a smaller kitchen. (RV'ers love these nesting bowls in their small RV kitchens.)
They are really popular on Amazon.

22) Water Bottle Holder
A tidy idea to keep your cabinets organized.
Do you struggle with storing water bottles? Check out our article on helpful Water Bottle Storage Ideas
23) Dish Risers (aka cabinet shelves)
These handy shelves can essentially double your dish-storing ability.
Your local retailer will likely have some. But you can click here to see some on Amazon.
And if you want more kitchen cabinet organization ideas, click here to read my article on 14 super helpful kitchen cabinet organizers.
Kitchen Counter Organization
Can you even see your counter-top? Or is it covered in "stuff"?
Question for you –> What is on your countertop?
Look at your kitchen counter right now. Or better yet, take a picture of it.
What things are on your countertop?
Does it have to be on the counter?
Do you use it regularly enough to warrant it being on the counter?
Below are some kitchen counter organization ideas and organizers.
24) Banana Bungee
This is a clever-looking banana hanger. It is supposed to decrease bruising, and it gets the fruit off your countertop.
25) Countertop Organization Stand
There are lots of organization possibilities with a countertop stand like this one.
You could store spices along the top rack, and even put fruit baskets on the bottom shelf.
If you like the look of this, click here to see details on Amazon.







26) Over the Sink Drying Rack / Organizer
If you have space above your sink, the organizer/drying rack below could really help you get "stuff" off your kitchen counter.
It is made by Covaodq, and is available on Amazon. (Just make sure your sink is less than 32.5-inches wide and your faucet is less than 17.5-inches.)
Will this fit in your small kitchen?
27) Bamboo Stove-top Cover and cutting board
This elevated bamboo cutting board has height-adjustable legs that allow you to position it over stovetops and provides an extra kitchen work surface.
One of the most frustrating things about working in a small kitchen is lack of countertop space. This product helps solve that problem by giving you some extra food prep space.
It is available on Amazon and currently meets Amazon's "Climate Pledge Friendly" certification.

28) Slide-out Garbage Can
Having a slide-out garbage can would help organize the cabinet, but it will also help keep it cleaner. (Less garbage missing the can.)
The one shown here is a slide-out shelf made by Lynk Professional.
29) Over the Cabinet Door Garbage Can
If you don't want a big slide-out garbage can shelf, perhaps an over-the-door trash can like the one below will fit your needs. It is a clever trash can that is available on Amazon.
30) Expandable Under Sink Organizer Shelves
You don't need to settle for a messy under-the-sink cabinet. There are lots of clever under-sink organizers, and they are often under-utilized. They are one of the important small kitchen organization ideas to help reduce the clutter around your kitchen sink.
This under sink organizer expands to fit a variety of cabinets. It expands from 15 to 25-inches wide.
It is a popular product that you can find on Amazon.
31) Slide-Out Under Sink Shelf
I wish this would work in our kitchen! It would be great to slide it out and reach everything. (But our sink cabinet has a vertical divider in the center.)

32) Stackable Drawers to go under the kitchen sin.
Another under-the-sink storage shelf option is the stackable drawers like the ones above. It may work better for kitchens like mine where the cabinet doesn't open up all the way to allow a full-width organizer.
33) Scrub Pad Holder
Our scrub pad holder was supposed to suction to the wall of the sink. But it didn't stay on very well and I always knocked it off.
So we used cup hooks to attach it to the inside of under-sink cabinet door. Once it dries it gets put back into its little cradle.
34) Label your Spice Bottles
If you store your spices upright it can be difficult to find the spice you're looking for.
But if you label the top of your spice bottles you'll easily be able to find what you need.
You can buy printable stickers at Staples or your local stationary store. Then you can use your computer to print off your spice labels. This is a great idea for people with bad handwriting (like me).


For more Spice Storage Ideas, you'll want to check out this article.
Pantry Management and Food Management
Below are a couple tips on how to manage your pantry and food storage.
35) Avoid buying duplicates of food items you don't need.
If you already have small pantry you don't want to be stuffing it full of duplicate items.
36) Try keeping a magnetic whiteboard on the fridge and keep a running tally of items you need.
Putting a magnetic whiteboard on your fridge is a convenient way to jot down the food items you need. If something is running low, write it down.
Then when it's time to go to the grocery store just snap a picture of your list.
This will save you money and it'll ensure you buy what you need and need what you buy.
For more pantry organization ideas, check out this article on how to organize a small pantry.
What are some of the different opinions on how to organize a kitchen counter?
There are two main differing opinions on kitchen counter organization.
Some think the counter-top should be bare (nothing on it)
Others think that the counter-top should contain the things you need regularly
Opinion #1 is about LOOKS. There is something calming about having a sparse and clean counter.
Opinion #2 is about FUNCTION. If you use something regularly (like the toaster or coffee maker), why have it hidden in a cupboard and have to pack it in and out every day?
Conclusion and Appreciation
I really hope you found something on this list of small kitchen organization ideas that'll help make your small kitchen more efficient and more enjoyable.

I'd like to thank all my sisters and sister-in-law for helping me with ideas and photos for this article.
It was truly a team effort.
But we're just one family…what does your family do to help organize your small kitchen?
Is there something I should add to this list?
Thank you in advance.
Sincerely,
Tim from LearnAlongWithMe.com
Up Next:
17 Awesome Spice Rack Ideas and Spice Storage Ideas
8 Kitchen Backsplash Ideas to remodel your kitchen
17 Great Kitchen Cabinet Organizers (calm the clutter in your kitchen cabinets)
Are you a tea drinker? If so you'll love these helpful Tea Bag Storage Ideas
29 great Coffee Bar Accessories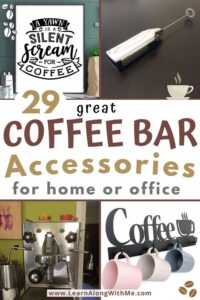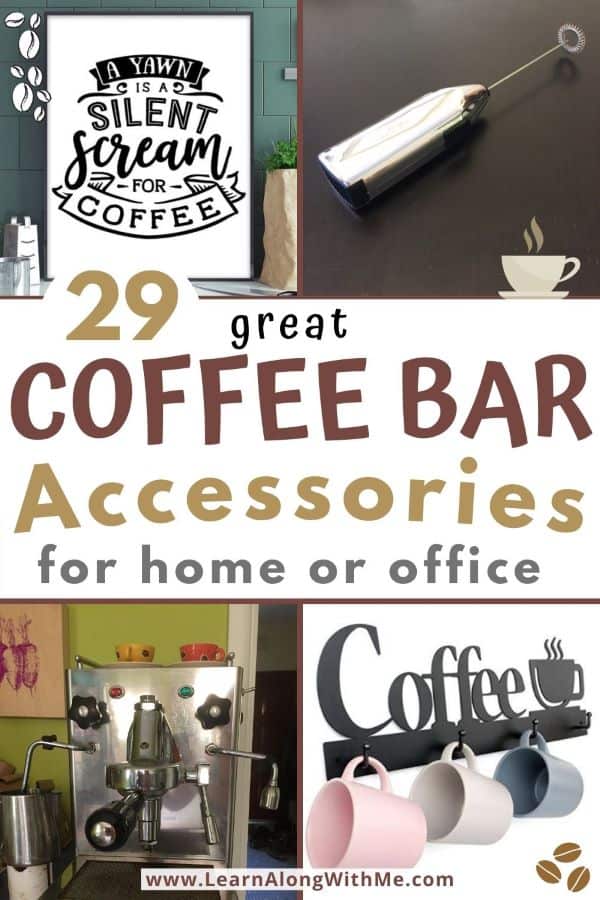 17 proven K Cup Storage ideas (organize and store your coffee pods)
Do you live in an apartment? If so, you may like:
17 great Apartment Balcony Privacy Ideas